Restaurants in Boulder City
---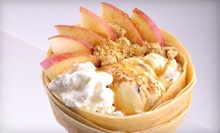 Fill folded crepes or top crispy waffles with fruit, ice cream, and other candy bits, or enjoy a prechosen combination of sweets
Use Monday 10:30am - 10:00pm
---
Recommended Restaurants by Groupon Customers
---
The speedy service at Parsley Mediterranean Grill belies the care with which chefs prepare each meal. Owners Effie and Ygal marinate steak and chicken for the shawarma dishes daily before they're grilled, yielding tender, rotisserie-style meats. These are then wrapped, like a Roman emperor after his bath, in toasty pita bread, which staffers customize to order with toppings such as fresh parsley, chopped onions, and Tahina dressing. Falafel wraps, crisp salads, and hummus provide options for vegetarians.
6420 S Pecos Rd.
Las Vegas
Nevada
702-489-3189
Twin brothers originally from St. Louis, Michael and Mark Goldenberg opened their comfort-food-focused eatery to fulfill a shared dream to "make something different," according to the Las Vegas Review-Journal. Their brainchild—Chick & Benny's—thrives on the universal appeal of poultry and pastry, mingling Texas-style chicken with the light-and-fluffy beignets popular in France and New Orleans. The menu, like the best Lilliputian wedding cakes, is short and sweet, showcasing golden chicken tenders that may show up solo or basking on a nest of homestyle g-fries dusted with garlic seasoning. When not busy serving customers beneath the hand-blown glass-pendant lamps that adorn their modern restaurant, Chick & Benny's owners spend their time giving back to the Las Vegas community by sponsoring Little League teams and awarding an annual scholarship to a high-achieving high-school senior.
1659 W Warm Springs Rd., Ste 100
Henderson
Nevada
702-434-5024
WildBurger fortifies visitors for Wildfire Casinos' whirling slot machines, video poker, and reel games with a concise menu of elevated American eats. Choose a half pound of Angus beef or a hand-breaded chicken breast with predetermined fixings, or build a custom-tailored meal. Gruyère cheese, fried eggs, and the house's signature slaw can crown a fluffy brioche bun or lend flavor to a lettuce wrap, and the sauces are an event unto themselves. Hot dogs and fries get a kick from house-made buttermilk ranch dressing and roasted-garlic ketchup, and baskets of chicken wings provide a vehicle for 10 glazes, including teriyaki with a hint of orange or spicy honey mustard. The chefs flip omelets and pancakes from 11 p.m. to 1 p.m., and they pay tribute to the lifetime achievements of Little Debbie with house riffs on Ding Dongs and deep-fried Twinkies.
2000 South Boulder Highway
Henderson
Nevada
702-558-6454
Aces & Ales blends pub-style comfort food and a rotating selection of 22 artisanal beers on tap with musical entertainment, fusing the passions of owner Keri Kelli, craft beer enthusiast and former guitarist for rock legend Alice Cooper. Plucking out distinctive pours more precisely than a neophyte harpist learning "Stairway to Heaven," the staff lines up select imperial stouts and hefeweizens to escort gastropub-inspired bites such as Belgian-style fries with bacon and blue cheese or homemade Maryland crab cakes. The bar's 14 plasma TVs, meanwhile, catch diners' eyes with 55 inches of pro-sports action. A classically trained robot moonlighting as a jukebox emanates waves of nostalgia and patron-selected tunes before local bands take the stage to test the stability of the exposed brick walls, which have previously resonated with the voice of Alice Cooper himself.
3740 S Nellis Blvd.
Las Vegas
Nevada
US
702-436-7600
Grape leaves, chickpeas, and pine nuts flavor Garden Cafe's classic dishes, honoring the rich array of ingredients yielded by the fertile soil and salty waters of the Mediterranean. The eatery's marinated fava beans and hummus pave the way for main acts, such as sizzling beef and chicken kebabs or chicken shawarma. The cooks also combine fresh ingredients for a handful of sandwiches, loading bread with falafels, beef gyros, and even philly steaks, which justify their presence by telling everyone they studied abroad in Greece.
7435 S Eastern Ave.
Las Vegas
Nevada
US
702-440-8744
At Roadrunner Saloon, executive chef Matthew Silverman has compiled a menu of Southwestern tin-plate specialties. His kitchen staff perfects half-pound burgers, tacos, and new york steaks wrangled from the rolling fields of Times Square. They serve up the sizzling cuisine at three locations, each with a distinctive collection of cowhide furniture, murals, stone fireplaces, and iron chandeliers. On weekends, live blues and southern rock echoes throughout the locations on Pebble Road and Flamingo Boulevard. At the Buffalo location, diners can bowl down personal lanes.
2430 E Pebble Rd.
Henderson
Nevada
---