Beer, Wine & Spirits in Boulder
---
Beer, Wine & Spirits Deals
---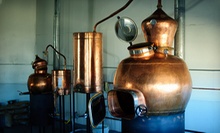 Head distiller Ted Palmer leads tours among the copper stills and pours tastes of his handmade gins and liqueurs
Use Today 3:00pm - 7:00pm
---
Recommended Beer, Wine & Spirits by Groupon Customers
---
In 1995, Twisted Pine Brewing Company began as something more of a grove than a forest, with brewer Gordon King crafting just a trio of beers in equipment purchased from New Belgium. Come 1996, the company fell into the hands of current owner Bob Baile, who merged the nascent brewery with his own project, Peak to Peak Brewing Company, and began bolstering the lineup with inventive stouts, ales, and porters. Since then, Twisted Pine has maintained a high standard of quality even in the face of its expanding scale, as evidenced by the gold medals garnered at the Great American Beer Festival for its American Amber Ale and Oak Whiskey Red. They credit their love for experimentation and strong community involvement as the driving force behind crafting beers that surprise and delight their loyal customers.
Today, locals and visitors mingle in the tap room, where the beer menu offers seasonal specials such as the Ghost Face Killah, infused with the 1.1 million Scovilles of the Bhut Jolokia pepper, and rated by Bon Appétit as one of the top ten weirdest beers in America. And to pair with the beer and drawers of otherwise useless silverware, the food menu features hearty pizzas, sandwiches, and salads.
3201 Walnut Street
Boulder
Colorado
303-786-9270
Since 1999, founder Lino DiFelice has paid tribute to his Italian heritage with customized micro-batch wines made to customers' specifications—often by the customers themselves. Armed with more than three decades in the business, a staff of experienced oenophiles, and grapes from Italy, France, and California, DiFelice is able to guide his guests through the bottling process as they select the flavors that best suit their tastes. At tastings, customers can mix a concoction from scratch and wait for the fermentation process, or select one of Vintages' signature organic reds and whites.
120 W Olive St.
Fort Collins
Colorado
970-484-9813
The vintners at Wild Women Wine, formerly D'Vine Wine, make it their mission to throw back the curtain on the mysteries of the winemaking process. Each day, they welcome visitors to watch their team of winemakers prep imported raw juice for its transformation into ode-worthy vino. The team also invites visitors to concoct a personal wine batch of their own, modifying favorite house varietals with touches of oak, tannin, spice and other flavors. Each custom wine culminates in a bottling party, where the wine auteur, along with family and friends, can bottle, cork and label their vintage instead of just drinking it out of a communal bucket like usual.
For less hands-on pours, the boutique winery's wine list hosts a vast array of already-bottled varietals. Vintages range from Centennial red, a high tannin wine with oak undertones, to whites, blends and fruit-flavored styles.
1660 Champa St.
Denver
Colorado
303-534-0788
---