Shopping in Boulder
---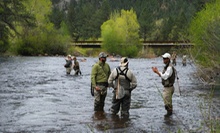 During four-hour fly-fishing class, hands-on instruction instills students with techniques to catch trout in Colorado's abundant waters
---
Recommended Shopping by Groupon Customers
---
The family at Community Skate and Snow readies boards to bomb peaks with four-point tune-ups executed amid a trove of specialized equipment. To begin, the shop's Wintersteiger grinding machine smoothes board bases into a level plane. Then, a wax tech deploys a p-tex drip candle to fill in gouges caused by exposed rocks and troll claws. Dull edges are honed sharp enough to carve into a sheer cliff or slice clean arcs into fresh snowfall. A final coat of wax slicks the sole runner, protecting it from damage and minimizing friction so boarders can whip through frosty air and escape its bitter, icy raspberries.
5515 Olde Wadsworth Blvd., Unit 3
Arvada
Colorado
Since it planted roots in the community in 1959, Echter's Nursery & Garden Center has gradually expanded into a sprawling complex comprising lush greenhouses and a retail store dedicated to beautifying outdoor spaces. The shop's display area encompasses a staggering 70,000 square feet, and includes a patio shop with benches and outdoor furniture, a wildlife department with birdhouses and sasquatch feeders, and a garden center with sustainable soils and fertilizers. Patrons can grab tips from one of the center's plant doctors, all of whom boast at least a decade's worth of experience, or simply count the days until poinsettias and Christmas trees occupy the premises during the holiday season.
5150 Garrison St.
Arvada
Colorado
With thousands of frame and mat combinations, The Great Frame Up can satisfy any and all framing fantasies. The expert framespeople can make diplomas radiate (diploma framing starts at around $100), personalized jerseys glisten (starting around $300), and dorm-room movie posters sparkle (many 24"x36" pieces are under $125). The design wizards can also find a home for any prized possession, such as shoebox photos, baby booties, ticket stubs, medals, and really good pot roasts. The Great Frame Up's no-hassle guarantee and assurance that all work is done on-site means your frameables won't be subject to mistreatment at underground commercial framing facilities.
430 Main St.
Longmont
Colorado
For a decade, outdoor DIVAS has stocked women-only fitness items and apparel for just about any exercise class or outdoor activity, taking away the frustration of scouring numerous websites or department stores for individual pieces. Cofounder and President Kim Walker, an avid athlete and mother, found herself constantly frustrated when shopping for women's skiing equipment—either everything she found was made for larger male bodies or only had a few options to choose from. She decided to take matters into her own hands, opening a rare female-focused athletic shop. Since then, her company has launched outdoorDIVAS.com and a second brick-and-mortar store in Denver.
Runners, mountain climbers, skiers, and swimmers alike can find the equipment they need to partake in their favorite sport. Scarpa footwear and Black Diamond twist locks help climbers scurry up mountainsides safely. Patagonia board shorts, meanwhile, are made from all-recycled polyester and spandex, so aquatic athletes can sustain the oceans in which they swim simply by wearing pink spandex shorts—also the reason most environmentalists wear them at seminars.
1133 Pearl St.
Boulder
Colorado
At Runners Roost, the staff members don't just outfit athletes with shoes in the right sizes—they make sure the footwear matches each wearer's individual needs with a thorough gait-and-arch analysis. As discussed during an interview with Colorado and Company, the staff records video of clients' feet as they jog on a treadmill, then examines still frames to assess whether the shoes are offering proper support. With this method, customers can find the ideal footwear from brands such as New Balance, Saucony, and Nike for both women and men.
Channeling wisdom collected over the company's 35 years in business, the pros at Runners Roost's numerous Colorado locations also outfit athletes with accessories and sweat-wicking apparel perfect for triathlons over hot coals. In addition to supporting feet, Runners Roost has supported the local community throughout the years by sponsoring high-school cross-country and track meets, marathons, and other events.
459 S McCaslin Blvd.
Louisville
Colorado
Putting trust in Satellite Board Shop is a no-brainer when you know that the University of Colorado snowboard team entrusts it with all their tune-ups. Satellite technicians show all their customers the same level of professionalism and care when waxing boards, tuning up skis, or explaining that a "snowboard" isn't the legislative branch of winter presided over by Jack Frost.
Satellite also stocks plenty of new snowboards and skateboards including the Never Summer Cobra board, designed to handle any mountain terrain, and the Anti Hero skateboard deck emblazoned with a giant bee. In addition, Satellite can outfit customers with T-shirts, shoes, and sunglasses as well as fleece-lined jackets that keep them warm when they accidentally build themselves into an igloo.
1538 28th St.
Boulder
Colorado
303-374-3275
---