Theme & Amusement Parks in Boulder
---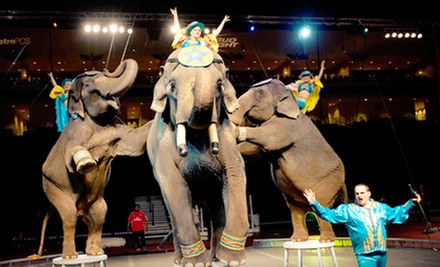 Broomfield Urban Transit Village
---
Theme & Amusement Park Deals
---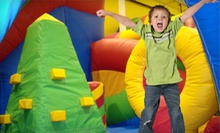 Use Today 10:00am - 5:00pm
---
Recommended Theme & Amusement Parks by Groupon Customers
---
Designed by adrenaline junkies specifically for Speed Raceway, each eco-friendly electric XLR8R kart can thrust racers at speeds nearing 50 mph through Speed Raceway's quarter-mile track. With 2 inches between you and the track below, the karts revolutionize the wind-resistant, frictional foundations of modern physics, proving once and for all that all physics is theoretical, especially gravity. Each 12-lap contest pits white-knuckled drivers against one another, and the entire field against a smug, unrelenting clock. Soon, licensed members can view an online database of their best times anytime, anywhere, and always in the presence of a disbelieving trackside crush.
8532 Concord Center Dr.
Centennial
Colorado
The screams reach out for the brave souls who venture into The Asylum Haunted House before they can see anything. Descending two levels into the darkness of Gordon Cottingham's Hospital for the Mentally Insane, they hear the tortured cries of patients who have been abused and drugged and held captive within decrepit walls and the dungeons of their own minds. Demented doctors with questionable motives and ultra-low OSHA ratings lurk throughout 15,000 square feet of damp, musty space infested with spiders, rats, and snakes. The graphic makeup and Hollywood-style effects couple with the realistic-looking environs to make the site one of the scariest haunted houses in America, according to the Discovery Channel and HauntWorld magazine. Even the seemingly fearless Bam Margera recommends it.
Those who survive The Asylum's insanity emerge into the postapocalyptic landscape of the adjacent Zombieland Haunted House. There, the living dead wander through the quarantined streets of a crumbling city, in and out of dilapidated buildings, searching for human flesh or half-eaten candy bars.
11425 Community Center Dr.
Northglenn
Colorado
At amphitheaters, parks, and ice rinks throughout the city, Boulder Creek Events organizes get-togethers to inspire and connect community members. Each year, they bring more than 500 food vendors together with musicians and carnival rides for the Boulder Creek Festival. They also coordinate classic car shows and outdoor skating events. During the winter, BCE Productions fuels ice skaters with warm concessions, and during the summer the crew transforms the Twenty Ninth Street Plaza into a rink ideal for roller skates and guests with the latest trend in wheeled pedicures.
1 W Flatiron Crossing Dr.
Broomfield
Colorado
Established in 1908, Lakeside Amusement Park maintains its turn-of-the-century charm while embracing modern amenities and attractions. An adrenaline-pumping drop tower and a slew of neon-hued, spinning rides contrast the classic joy of a wooden roller coaster, which rises from its perch near the lake. Likewise, a retro silver train transports passengers and vaudevillian apparitions throughout the picturesque grounds.
The all-ages park also comprises Kiddies' Playland, a place where tots can get their fun fix on boats, animal-themed rides, and pint-sized motorcycles. The facility also accommodates large groups with on-site picnic grounds perfect for birthday parties or applesauce fights.
4601 Sheridan Blvd.
Denver
Colorado
303-477-1621
Flesh-eating zombies, cannibalistic clowns, nightmarish ghouls, and haunting ghosts prowl The Frightmare Compound, ready to snatch those foolish enough to venture through its fear-infested grounds. Known as one of Colorado's oldest and largest haunted attractions, the compound houses two terrifying attractions on more than 100,000 square feet of swampland. Horrors unseen wait for new victims inside the first compound, where a haunted barn filled with terrors is the least of visitors' worries. The second attraction, the House of Darkness, was the site of a terrible massacre and lay abandoned for some time until the Frightmare staff brought it to their site. Soon after, the ghosts of those slain began roaming its halls, and clowns with a taste for human flesh found their way inside its corridors.
10798 Yukon St.
Westminster
Colorado
303-467-2273
Located at the base of the Rocky Mountains, Gateway Park Fun Center combines the splendor of its natural backdrop with a variety of manmade attractions. Fresh mountain air courses through the 18-hole mini-golf course and whips the hair of go-kart racers on a track more than 2,100 feet long. Guests with unstable hairdos can retreat inside, where an arcade loaded with games such as skee-ball and NFL Throw—along with an inline hockey rink—make the park a year-round destination.
4800 N 28th St.
Boulder
Colorado
US
---