Things to Do in Bowling Green
---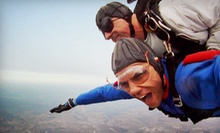 While strapped to seasoned skydive instructors, thrill-seekers jump out of a plane at an altitude of 10,000 feet or higher
---
Recommended Things to Do by Groupon Customers
---
Boasting five all stars in the 2011 Prospect League, the Nashville Outlaws look to continue their ascent toward the top spot in the West Division. With the season coming down to the wire, contests against the first-place Quincy Gems (August 1–August 3) and league rivals the Dubois County Bombers (August 5–August 6) take on playoff implications, their stakes raised like a flag made of filet mignon. The slugging showdowns throw down at the recently renovated Dugan Field, where muscles flex under brilliant stadium lights on turf handsomely outfitted in team colors. Munch on two included hot dogs as the athletic action picks up speed, or use the meaty cylinders to get in some batting practice of your own, swinging at the nearest pair of disco-ball earrings.
2600 Jess Neely Dr.
Nashville
Tennessee
Cheekwood's assemblage of botanical gardens stretches across more than 55 acres of verdant land, inviting members to explore its natural nexus of wooded streams, gentle pools, and stone grottoes. Visitors can appreciate Mother Nature's leafy hairline by weaving through Japanese, wildflower, and perennial gardens and cruising down avenues of crepe myrtles in lilac-powered lowriders. Green-thumbed guests can also admire each display's unique gardening style and exchange salutations with bursting seasonal flora. Guests can venture inside the 30,000-square-foot Georgian mansion to find Cheekwood's collection of decorative arts and Visions of the American West, a Wild West exhibition on display until May 4. The video-installation galleries explore Buffalo Bill's life and his legacy as Wild West icon and fearsome ventriloquist.
1200 Forrest Park Dr.
Nashville
Tennessee
US
Under the baton of maestro Giancarlo Guerrero, the Grammy Award–winning Nashville Symphony sets air particles to vibrating with a program that features both classical masterworks and world-premiere performances. Music-making commences with Anton Webern's "Passacaglia," op. 1, before his lush textures and angular melodies melt into the world-premiere performance of Richard Danielpour's Darkness in the Ancient Valley, which draws on the composer's Iranian heritage. Joining the orchestra for Danielpour's visceral tone romp is Grammy Award–winning soprano Hila Plitmann, who will lend her dulcet tones to the composer's musical text and glare at audience members who clap between movements. The program rounds out with master symphonist Gustav Mahler's Symphony no. 4, a highly accessible piece that signifies lost childhood innocence through high flutes, sleigh bells, and the mournful squeak of broken Matchbox cars.
1 Symphony Pl.
Nashville
Tennessee
The din of scattering pins echoes like distant thunder over billiard tables and arcade games, sonic evidence of the bustling alleys that tie Oak Valley Lanes' entire entertainment center together. As bowlers unleash balls toward distant pins, digital screens impartially tally scores. The smoke-free facility's billiards room features both full-size regular tables and felt fields for snooker. At the arcade, players can warp into digital football games, grapple the steering wheel in frenetic street races, or make up for the fact that they converted all their pocket change into tiddlywinks by hitting up the coin machine.
111 Oak Valley Dr.
Nashville
Tennessee
615-227-9359
Meadows of wildflowers and towering trees border the Caney Fork River on both sides, providing a refuge for deer, herons, turkeys, and hundreds of other bird species. With a fleet of canoes and kayaks as well as shuttle service straight to the riverbanks, Canoe the Caney makes it easy to explore this river's natural beauty. Though the current bustles along at a slow and steady pace and the banks are usually 30 yards apart, Canoe the Caney staff still holds safety as its highest priority. The staff provides everyone with life jackets and review safety guidelines before giving paddlers permission to depart.
In addition to 6-mile and 9-mile trips down the river, Canoe the Caney also facilitates more playful adventures, including romantic picnic outings and a pirate adventure that invites paddlers to hunt for Captain JaBez's long lost contact lens.
17055 Smithville Hwy.
Silver Point
Tennessee
931-858-2628
A real stock car roars around a banked oval track. As it navigates the chicanes and wrestles g-forces to the floor, a coach's voice crackles in the driver's ear. This isn't the Indy 500; it's L.A. Racing. Featured on NBC Today in L.A., L.A. Racing's Adventure programs let would-be racers grip the wheel during fast-forward laps around a real track. This video shows the rubber meeting the road at Irwindale Speedway.
Inside, L.A. Racing's instructors educate new drivers with BlueTiger simulators, helping them get a feel for new tracks and learn to follow the proper line through turns. These practice cars feature realistic racing effects—engine vibrations, road-surface texture, bumping, and deer attacks, for example. Competition courses are available for drivers who want to take racing to the next level and master advanced techniques such as throttle control, trail braking, and passing.
625 Smith Ave.
Nashville
Tennessee
626-358-7432
---