Golf in Bowling Green
---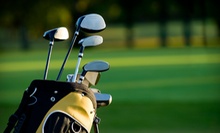 Lake Erie Shores and Islands
6,493 yd. golf course juts out on a slender parcel of land framed by the Portage River, pairing scenic vistas with numerous water hazards
---
Recommended Golf by Groupon Customers
---
Originally sculpted into the landscape in 1958, Green Hills Golf Course winds through 5,933 yards of smoothly rolling terrain bordered by clusters of mature arbors. To compensate for its relatively short length, the 18-hole course catches clubbers off-guard with strategically placed ponds, subtle slopes, and self-destructing yardage markers. Each round takes spiky-shoed golfers gliding around tranquil ponds and past rippling creeks, which add to the course's shot-impeding obstacles. A nine-hole par 3 executive course stretches out alongside the full-length monolith, beckoning to greenhorns, youngsters, and experienced pin-hunters still seeking their first hole-in-one. A driving range, practice green, and full regimen of golf clinics nurse withering swings back to life, while the onsite restaurant fuels muscles and carnivorous golf carts with all-beef hot dogs and other savory grill fare.
1959 S Main St.
Clyde
Ohio
419-547-7947
Since the first swing in 1972, Tamaron Country Club's course has been sending golfers down an idyllic path filled with rolling fairways, swaying trees, and impeccably maintained terrain. Greens superintendent Mike Kaminski obsesses over the upkeep of lush fairways and carpet-like greens, ensuring verdant beauty, true roll, and infinite sleeping spots for mid-round naps.
On the front nine, golfers start their round with a shorter par 5, presenting a green that's reachable in two. The next par 5 on the side is hole seven, which presents the longest hole on the course, made longer by out-of-bounds areas on the left and trees on the right that force some players to hit an iron or an oversize gavel off the tee.
Though the back nine is shorter than its predecessor, it makes up for its lack of length in deceptive lies and fewer birdie opportunities. Before signing scorecards and mailing them as postcards, players must first divide and conquer hole 18, a tricky par 4 that forces tee shots over or into a bowl-shaped depression that must be carried to reach the elevated green.
Tamaron Country Club houses an indoor golf simulator, where golfers can play virtual renditions of 38 world-famous courses. The high-tech apparatus makes a round possible even in inclement weather and removes many of the hassles of real golf, such as lugging a bag or getting out of quicksand bunkers.
Course at a Glance:
18-hole, par 70 course
Total length of 6,060 yards from the back tees
Course rating of 67.7 from the back tees
Course slope of 109 from the back tees
Four sets of tees per hole
2162 W Alexis Rd.
Toledo
Ohio
419-474-0501
Draped over gently undulating terrain peppered with mature trees, Cherrywood Golf Club's nine-hole course beckons to clubbers with 2,756 yards of immaculate greenery. Between holes, wooden fences emerge from the emerald ground, adding a rustic sense to the par 35 course as duffers swing toward distant greens or attempt to divot their way to the center of the Earth. A time-efficient nine-hole round allows golfers to squeeze in some pin-hunting after work or late in the afternoon, and those looking for a full round can loop the links twice for an 18-hole excursion that will allow them to retrieve disoriented tees the second time around.
7910 Whiteford Center Rd.
Ottawa Lake
Michigan
734-856-6669
Bowling Green Country Club's nine-hole course journeys across 73 acres of Ohio countryside. Featuring a nine-hole yardage of 2,782 from the farthest tees, the layout adds a sense of variety with four tee options for golfers looking to play the hole twice for an 18-hole round or foursomes who prefer to play without having to interact. A watery ellipse stands in the middle of four holes, including the par 3 seventh, where tee shots must somersault 168 yards over the corner of the pond to find the green. After rounds, duffers can unwind at the outdoor patio of Jeff Szabo's Fairway Grill, where a wait staff of disguised caddies serves a menu of burgers, salads, sandwiches, and other hearty fare.
Course at a Glance:
Nine-hole, par 35 course
Length of 2,782 yards from the farthest tees
Course rating of 33.8 from the farthest tees
Slope rating of 114 from the farthest tees
Four tee options
923 Fairview Ave.
Bowling Green
Ohio
419-352-3100
Bedford Hills Golf Club has assembled a trio of nine-hole courses—the Buckeye, Irish, and Wolverine Courses—to escort players along a lush labyrinth replete with pristine white-sand bunkers and interspersed water hazards. Golfers send shots into lower orbit from well-groomed fairways and putt across penncross bentgrass greens styled with mustaches designed to catch errant shots in their sandy chops. Challenges abound on all three courses, with water hazards and sand traps strategically placed amid the rolling terrain.
Bedrock mini-golf course complements the facility with pintsize challenges of its own, as players putt around small sand traps and beautiful landscaping while trying to resist miniature dives off the cascading waterfall.
6400 Jackman Rd.
Temperance
Michigan
734-854-4653
Green Acres Golf Course presents a relatively short gauntlet of six par 4s and 12 par 3s for 3,746 yards of pristine golf. The length and lack of par 5s make the course ideal for working on putting on the slick greens and precision on short iron approaches. The course superintendents work tirelessly to keep the course in optimal condition, aiming to please all golfers from beginners to the ghosts of Scottish shepherds looking to discover the latest in walking-staff technology.
Course at a Glance:
18-hole, par-60 course
Total length of 3,746 yards from the back tees
Three sets of tees per hole
3594 Gooding Rd.
Marion
Ohio
740-387-6114
---