Coffee & Treats in Boynton Beach
---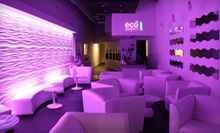 Swirls of 30 rotating flavors don sprinkles from a self-serve toppings bar in an eco-friendly, LED-illuminated space
---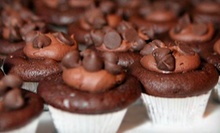 Cupcakes infused with creative flavors, from orange velvet to Chunky Monkey, and topped with intricate fondants
---
Recommended Coffee & Treats by Groupon Customers
---
Cushy Cakes conjures up sweet sensations with the lighter-than-air lusciousness of the Andes' famed cotton-candy clouds. Using organic butter, milk, and eggs, Cushy Cakes commandant Melissa Jarquin will whip up a dozen cupcakes ($20) in flavors such as Bananarama, the key-lime-pie-tinged Southernmost Cupcake, and Betty's Carrot Cake, or in the customized flavor of your choosing. Sweet tooths seeking the cream of Cushy Cakes' crop should opt for the Cafe Con Leche, a flavor based on the beloved breakfast coffee, or the Stout Cupcake with Kahlua frosting, made with the beloved breakfast beer Guinness. Gluten-free and vegan cupcakes are also available.
3300 NE 192nd St.
Aventura
Florida
The North Miami Beach Italian-ice and bubble-tea shop specializes in frosty cold treats to cool summer-warmed bodies. The chilly-treat experts offer more than 30 flavors of their signature bubble teas ($4.25)—fresh-brewed iced tea with small tapioca pearls at the bottom of each cup, served with a thick straw for sucking up the gummy-esque spheres. The creamy and mostly fat-free tea is made from fresh fruit and milk and comes in fruity flavors such as pomegranate and passion fruit, as well as latte-inspired brews such as the caffe latte and caramel rooibos. If tea isn't your treat of choice, opt for a refreshing Italian ice ($2.99 and up) and dine on one of nearly 60 flavors in two iced styles. The fat-free and dairy-free water ice pleases with flavors such as rootbeer and cotton candy, and low-fat cream ices such as bananas foster, cannoli, and chocolate peanut butter will satisfy dairy-deprived palates. With nine no-sugar-added and sugar-free options, the Italian-ice treats are sweet options for sugar strikers and diabetics.
3061 NE 163 St.
North Miami Beach
Florida
Elite Cake Creations began as a little bakery in Cuba way back in 1921, so it's had nearly a century to perfect its cakes, desserts, and pastries. Today, Jorge Garcia continues the long family tradition started by his grandfather, using tried-and-true recipes that call for buttercream frosting and fondant with vanilla-, chocolate-, and marble-cake bases. Garcia can customize cakes to look like everything from a flame-painted speedboat to a bucket of cold Coronas. He extends this art form to cupcakes and push-pop cakes. He also relishes the opportunity to craft cakes for special occasions, constructing eight-layer wedding cakes, birthday cakes shaped like wrapped gifts, and 50th anniversary cakes made of solid gold.
12330 SW 53rd St., Suite 702
Cooper City
Florida
The bakers at Mmmm…. Cupcakes whip up artfully decorated handheld treats in a scrumptious spectrum of traditional, gluten-free, and vegan varieties. Utilizing 30% less sugar and a full line of organic ingredients, the bakers craft cakes ranging from full-sized desserts to easily weaponized cupcake push-pops. All baking is done in the shop's kosher-certified kitchen, allowing customers of all ilks to chomp into freshly baked bites of Butterfinger, cran-orange, or guava con queso cupcakes. Bakers also teach the basic skills of custom cupcakery in one-hour lessons, in which students learn how to decorate and devour cupcakes tastier than a fresh-baked vending machine.
215 71st St., Suite 109
Miami Beach
Florida
When ESPN asked chef Mario Batali in 2013 what he was planning to eat during the biggest pro-football game of the year, his Baltimore-related dessert answer was simple: Charm City Cupcakes. With 65 flavors, a choice of mini and regular cupcake sizes, and four area locations, it's easy to see what may have inspired Batali's answer. The bakery's pastry chefs slather just-whisked buttercream atop classic vanilla, chocolate, and red-velvet cake bases, and they also go more exotic with Grand Marnier or peaches 'n' cream cupcakes. Animals and TV characters often top kids' creations, requiring chefs to call upon the same decorating techniques they reveal to students during their specialty classes. At lessons, cupcake-artisans-in-training learn piping techniques, how to make frosting, and how to make iced flowers without the hassle of fertilizing regular flowers with milk and butter.
2301 SE 17th St.
Ft. Lauderdale
Florida
410-889-8080
A towering wall of book-lined shelves and a wooden chessboard tucked in the corner create "that vibe where you feel like maybe you should stay for a spell" at Moloko, according to the Miami New Times. That feeling grows stronger as you sip from a cup of steaming coffee or steeped tea and drive a fork into abundant crepes stuffed with anything from prosciutto to raw, organic maple syrup.
Overhead, exposed wooden rafters keep the ceiling from floating away from the walls, adding a rustic touch to the otherwise modern décor. Customers lounge beside cherry-red walls at the coffee bar, settling into vinyl seats that fall somewhere between stools and armchairs. When the space isn't serving customers, the staff hosts crepe-making classes and live music.
3201 N Miami Ave.
Miami
Florida
---