Coffee & Treats in Brampton
---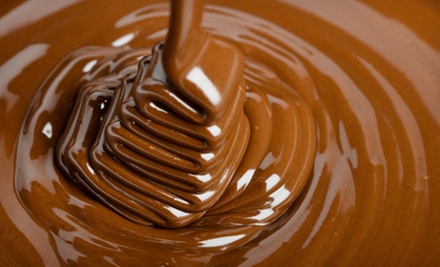 ---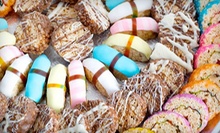 Rice-krispies treats and other baked goods molded into colourful sushi shapes
---
Recommended Coffee & Treats by Groupon Customers
---
The Designer Cookie blends fresh, high-quality ingredients into a slate of gourmet sweet eats. Load a miniature trebuchet with artfully crafted gourmet cupcakes ($2.75) or encourage the banana cake and chocolate frosting of the Dolce & Banana to sashay down the catwalk of the esophagi. The Michael S'Mores cupcake offers a tempting triumvirate of roasted marshmallows, graham cracker, and chocolate, and gourmet cookies contend for taste buds' affections in flavours such as Guy LeCrunch, laden with Hershey's Skor bits, chocolate covered pretzels, and chocolate chips ($2.75). Customers can also opt to custom design cookies that sprinkle a choice of dough with up to 25 different mix-ins ($2.75+ each, minimum 12 cookies/order). The Designer Cookie whips up celebratory treats as well: birthday cakes in flavours such as lemon meringue, mud pie, and banana caramel maple ($59–$69 for a 10") make delightful sugar-laced centrepieces for birthdays, anniversaries, and hot air balloon capers.
292 Eglinton Ave. W
Toronto
Ontario
416-619-1197
Saint Cinnamon slings sweet, sticky, swirled sustenance into Toronto's taste portals with its world-famous cinnamon rolls, made in full view of the customers. Savour the flavour of piping-hot pastries with a dozen of Saint Cinnamon's Little Cinns—smaller than the bakery's regular-sized rolls but just as delicious and much easier to shove into the pockets of gym shorts for mid-marathon snacking. Customers with wheat allergies or gluten-rejection syndrome can redeem their Groupon for $14.99 worth of spelt or gluten-free baked goods at Saint Cinnamon's Pickering location only.
1 York Gate Boulevard
North York
Ontario
For the Love of Cake, helmed by cupcake countess Genevieve Griffin, offers dessert desirers freshly baked cupcakes made with quality ingredients. The bakery's 4-dimensional cupcake particularly stands out, with its multi-layered melding of cake, filling, topping, and garnish selected and arranged to yield a cohesive, complementary, and Facebook ready flavour profile. The decadent treats come in more than 20 flavours, and the bakery offers at least nine of those flavours each day. (Check the sweet spot's Twitter feed for daily offerings.) The Strawberry Shortcake cupcake injects juicy strawberry purée into its angel-food-cake fluff and tops it off with whipped cream and a strawberry slice, and the Crazy Carrot cupcake puts a pit of pineapple filling under a crowd of cream-cheese frosting and a candied carrot. Suffocate sweet teeth with the chocolate overload of the Death by Chocolate cupcake, or freshen up a frosted feast with the mint overtones, moist chocolate, and icy wit of the Grasshopper.
171 East Liberty Street
Toronto
Ontario
416-306-6446
The Green Grind marries eco-friendliness to enticing coffee and tea selections through its sustainable practices and by offering fair-trade-certified and organic brews. Java junkies can satisfy crippling caffeine addictions with a large cup of locally roasted coffee ($2.20), a large espresso ($2.50), or a single-shot cappuccino ($3.20), and sensitive-tongued taste fiends can coolly sip on a Kombucha Wonder Drink ($3.50). Sail seas of tea from a pot ($3.75) of loose-leaf such as Earl Grey or blueberry rooibos, or sidle up to a glass of iced tea ($2.50), made fresh daily and available in a fruity peach, blueberry, or lemon flavour. Lattes, mochachinos, steamers, and hot chocolates are also available for drinking or dipping celery stalks into.
567 College St.
Toronto
Ontario
From its humble beginnings in Kankakee, Illinois, in 1938, Dairy Queen has grown from a delicious experiment in soft-serve ice cream to a household name with more than 5,900 restaurants around the world. The shop's signature frozen delights are built upon frosty foundations of creamy chocolate or vanilla soft-serve, which swirl idyllically into cones, cups, overturned top hats, sundaes, Peanut Buster parfaits, and the chain's iconic Blizzard treats, blended with crumbled candy and other mix-ins. Ice-cream cakes cleverly conceal surprise fillings of fudge and chocolate crunch between layers of vanilla and chocolate ice cream, providing sweet, sliceable sustenance for birthday parties and other special occasions.
2960 Kingsway Dr.
Kitchener
Ontario
At Rocky Mountain Chocolate Factory, the aroma of simmering sugar and butter coils around tidy racks of housemade chocolate morsels. Guests get a behind-the-scenes look at the process, as the Factory's sugar savants cobble the confections together on site, stirring bubbling caramel in copper pots, and rolling out fudge atop granite slabs.
Most of Rocky Mountain Chocolate Factory's treats are cocoa-based—layers of creamy chocolate enfold fruits, peanuts, and marshmallows, but the gourmands also dunk juicy apples into vats of caramel, and sprinkle caramel-glazed popcorn with clusters of nuts, proving that corn is more than just a building material for mazes or houses of parliament.
Z20-435 Stone Rd. W
Guelph
Ontario
---