Restaurants in Brampton
---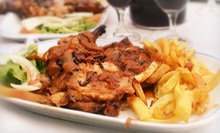 The aromas of barbecue chicken, beef back ribs, and ground-lamb kebabs fill this pork-free Portuguese eatery
Use Today 2:00pm - 6:00pm
---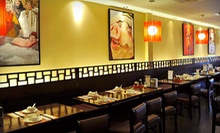 Hanging lanterns, sleek black tables & yellow walls adorned with Chinese artwork surround diners savoring szechuan beef or shanghai dim sum
Use Today 11:00am - 3:30pm
---
Recommended Restaurants by Groupon Customers
---
At De La Crepe, Chef Elizabeth Psarrakis stuffs homemade crepe batter with fixings culled from local farmers' markets, nabbing praise from GoodLife Mississauga and Village Times. Though Chef Psarrakis pays homage to the crepe's French ancestry with fillings such as gruyere cheese and mushrooms, she also folds up creative combinations such as the caribbean's rum, pineapple, and coconut trio. Additionally, her homemade sauces enhance crepes with classy drizzles or, upon request, family crests.
236 Queen St. S
Mississauga
Ontario
905-542-0022
Asian Wok 'n' Roll's chefs fuse the spices and traditions of Chinese, Thai, Indian, Malaysian, and Indonesian cuisines to craft a menu brimming with diverse Asian flavours. Along with the ever-popular all-you-can-eat lunch buffet at the Millcreek Drive location, both Mississauga locations offer catering to spice up special occasions, such as Chinese New Year and its lesser-known sibling, Chinese Adopt-a-Dragon Day.
6905 Millcreek Dr.
Mississauga
Ontario
905-567-0088
Named for a royal rank or title, Nawab Indian Cuisine—a purveyor of Indian fare infused with innovative takes on authentic recipes—was founded in India in 1989 and has since spread its Mumbai-inspired flavours across three continents and into far-flung locales including Kenya, Dubai, and Malaysia. Within the bustling kitchen, chefs prove their dedication to the creation of fresh fare as they whip up new batches of sauces every day, gilding them onto dishes featuring ingredients such as whole coriander, fresh cream, and butterfly prawns. Nawab's crew of culinary wizards has worked tirelessly to invent over a third of the dishes featured on their menu, creating noshes that, like Hamlet performed by a digitized cast, update the classics to suit modern tastes.
Affable servers bolster the restaurant's warm and welcoming atmosphere by dutifully tending to each patron, rapidly ferrying plates in and out of padded booths and white linen-draped tables to ensure that appetites are sated. Commissioned by Nawab's resident architect, the spacious dining room brims with furniture imported from India and ornate artwork including ironwork peacocks and vibrant paintings.
168 Queen St. S
Mississauga
Ontario
905-567-2800
Each year, more than 180,000 diners fill their plates from Tandoori Flame, Grand Indian Buffet, which chefs refill constantly with up to 150 different dishes. Soups and naan greet diners at the start of the line before they move to batter-fried vegetable and fish pakoras, as well as less traditional offerings including onion rings. Then, they traverse to the tawa and tandoor section for smoked veggies, samosas, and potato tikkis (or patties). Main courses wait down the line—including goat curry, butter chicken, and palak paneer—before diners finish their culinary voyages the same way Marco Polo ended his: with fresh fruit, pastries, and Indian desserts.
The restaurant's high ceilings, cloth-draped tables, and modern decor are a fitting backdrop for the abundant feast and bold flavours. And diners can linger in the ambiance of the Thekka 'd Indian Bar sipping Indian-inspired cocktails and traditional drinks such as yogourt lassis.
8150 Dixie Rd.
Brampton
Ontario
905-451-1686
Since putting the finishing touches on their first burger in 1984, Spot 1 Grill's chefs have been sating growling stomachs by whipping up traditional bar fare for lunch and dinner. Amid a dining room bathed in the glow of athletic tidings transmitted by 11 large-screen plasma TVs, servers ensure that tables remain piled high with the kitchen's hearty concoctions such as baby back ribs and their signature chicken wings. To further bolster the restaurant's convivial atmosphere, Spot 1 staff hosts a weekly lineup of events including karaoke evenings, performances by live cover bands, and NTN trivia nights that make the hours spent memorizing trivia answer keys worthwhile. A fleet of 17 dartboards enables eaters to engage in handheld target practice between quaffs of draught beer, and a free WiFi connection facilitates unfettered postmeal web exploration.
289 Rutherford Road S
Brampton
Ontario
905-456-0422
Though its menu pays deference to the pizzas, burgers, and chicken wings on tap at more traditional sports bars, C J Burgers & Pizza draws its primary inspiration from its Greek owners, who stack plates with the Mediterranean-style gyros and skewered pork souvlaki of their native land. Maple Leafs fans pile into the cozy restaurant on game nights to follow their team's travails on TV screens stationed above a full-service bar that stocks top-shelf spirits. Cheering fans can seek hands they haven't high-fived yet on the heated outdoor patio, which overlooks North York's bustling downtown.
1291A Wilson Ave.
North York
Ontario
416-244-8433
---