Theme & Amusement Parks in Brampton
---
Recommended Theme & Amusement Parks by Groupon Customers
---
Though already a funhouse of aquatic activity, Bingemans Big Splash recently added five new waterslides to their expansive water park. Adventure seekers can throw themselves down traditional tube slides such as Boomerango or attempt to beat family and friends in a race on Full Throttle. In between trips down the newborn water slides, a wave pool serves as the wading ground for both children and adults. To end a day of watery fun, guests can shake out their ears and bellybuttons at an outdoor mini-golf course or rock-climbing and ropes courses.
425 Bingemans Centre Dr.
Kitchener
Ontario
Spanning 25,000 square feet of living quarters for coldblooded creatures, Reptilia houses more than 200 venomous and nonvenomous reptiles and amphibians. Experienced keepers and handlers educate zoo-goers on the critters that make up the more than 50 exhibits, including star performers such as a 14-foot king cobra, a red-footed tortoise, and Induna—a 14-foot Nile crocodile weighing more than 1,200 pounds. Besides expounding on animals' eating habits during four live feedings each day, the staff also demonstrates the reptiles' instinctive vaudeville routines during live shows in an on-site theatre. Furthering its commitment to reptilian education, the zoo helps visitors overcome their irrational fears of snakes, spiders, and terrarium glass in a four-week course dedicated to phobias, and camp counselors guide children through science experiments, arts and crafts, and ecologically focused zoo tours during all school breaks.
2501 Rutherford Rd., Building A
Vaughan
Ontario
905-761-6223
Masked by opaque helmets, eight racers at a time tense up to counteract the G-force pressing them to the sides of their karts. As they approach the fastest sweeping turn on the course, The Catapult, they sharpen their focus in order to out-manoeuvre the other racers, their final position hanging in the balance. Grand Prix Kartways' 47,000-square-foot facility's alternating red and white barriers blur as electric, Italian-made karts accelerate into the last straightaway, cheered on by spectators watching from the VIP lounge. Once across the finish line, the competitors clear the track for the next race, using instant printouts of the results to compare placing, reveal who had the best lap times, and determine who was throwing all the koopa shells and banana peels. Between races, daredevils can relax and take a seat in the cushy trackside lounge equipped with leather couches, a restaurant menu, and a full bar. The arcade also offers a view of one of the track's hairpin curves between billiards shots, simulator races, and video games on Kinect-equipped Xbox 360 systems.
75 Carl Hall Rd., Bay 3, Suite 9 Parc Downsview Park
Toronto
Ontario
416-638-5278
Just Bounce Trampoline Club's certified coaches orchestrate proper technical progressions on eight competition trampolines surrounded by padded decks and walls to ensure safety. As jumpers slice through the air learning turns, pike jumps, or flips, parents and onlookers cheer from an elevated window booth. During group instruction, day camps, and birthday parties, each instructor supervises up to eight leapers, ensuring that each gravity-defying participant receives individual attention and truly learns what a frog's perspective is like. Each coach aims to imbue burgeoning athletes with self-esteem and refined focus as they teach skills of gradually increasing difficulty during both group and private lessons.
3731 Chesswood Dr.
North York
Ontario
416-635-0206
---
---
Theme & Amusement Park Deals - Recently Expired
---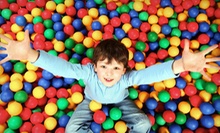 ECE-certified staff supervises and entertains children in two indoor playgrounds and arcades; themed games, crafts, and activities
---
---