Theme & Amusement Parks in Brandermill
---
Theme & Amusement Park Deals
---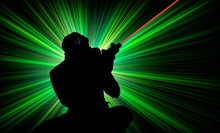 Lasers fly across a neon-lit battleground during games in which players vie for high scores with well-placed shots to lighted vests
---
Recommended Theme & Amusement Parks by Groupon Customers
---
Swaders Sports Park fuels friendly competition between friends and family members with an endless series of sports and gaming opportunities. Guests jump into one of four different go-karts and zip around two tracks or guide golf balls past challenging obstacles and serene water features—such as waterfalls, streams, and nymphs holding water guns—on two 18-hole mini-golf courses. Golfers can also head to the driving range or smack a different kind of ball in the batting cages.
Inside the facility, a whirring collection of lights and sirens ricochet off the walls from more than 70 arcade games. A multilevel laser-tag arena conceals players behind towering glow-in-the-dark obstacles, and the Route 66 bowling alley allows guests to bowl on highway-themed lanes without the risk of potholes that comes from playing on regular highways.
4725 Whitehill Blvd.
Prince George
Virginia
Like Superman's secret North Pole fortress, SkateNation Plus brings the excitement with lasers, arcade games, and 17,000 square feet of glassy ice worth gliding upon. Its regulation NHL–size rink serves as a venue for public skating sessions, in addition to figure-skating lessons, hockey games, and ice-dancing performances. More than 40 games in its onsite arcade whir with a flurry of tickets, and a full spectrum of prizes awaits quick-handed winners at the redemption counter. During laser-tag sessions, the Lasertron computer spontaneously upgrades players with such power-ups as "energizer" or "force field," which protects against enemy blasts more effectively than a lead vest or full-length mirror. SkateNation Plus also hosts a rock-climbing wall and full-service café to keep guests warm and energized during visits.
4350 Pouncey Tract Rd.
Glen Allen
Virginia
804-364-1477
Amid all the indoor turf-sports fields of the Williamsburg Indoor Sports Complex, there's one dark maze that's lit by black lights and glowing neon walls alone. In this shadowy space, players blast beams of light from their lasers, engaging in team combat and open play inside a 5,700-square-foot, space-themed arena. They dodge behind glowing wall lights, illuminated mock computer screens, and walls painted to resemble metal and rivets. Players as young as 5 can navigate the arena's black-lit halls, while the staff helps keep competition friendly during open play and birthday parties.
5700 Warhill Trl.
Williamsburg
Virginia
A gathering place for both children and parents, Cartwheels & Coffee sows the seeds of neighborhood camaraderie with its multi-purpose recreational facility. Inside, an enclosed play area entertains children aged six and under with interactive fun, and a separate section keeps babies captivated with age-appropriate toys. Meanwhile, parents can kick back alongside each other in the Wi-Fi-equipped cafe and sip on locally roasted cups of coffee or recharge with other items from the menu. Special events throughout the week provide a change of pace to normal activities, including singing sessions on Mondays and dance classes on Wednesdays.
2820 W Cary St.
Richmond
Virginia
Romp n' Roll's energetic instructors inspire parents and children alike to get on their feet and learn in structured play-based educational classes. In small groups, kiddies engage with their peers and their environment during interactive lessons, such as dancing sessions or art explorations, which nurture their physical and mental development. Instructors keep their lessons lively by infusing play into each assignment. Outside the classroom, the staff hosts indoor play time to give kids a place to safely unleash any remaining energy. Parents can attend classes with their kids to spend quality time with their offspring and finger-paint something other than office budget reports.
9677 W Broad St.
Glen Allen
Virginia
804-249-5001
The friendly staffers at Bounce House's multiple Virginia locales breathe new life into the term sock hop, as well as lots of air into inflatable play surfaces. During Open Jump sessions and birthday parties, sock-clad moppets aged 1–12 can hop to their heels' content across a cadre of themed inflatables, which catapult youngsters into TV-station simulacra and onto the surface of an air-hockey machine. As parents supervise, they can compare their children's bouncing with that of the stock market using complimentary WiFi. Each Bounce House fuels fun by keeping its snack bar fully stocked.
3032 Richmond Rd.
Williamsburg
Virginia
---