Things to Do in Brandermill
---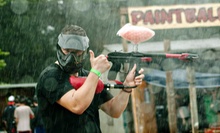 All-day paintball outing includes field admission, rental paintball gun, protective mask, and 250 paintballs for each player
---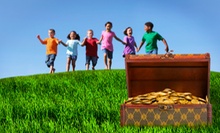 Groups of kids follow secret messages using an antique compass to hunt for treasure chests in birthday celebrations
---
Recommended Things to Do by Groupon Customers
---
For more than 50 years, Putt-Putt Fun Center has delighted visitors with a triad of entertainment: miniature golf, bumper boats, and go-karts. Its three 18-hole putt-putt courses test putting skills with challenges akin to those on regulation greens, and a 6,400-square-foot pool dubbed the Wet Zone hosts 14 electric bumper boats where customers are guaranteed to get wet. Each vessel can seat one adult and one child and comes equipped with a spray nozzle that riders can use to mist their opponents as their boats playfully bump together. Go-kart drivers speed in the Race Zone toward the finish line, and visitors prove their thumb dexterity at the arcade's 50 video and skill games, where players can earn tickets to use toward prizes. Group and party packages ensure that visiting sports teams or birthday revelers stay nourished and entertained.
7901 Midlothian Tpke.
Richmond
Virginia
The streets and buildings of Richmond breathe with history. Patrick Henry's famous words, "Give me liberty or give me death," echo in St. John's Church, where the statesman gave his infamous speech; the ghost of Poe wanders the streets of the Church Hill district, where he lived and wrote; and the bones of presidents James Monroe and John Tyler lie peacefully under the lush grass of the Hollywood Cemetery, a National Historic Landmark. These are just a few of the locations that segway riders glide through during educational tours organized by Segway of Richmond.
The company's most popular jaunt, the two-hour Landmark Tour, takes groups to nearly 20 historic buildings, churches, and museums, whereas other ventures focus on specific aspects of the city's past, such as the Black History Tour or the Edgar Allan Poe Tour. In addition to learning about the men and women who shaped the culture of Richmond and practicing their preferred mode of transportation, tour-goers can explore the architecture of Victorian and Edwardian homes during a Fan District Tour or think about murals, mosaics, and sculptures during a Public Art Tour.
1301 East Cary St.
Richmond
Virginia
Bahamas native David M. Hay spent his youth exploring the world of underwater wrecks while on dives with his father. Laura Schild Hay became enamored with sea creatures at an early age. David fervently kept up with diving, racking up nearly 6,000 logged dives working as a dive instructor and assisting West Virginia State police with underwater criminal investigations. Laura, on the other hand, cultivated her love for biology by breathing regularly and earning a doctoral degree in biochemistry and molecular biology. She rekindled her passion for marine life in 2000 when she learned to scuba dive in northern California. Two years later she wandered into a Maryland dive shop seeking diving opportunities, where dive instructor Dave escorted her into the seas and, eventually, down the aisle.
Along with David W. Hay, the diving duo founded Atlantis Divers in 2005, where their certified team coaches beginners, fallen dolphins, and advanced ocean explorers alike. In addition to public safety training by Public Safety Diving instructors, who currently serve on police- and rescue-dive teams, Atlantis Divers educates pupils with 10 scuba classes. There, instructors abet apprentices with courses focused on managing dive emergencies and learning how to prepare wreck dive equipment.
1480 Anderson Hwy.
Powhatan
Virginia
804-320-7000
One of the Science Museum of Virginia's current exhibits includes a few basketball players—just don't expect LeBron James or Kobe Bryant. These basketball players are two rats, playing a live one-on-one game to demonstrate operant and classical conditioning. Throughout the three-story museum, more hands-on examples of science await at five permanent exhibits. Inspect a rock from the moon, explore a life-size space capsule, and generate energy by pedaling a stationary bike. Kids can even build their own playground with materials such as mats and foam blocks.
Inside the IMAX Dome, a screen 10 times the size of a typical 35 mm screen shows a wide range of educational films. Outside the museum, plants in the BayScapes Garden thrive without pesticide, fertilizer, or the encouragement of a motivational speaker, and an onsite greenhouse offers free planting areas for visitors to contribute greenery and learn about sustainable farming.
2500 W Broad St.
Richmond
Virginia
Edgar Allan Poe holds a distinguished reputation in American literature, given his proclivity for dark work, such as "The Raven" and "The Tell-Tale Heart." But the Poe of legend is often at odds with the real Poe: the student who had to gamble and burn his furniture to make it through college; the career man who traveled extensively to find better opportunities; and the devoted husband who never recovered from the death of his wife. He even enrolled at West Point … though he was thrown out eight months later.
The Poe Museum educates guests on the writer's life, helping them reconcile the reputed Poe with the real Poe. Located within the Old Stone House that lies just blocks from Poe's first Richmond home and his first employer, the Southern Literary Messenger, the museum showcases exhibits and significant artifacts, such as Poe's walking stick, his boyhood bed, and even a lock of his hair. This collection reveals his journey, showing what drove him to become a master writer of short stories, lyric poetry, action-movie screenplays, and, of course, horror stories.
1914-16 E Main St.
Richmond
Virginia
804-648-5523
Having stood its ground against those who wanted to tear it down, Wilton House serves as a symbol of the Colonial American spirit in more ways than one. Built in 1753 as the main house on a 2,000-acre plantation, the structure serves as a steadfast example of Georgian architecture. It's the home of more than 1,400 17th-, 18th-, and 19th-century objects and artifacts, including documents signed by founding fathers and US presidents. Wilton even played host to the likes of Thomas Jefferson, the Marquis de Lafayette, George Washington, and George Washington's white-wig-wearing foxhound. In addition to daily tours, the museum staff hosts events, such as lecture series, concerts, and seasonal exhibits.
215 S Wilton Rd.
Richmond
Virginia
804-282-5936
---