Things to Do in Brandermill
---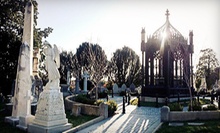 Guides introduce walkers to Hollywood Cemetery's unique artwork and rich history; others visit historical theaters, neighborhoods & churches
---
Recommended Things to Do by Groupon Customers
---
For more than 50 years, Putt-Putt Fun Center has delighted visitors with a triad of entertainment: miniature golf, bumper boats, and go-karts. Its three 18-hole putt-putt courses test putting skills with challenges akin to those on regulation greens, and a 6,400-square-foot pool dubbed the Wet Zone hosts 14 electric bumper boats where customers are guaranteed to get wet. Each vessel can seat one adult and one child and comes equipped with a spray nozzle that riders can use to mist their opponents as their boats playfully bump together. Go-kart drivers speed in the Race Zone toward the finish line, and visitors prove their thumb dexterity at the arcade's 50 video and skill games, where players can earn tickets to use toward prizes. Group and party packages ensure that visiting sports teams or birthday revelers stay nourished and entertained.
7901 Midlothian Tpke.
Richmond
Virginia
The streets and buildings of Richmond breathe with history. Patrick Henry's famous words, "Give me liberty or give me death," echo in St. John's Church, where the statesman gave his infamous speech; the ghost of Poe wanders the streets of the Church Hill district, where he lived and wrote; and the bones of presidents James Monroe and John Tyler lie peacefully under the lush grass of the Hollywood Cemetery, a National Historic Landmark. These are just a few of the locations that segway riders glide through during educational tours organized by Segway of Richmond.
The company's most popular jaunt, the two-hour Landmark Tour, takes groups to nearly 20 historic buildings, churches, and museums, whereas other ventures focus on specific aspects of the city's past, such as the Black History Tour or the Edgar Allan Poe Tour. In addition to learning about the men and women who shaped the culture of Richmond and practicing their preferred mode of transportation, tour-goers can explore the architecture of Victorian and Edwardian homes during a Fan District Tour or think about murals, mosaics, and sculptures during a Public Art Tour.
1301 East Cary St.
Richmond
Virginia
Bahamas native David M. Hay spent his youth exploring the world of underwater wrecks while on dives with his father. Laura Schild Hay became enamored with sea creatures at an early age. David fervently kept up with diving, racking up nearly 6,000 logged dives working as a dive instructor and assisting West Virginia State police with underwater criminal investigations. Laura, on the other hand, cultivated her love for biology by breathing regularly and earning a doctoral degree in biochemistry and molecular biology. She rekindled her passion for marine life in 2000 when she learned to scuba dive in northern California. Two years later she wandered into a Maryland dive shop seeking diving opportunities, where dive instructor Dave escorted her into the seas and, eventually, down the aisle.
Along with David W. Hay, the diving duo founded Atlantis Divers in 2005, where their certified team coaches beginners, fallen dolphins, and advanced ocean explorers alike. In addition to public safety training by Public Safety Diving instructors, who currently serve on police- and rescue-dive teams, Atlantis Divers educates pupils with 10 scuba classes. There, instructors abet apprentices with courses focused on managing dive emergencies and learning how to prepare wreck dive equipment.
1480 Anderson Hwy.
Powhatan
Virginia
804-320-7000
Josh knew the first treasure hunt he set up was a success when he saw the happy look in his three younger brothers' eyes as they uncovered the final treasure chest. Based on Josh's clues, the younger Schwabs had just gleefully trekked across Warrenton, Virginia, and into the Shenandoah Mountains in search of their goal. But the event was more than just a fun way to spend the day: it also gave them inspiration at a time when the future felt grim, as their mother was undergoing chemotherapy treatment. Although that has since become a fond memory of a good day, it's also warmly remembered by the family as the catalyst that led Josh to establish Ravenchase Adventures, where he now sets up just such engaging hunts for the public.
Now Ravenchase is an event company that offers pre-set and custom treasure hunts and adventure races. As the company has grown, Josh's team has even set up events for a variety of well-known clients, from DreamWorks Studios to The Leukemia & Lymphoma Society. But regardless of who participates, he and his dedicated staff ensure each two- to three-hour adventure is filled with brainteasers, mysterious clues, and baffling ciphers. Each solved clue leads the groups across town with treasure maps. Fun prizes await at their final destination. In an effort to give back to the community, the company also set up the nonprofit Ravenchase Foundation, which supports organizations that inspire and teach tolerance for history, logic, and the arts.
3013 Libby Ter.
Richmond
Virginia
215-327-2337
Swaders Sports Park fuels friendly competition between friends and family members with an endless series of sports and gaming opportunities. Guests jump into one of four different go-karts and zip around two tracks or guide golf balls past challenging obstacles and serene water features—such as waterfalls, streams, and nymphs holding water guns—on two 18-hole mini-golf courses. Golfers can also head to the driving range or smack a different kind of ball in the batting cages.
Inside the facility, a whirring collection of lights and sirens ricochet off the walls from more than 70 arcade games. A multilevel laser-tag arena conceals players behind towering glow-in-the-dark obstacles, and the Route 66 bowling alley allows guests to bowl on highway-themed lanes without the risk of potholes that comes from playing on regular highways.
4725 Whitehill Blvd.
Prince George
Virginia
Nestled on 28 tree-lined acres of Chesterfield County, Oasis Sports Park beckons to sportspeople of all stripes with a scenic complex of family-friendly, recreational attractions. The centerpiece of the entire park, its nine-hole, par 3 course, challenges players with bent grass greens and Bermuda grass fairways and roughs. With tee-to-green distances ranging from 75–175 yards, the course features enough variety for players to dig deep into their repertoire of short-irons, mid-irons, and bedazzled parade scepters. Bunkers enshroud the five target greens at the Park's 10,000 square-yard driving range, raising the stakes on practice shots as players swing freely from Bermuda grass hitting areas or covered, heated stalls. The Park also encompasses an 18-hole miniature golf course and a nine-station batting cage, where mechanical pitchers hurl baseballs up to 70 mph to simulate the experience of dodging a tiny meteor.
15300 Cosby Rd.
Chesterfield
Virginia
804-739-6833
---