Brandon Outdoor Activities
---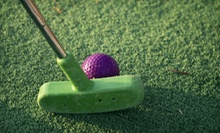 Golf courses styled to look like a tropical island or Wild West town with hanging wooden bridges, a volcano, and a rickety saloon
Use Saturday 9:00am - 4:00pm
---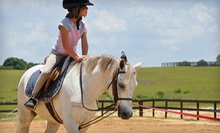 Accomplished instructors lead riders through 30 minutes of trots and jumps during this private lesson held amid 25 acres of scenic stables.
Use Friday 9:00am - 5:30pm
---
Recommended Outdoor Activities by Groupon Customers
---
As a former national-level figure skater and ISSA-certified personal trainer, Jessica knows what a full-body burn feels like. However, she didn't know that a stationary bike could replicate the feeling, until a fellow trainer encouraged her to climb aboard a RealRyder cycle. Jessica became a devotee after just two rides. Determined to share her newfound passion with others, she gathered a team of certified instructors, populated two studios with RealRyder ABF8 bikes, and opened their doors to prospective pedalers of all fitness levels.
Inside Ryde For Life, Jessica and her staff host 45- to 60-minute classes synced to each teacher's music playlist. They lead stationary teams atop RealRyder bikes, whose specialized frames allow riders to lean, bank, and steer as they would an on-road bike. In addition to pumping up cardiovascular systems, sessions engage the core, upper body, legs, and the scalp muscles that hold helmets in place.
1221 W Cass St.
Tampa
Florida
813-475-5915
With the 2011 season looming large, FC Tampa Bay will attempt to pass, tackle, and score its way to NASL glory at the club's new home at Al Lang Stadium in St. Petersburg. Currently headed up by English coach and retired professional footballer Ricky Hill, the FC Tampa Bay team are chest-trapping, banana-kicking, and head-butting their way back into the world of black-and-white-spotted balls. Watch them take on the Puerto Rico Islanders, who are hungry to work their way up the 2011 standings, or root on the roster as the team guns for the fleet-footed Atlanta Silverbacks, slippery Carolina Railhawks, or northerly FC Edmonton. General-admission seats allow frenetic fans to observe the fantastic flairs of NASL soccer savants as they attempt to sneak the European pigskin between an opponent's legs and through the goal zone. The $20 gift voucher can be put toward merchandise such as a jersey, a scarf, or an oversized foam yellow card.
3802 W Dr. Martin Luther King Jr. Blvd.
Tampa
Florida
Tampa Bay Grand Prix puts you behind the wheel of a true European-style electric OTL Pro-Kart. These easy-to-handle, durable, and reliable karts were designed specifically for rental and can reach speeds of up to 45 miles per hour—packing enough excitement to make the family sedan feel like a golf cart tethered to a mountain by a chain made out of iron recovered from a shipwreck. The OTL Pro-Kart's unique steel-tube frame provides security from red koopa shells and banana peels, while the track's state-of-the-art barrier ensures extra safety.
14320 N Nebraska Ave
Tampa
Florida
US
813-977-6272
Formerly the Lingerie Football League, the Legends Football League stands as the "fastest-growing pro sports league in the nation" according to NBC Sports correspondent Rick Chandler. That success owes much to the league's unique format, which pits two exclusively female teams in alluring uniforms against each other in full-contact football games on a 50-yard field. Donning football pads and helmets over their revealing performance wear, the female athletes block, juke, and sprint uninhibited by such frivolous gear as the NFL's heavy chainmail hauberks.
401 Channelside Dr.
Tampa
Florida
A member of a previously undiscovered species known as skateasaurus stakes its territory, tracing figure eights along the rink's hardwood floor. Dressed in blue-and-white shorts and a red trucker hat, the plush, green-and-yellow dinosaur—otherwise known as Skato—eschews eating children, and instead prompts them to shake it all about in rounds of Hokey Pokey. This fun ambiance extends to the rest of United Skates of America's roller rink, surrounded by lime-green walls and manned by a smiling staff.
5121 N Armenia Ave.
Tampa
Florida
US
813-876-5826
Challenge Nation pioneered the urban-adventure race with a race season that includes visits to 35 cities across the country. Each scavenger hunt is personalized to the hosting city, exploring its many diverse neighborhoods with a series of clues that would test even the most skilled children's-book detective. The teams—comprised of at least two people—vie for a $300 first-place prize. The _Amazing Race_–style competition rewards quick wits and wise planning over physical fitness, so the best way to prepare is by doing logic puzzles while eating Funyuns and lounging in a La-Z-Boy. The top 25 teams qualify, the top five receiving free entry, to compete in the national championship, which rewards winning teams with a $5,000 cash prize.
202 N Morgan St.
Tampa
Florida
---