Massage in Branford
---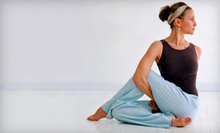 Beneath images of lotus flowers, patrons learn or perfect poses in holistically focused studio
Use Monday 7:00am - 10:00am
---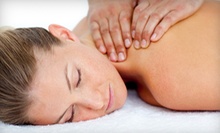 A licensed massage therapist tries to reverse long-held patterns of tension with firm, precise kneads during a 30-minute deep-muscle massage
Use Tuesday 10:00am - 8:00pm
---
Recommended Massage by Groupon Customers
---
Amethyst Rose's one-hour facial uses organic Eminence skincare products to deep clean pores, exfoliate dead cells, smooth fine lines, and water dry patches until they sprout fresh dandelions. An expert aesthetician will focus on your skin's unique issues until any and all problems are smoothed, softened, and glowing with healthy stimulation. While your body's PR department is being perfected, booties will warm your appendages and one of Amethyst Rose's friendly therapists will massage your head, neck, arms, hands, and feet.
700 Main St., Suite B, 2nd Floor
Islip
New York
State-licensed massage therapist (license #004958) A. Malaika Sharp cultivates relaxation and targets each client's unique issues with a focused menu of services. She can shoo everyday stress away through basic relaxation massages, but she's as focused on function as she is on feeling good. An avid martial artist and cyclist, Sharp consults with all clients to understand the ways they use their bodies for work and recreation. That helps her pick out distinct patterns of motion and coax bad habits or stored tension out of muscles, whether she's targeting chronic aches through deep-tissue techniques or helping athletes recover from strenuous duck-duck-goose training through sports massage. Or, for those suffering from headaches and migraines, she can incorporate trigger-point therapy. Sharp is also a member of the American Massage Therapy Association and is certified through the National Certification Board for Therapeutic Massage & Bodywork.
17 S Highland St.
West Hartford
Connecticut
Canji Healing Touch owner Jennifer Graves grew up in a culture that emphasized touch. But when she came to the United States, she realized people were more physically distanced. She decided to become a massage therapist and bring the calming, comforting power of touch to more people. Her business's name pays homage to both her birthplace of Canje, Guyana, and her belief that touch can heal.
Before each of her massages, Jennifer fills the room with the soothing aromas of lavender and sage oil, then turns on relaxing music. She's skilled in a variety of therapies, including Swedish massage—whose relaxing strokes banish stress and increase circulation—and trigger-point massage, which helps relieve the pain of tight muscles. Prenatal and postnatal massages help women's bodies as they handle the added stress of pregnancy. Jennifer also performs sports massages to release tension and soreness from being too awesome at football. Her therapeutic integrative massages aim to not only help bodies feel better but also rejuvenate clients emotionally and spiritually to nourish their whole being.
300 Federal Road, Suite 205
Brookfield
Connecticut
203-648-8839
Amid the chaos of life, the therapists at Natural Balance Therapeutic Massage step into a bubble of calm at work. Their clients go there to find peace as well, and they gently glides their hands over their dermal canvases during Swedish, deep-tissue, and sports massages. The therapists also help to alleviate pain in the body by concentrating on the feet during reflexology treatments and "This Little Piggy" sessions. Reiki sessions also prove useful in tempering aches and stress by releasing energy blockages.
2719 Berlin Turnpike, Suite 1
Newington
Connecticut
With 13 licensed massage therapists on staff, Elements Therapeutic Massage is equipped to help clients treat an array of ailments, from back and neck pain to emotional stress. The team utilizes a level system to give clients the right amount of pressure during their massages, starting with a light and relaxing level one massage and working up to the deep kneads and trigger-point work done in a level four session. Each therapist is versed in a handful of techniques and styles, including the popular Swedish massage, sports massage to help athletes improve their performance ahead of upcoming yo-yo tournaments, and prenatal massage to help expecting mothers ease pregnancy related aches and pains.
42 East Main Street
Smithtown
New York
631-406-6611
Ancient Himalayan singing bowls and the calming tone of a gong envelop The Conduit Center's space as individuals lie comfortably on pillows and blankets, letting the deep vibrations and soothing sounds lull them into a deep meditative state. These sound-meditation concerts are just one aspect of the center's meditation services, which are designed to create a state of effortless relaxation for each participant. Guests can also opt for vibrational sound massage and singing-bowl sessions, both of which use vibration and sound to calm the entire body while boosting mental focus, helping the body heal while making ordinary soup bowls seem sadly inadequate.
In addition to meditation, the center conducts yoga, tai chi, and qigong classes that are both challenging and accessible to all levels of participants. Complimentary herbal teas, massage therapy, and individual or marriage counseling are also offered as part of the center's goals to create a tranquil environment where each individual can quell anxieties and start a personal journey of self-exploration.
1227 Burnside Ave., Suite 1
East Hartford
Connecticut
---