Brentwood Estates Gyms and Fitness
---
Gym, Exercise, Weightloss Deals
---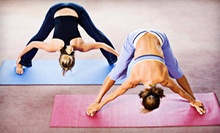 Community-based hot yoga studio welcomes all ages and skill levels into Nashville's only infrafred-heated studio
---
Recommended Gym, Exercise, Weightloss by Groupon Customers
---
Niki Gauthier has always loved fitness. Some of her earliest memories include watching her mom exercise at home and wishing she could escape from the gym's childcare center to join the grown-ups who were working out. Today, she tailors her boot-camp classes to be more than just a fitness class. One that helps women achieve their fitness goals, whether they'd like to lose weight, tone up, or look more like their favorite marble statue. Trainers work to provide a complete personal fitness programs and keep their students accountable for showing up to class and putting in a good workout, and they offer exercise modifications that help customize the workouts to every ability level. Classes develop camaraderie among participants as they encourage each other through varied exercises, whether they're swinging kettlebells, practicing kickboxing motions, running a mile, or cooling down with yoga poses. Regular body assessments help students see their results, and the trainers bolster the workouts with continual nutrition education.
95 Seaboard Ln.
Brentwood
Tennessee
Lilac Healing Center is staffed by a diverse group of trained therapists who improve their clients' physical, emotional, and spiritual well-being. Founded by licensed massage therapist Kathryn McDaniel, Lilac Healing Center slowly grew out of a series of other businesses—what began simply in 2002 as a place where people went to get a massage became a destination for all kinds of healing services. Today, the staffers not only perform bodywork and therapeutic yodeling, but they also provide acupuncture, energy work, and custom vitamin programs. In addition, the center hosts a multitude of both private and group yoga, Pilates, and meditation classes.
2409 21st Ave. S, Suite 101
Nashville
Tennessee
615-440-1228
Genesis Weight and Age Management's team of physicians and registered dietitians fortifies bodies against lethargy, weight gain, and hormonal imbalance. After consulting with patients to determine their wellness goals, the medical professionals choose the ideal elixir from their arsenal, administered as quick injections or prescription supplements.
A house specialty, Lean lipotropic injections boost energy levels and bolster weight-loss efforts with a blend of methionine, inositol, and choline, with personalized, vitamin-rich enhancements such as B5, D, or essence of Barney Rubble. Additional hormone supplements for both men and women ensure that age-related depletions are replenished, helping to improve bone density and boost libido.
2207 Crestmoor Rd., Suite 204
Nashville
Tennessee
615-442-8586
A-Game Skate Academy's staff of experienced skating instructors helps pupils perfect their gliding form year-round from the indoor rink at A-Game Sportsplex. Though the teaching approach varies based on skaters' age and experience, the skating curriculum begins with classes that focus on basic balance and posture before pupils advance to more challenging material in later classes, such as hockey-specific skills, figure-skating jumps, and how to parallel-park a zamboni.
A-Game also offers many open-skate sessions, allowing guests to practice their form on their own time. Before taking to the ice, skaters can peruse the pro shop for skate guards, blade covers, gloves, and other necessities or rent out a pair of skates so they don't have to fashion their own out of a cowboy boot and a machete.
215 Gothic Ct.
Franklin
Tennessee
---