Pet Services in Brentwood
---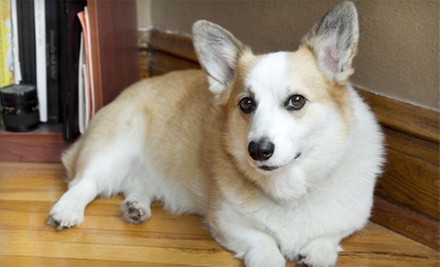 Nashville-Davidson metropolitan government (balance)
---
Recommended Pet Services by Groupon Customers
---
Inside The Groomery, Christy Lynn lavishes her clients with manicures, blueberry facials, and the occasional belly rub. Fueled by extensive training and a passion for all things canine, she transforms dog grooming into an art composed of hairstyling, massage therapy, and a hint of fashion design. During basic baths, she ushers pups to a Bath Master system that lathers fur with a choice of shampoo and melts away tension with pulses of water. To make tails wag with glee, she selects a tearless shampoo that complements each skin type and coat texture. After the sudsing has concluded, Christy Lynn accents the dog's natural beauty with a jaunty bandana, bow, or powdered wig. For pooches seeking a full makeover, she can brush teeth, brush and trim fur, scrub paw pads, or file nails into a manageable shape.
990 Davidson Dr., Suite C
Nashville
Tennessee
615-353-9311
Oliver's is named for its chief executive officer, Oliver Cooley, a french bulldog. To counterbalance his spotty managerial resume, Oliver is aided by his human counterpart Brian Cooley, a pet-lover and Iraq War veteran who brings a human's higher cognitive functions to the facility.
With their combined knowledge of what pets want, Brian and Oliver's canine staff board dogs while their owners are away and oversee a spacious daycare and spa. Combined with their outdoor play area, their indoor play area—with quality K9 synthetic grass—gives visiting pups amble space to roam. Additionally, natural bath products from earthbath spruce up canines' coats much better than simply herding dogs through a car wash.
2007 Johnson Industrial Boulevard #100
Nolensville
Tennessee
US
615-776-3861
Get your puppy's paws clean and your malcontent kitten relaxed with today's Groupon to Pet Resorts of America. You, your four-legged friends, and your pets get $50 worth of high-class overnight stays and luxurious baths for $25. Whether you need someone to love and care for your pets while you're away on a transatlantic hot-air balloon jaunt, or you just want to spiff up your puppy's coat with a totally fresh argyle airbrush pattern, Pet Resorts of America can meet your needs (except the airbrushing one). Follow @Groupon_Says on Twitter.
7200 Charlotte Pike
Nashville
Tennessee
US
In 1991, Jimmy and Regina Huggins opened a dog-grooming salon. Sensing the duo's bond with canines, customers began asking if their dogs could stay for the weekend. The Huggins decided to build a mini dog hotel in their backyard, a place where they felt comfortable keeping their own four-legged best friend, Miss Kitty.
Today, in a larger location, caregivers pamper pups with creative grooming services, baked pet treats, and loving overnight or midday boarding. Humans observe from the lobby as nationally certified master groomers comb, cut, and coif coats according to each canine's personal style. Along with their grooming, stylish pets enjoy playtime and a leisurely walk to flaunt their new looks around the area's hottest fire hydrants. Bakers craft wholesome doggy confections, such as homemade pitter-pat cookies, from whole-wheat flour, eggs, carob, peanut butter, honey, and cheese. Jeweled collars and accessories line the elegant boutique for owners to gild pooches in preparation for dog-show red carpets.
During doggy daycare, pet nannies place four-legged wards with compatible canine friends for playtime in a large, tree-filled yard. At the boarding hotel, pups head outdoors for 20 to 30 minutes five times a day, rain or shine, to prance, socialize, and discuss timeless questions, such as, "Who's a good boy?" Separate wings host dogs of different sizes and temperaments and each canine guest has free run of a cheerful, private room with linoleum floors, eye-level windows, and cloth curtains. Throughout dogs' stay, caring staffers administer medication, food, and veterinarian-approved levels of tender loving care.
4308 Kenilwood Dr.
Nashville
Tennessee
615-292-1900
Helmed by a trio of dog- and cat-grooming specialists, Groomer Has It is a one-stop shop for dirty and disheveled pets. The team employs a skin-oxygenating HydroSurge bath to gently cleanse pets before sprucing them up with a haircut, teeth brushing, a de-shedding treatment, and a nail trim. The facility also boasts DIY bathing tubs, giving pet owners access to bathing equipment and offering autonomous dogs the dignity that comes with washing one's own hair.
222 Old Hickory Blvd. , Suite 103
Nashville
Tennessee
615-646-3434
At Posh Pups' relaxing salon, pet devotees grant the furriest members of the family undivided attention while performing pelt-perfecting services for dogs and cats of all breeds and sizes. The hospitable groomers make sure to treat timid, ill, and senior pets with extradelicate care, and use all-natural products free of harmful chemicals or Mountain Dew that makes fur glow in the dark. In addition to shampooing coats, brushing fangs, and trimming nails, Posh Pups Grooming also offers in-home pet-sitting complete with complimentary belly rubs.
140 Lane Dr.
Mount Juliet
Tennessee
615-969-7349
---