Beauty & Spas in Brighton
---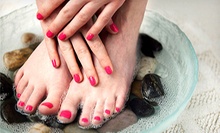 Nail specialist Melanya Bileschi adorns nails with glimmering polish and durable Shellac gels
---
Recommended Beauty & Spas by Groupon Customers
---
Drenched in marigold tones, the Sun Tan City facility transforms exteriors with cosmetic treatments that harness different wavelengths of light. Smart Tan–certified professionals invite clients to lie down, stand up, or sit down to bask in bronzing rays and tanning sprays. The staff also whitens teeth with LED light during Beaming White treatments, and slims bodies or out-of-shape sports cars with infrared light during Fit body wraps.
1945 E Ridge Rd.
Irondequit
New York
585-467-5450
Some salons are content to slather faces with a mix of mud and sugar and call it a facial. That's not the case at SeriouSkin, where aestheticians curate a menu that includes only those treatments and products that have been clinically proven to safely remedy skin issues such as acne, wrinkles, and unwanted hair. The spa's licensed staff members are all trained masters of their trade, skillfully deploying services that range from laser hair removal and permanent makeup to FDA-approved Bio-Roller micro-needle therapy, which improves the look and feel of skin through use of fast-moving, collagen-stimulating needles filled with inspirational quotes.
Despite its clinical technology, the salon features a softer side, including a brow bar where aestheticians can shape eye awnings with a range of powders, pencils, waxes, and brow mascaras, or enhance lashes with conditioners and extensions. The studio is thoroughly stocked with a wide range of quality products by brands such as PCA Skin, Ayur-Medic, and Jade, and aestheticians are happy to recommend products that can be used at home to enhance any treatment's effectiveness.
1 Grove St., Suite 114
Pittsford
New York
585-586-9811
Housed in the historic Wiltsie & Crump building—originally erected in 1886 to serve as Pittsford's general store—The Soho Salon's warmly lit interior is home to a collective of former salon owners, veteran colorists, and seasoned stylists. The cosmetic doyens flock to the salon for a chance to work with owner Chas Inzinna, the aesthetic engineer who designed the Hair Color Formula Encyclopedia—an essential reference for colorists on how to create more than 70,000 hues. Inside, bright-red mirrors punctuate lush, cream-curtained walls and couches. Golden lamps dangle above the freestanding chairs, where stylists, such as 15-year veteran Orlando de Nobrega, cut, color, and style coifs into busts of Wile E. Coyote.
1 N Main St.
Pittsford
New York
585-586-7910
Realmonte's staff draws inspiration from the salon's name, which means "royal mountains" in Italian, and aims to give guests the royal treatment with each spray tan, manicure, pedicure, facial, and makeup application. With a modern art-deco interior design, jet-black furnishings add high contrast to the salon's walls, which are painted in hues of peach, sky blue, and pale yellow. Tranquil treatment rooms invite spa-goers to enjoy soft lights, plush blankets, and wormholes that lead to calmer dimensions.
2316 Lyell Ave.
Gates
New York
585-247-4247
While Pat the barber snips men's hair and makes friendly conversation, Beach FX's team of women's stylists cuts and colors strands in front of large square mirrors. The salon's tanning experts also keep busy, assigning clients to four levels of beds or spritzing bodies with natural-looking bronzing solutions. Nearby, pedicure thrones await tired soles and bottles of colorful nail polish that yearn to smear streaks of red and magenta across their pristine surfaces.
4329 Buffalo Rd.
North Chili
New York
585-594-3066
Pol'ish Salon & Spa's Sue Thomas devotes her skills as a nail technician to performing several manicures and pedicures. Her service menu includes gel polish manicures, which involve more filing and buffing than a weightlifting lawyer's schedule. Sue infuses friendliness into each service she renders, and she strives to make each visit relaxing for her guests. That emphasis can be found in her spa pedicures, which incorporate hot towel treatments and extended massages of the feet and legs.
1699 Empire Blvd.
Webster
New York
---