Restaurants in Brighton
---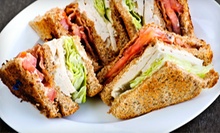 Central Business District
Spaghetti with meatballs, turkey club sandwiches, blue-cheese burgers, and more
---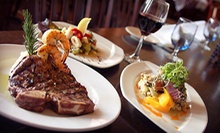 A scenic view of the Genesee River serves as the eye-catching background to meals of housemade pasta, sausage, and soups
---
Recommended Restaurants by Groupon Customers
---
Yummy Hot Pot and Grill's chefs create a menu of more than 100 Chinese favorites, from spicy kung pao beef to general tso's shrimp, scallops, and chicken. The menu features such savory selections as lo mein, fried rice, and seafood dishes, plus family packs for two to three people that include different meal combinations and passive-aggressive fortune cookies.
2411 W Henrietta Rd.
Rochester
New York
585-368-9888
California Rollin' Sushi Bar's crew of nimble-fingered sushi slingers prepare fresh sushi rolls and 70 cooked comestibles to populate an extensive Americanized menu. Raw delicacies include the hamachi maki, which corrals lemon-kissed yellowtail and scallions, and the cooked Cinema roll, whose shrimp and avocado add a cool complement to the tangy crunch of onion rings. The Leviathan roll ensconces bites of eel and cucumber inside another rolled layer of tempura shrimp and seaweed salad. Patrons can accompany each meal with with unique dessert rolls such as the tempura-cheesecake roll with a fried Oreo and draughts of hot sake, the traditional Japanese beverage made from fermented rice.
274 N Goodman St.
Rochester
New York
585-271-8990
At Juan & Maria's Empanada Stop, a bell chimes regularly throughout the day, ringing along with the festive Latin music in the background. Its sound does not indicate the time, however—it greets every 50th customer to the empanada hot spot and rewards him or her with $5 worth of complimentary Spanish cuisine. When Chilean couple Juan and Maria Contreras opened their stand in 2000, they rarely had the opportunity to use the bell, as they were serving between 10 and 20 customers on any given Saturday. Today they dish out their empanadas to more than 1,000 guests, vying to beat their current record of 1,404 patrons in eight hours.
Their popularity stems in part from a commitment to traditional, healthy cooking methods. Each of their empanadas is handmade and stuffed with one of 12 types of filling, including 90% lean beef and pork as well as vegetarian options. The deep fryers are filled with light salad oil, and none of the menu items include chemicals or preservatives. Juan and Maria extend the same homemade treatment to their fruit juices, which can be frozen and sold as "Juan-sicles," and their four hot sauces: green gold, red gold, spanish mayo and spanish ketchup.
Attitude accounts for a second element of the pair's success. Their mix of hospitality and cultural pride draws diners to the light-blue shop, where Juan exuberantly lists the specials to newcomers. They have hosted the Juan & Maria's International Spanish Festival for the past four years, showcasing customs from 20 Spanish-speaking countries alongside their empanadas.
280 N Union St.
Rochester
New York
Brothers Fausto and Massimo Albano, natives of Vaglio Basilicata in Southern Italy, merged their hospitality skills with the culinary prowess of chef Giovanni Castelli, Jr. and pizza chef Gianluca Isopi to forge the diverse dishes and elegant air that defines Prosecco. In an upscale atmosphere awash in colorful curtains, eclectic stone accents, and fresh greenery, the staff serves up a menu of authentic Northern and Southern Italian specialties at both lunch and dinner. Cioppino alla gio, a house specialty merging shrimp, clams, mussels, and scallops with zesty spices in a light tomato broth, parades alongside tender gnocchi and bubbling pizzas, each forged from scratch and slathered in house-made sauces. Drinksmiths at the full bar sling signature cocktails, draft beer, and more than 30 wines as jazz melodies meander from the instruments of live performers and the crystal of overconfident wine glasses nearly every night.
1550 Rte. 332
Farmington
New York
585-924-8000
Winning the yearly Perinton Popular Pizza Parlor Poll from 2009 through 2013 as well as several years prior didn't change the dedication to friendly service or the fresh quality of food that Perinton Pizza has dispensed since 1985. Prepared atop a foundation of dough made fresh daily, varieties of more than 20 specialty pizzas include ziti and meatball, taco, and steak pizza. Specialty subs crammed with meat and veggies between hunks of daily baked bread steadily pilot their way into mouths, making the ultimate sacrifice. More than 10 dressing options are available to garnish vegetables atop salads, and seven sauces of varying heat levels bid for the chance to slather piles of jumbo chicken wings and eager moist towelettes. The eatery's dedication to food is most apparent in its pages-long menu that also includes a smattering of Italian delicacies, beer-battered seafood, and desserts that crown meals with the proper tribute.
12 Courtney Dr.
Fairport
New York
585-223-8118
In the historic, three-story Spring House, Monroe's Restaurant surrounds patrons with hardwood floors and chandelier lighting as they taste savory family recipes. Where ballroom dancers once glided across spring floors, high-backed booths now cozy up next to a fireplace, warming up diners as they explore lunch plates of paninis and flatbread pizza. Chefs arrange colorful dinner dishes of filet mignon and housemade gnocchi soaked in a sauce of your choice alongside salads of baby arugula, crispy pancetta, goat cheese, dried cranberries, and a port wine vinaigrette. Occasional live entertainment wafts music into the air around the dark wood of the bar, exposed-brick pillars, and diners sampling sips from an expansive wine menu.
3001 Monroe Ave.
Rochester
New York
585-348-9103
---