Restaurants in Brighton
---
Recommended Restaurants by Groupon Customers
---
Groupon is a combination of the words group and coupon. Each day, we offer an unbeatable deal on the best of Rochester: restaurants, spas, sporting events, theater, and more. By promising businesses a minimum number of customers, we get discounts you won't find anywhere else. We call it "collective buying power."
619 Monroe Avenue
Rochester
New York
Lovin' Cup's owners had a dream of creating a place that celebrates life's pleasures and offers the unique and personal experience each of their customers seeks. And to achieve that dream, it took the combined efforts of all five owners to truly fill Lovin' Cup to the brim, each one specializing in a different area of the culinary arts or entertainment. The crew started with a simple, delicious menu of familiar eats made right, such as Angus beef burgers, gourmet pizzas, and hearty sandwiches. They paired these, with an array of craft beers on tap – plus more than 50 varieties in bottles – and a carefully curated list of international wines.
To entertain the brain's higher functions, they host game nights every Monday, open mic performances every Tuesday, and live music of every genre on Thursdays. Performances rotate between jazz, alt-country, indie, and rock groups as often as they change out their drafts on tap and, presumably, their socks. And finally, the owners paid similarly close attention to the artistic décor of their space, from the polished wood of their wine racks and tables to the mutable collection of art that peppers the walls.
300 Park Point Dr.
Rochester
New York
Pizza for breakfast? Eastside Café's Chef Sal Cimino can make it happen. He and his crew are up early anyway, crafting daily batches of dough that become buns for grinders, crusts for gourmet pizzas, including a Loaded Potato Pie with bacon bits and cheddar cheese, and calzones served with homemade dipping sauce. During dessert, their handiwork is fried and transformed into signature cinnamon pillows, tossed with butter, cinnamon, and sugar, providing an airier alternative to the signature sallyoos––battered, deep-fried Oreos dusted with powdered sugar, topped with whipped cream, and sprinkled with the remnants of shredded New Year's resolutions.
The Eastside Café team also raises another kind of dough to combine its support of local artists with a passion for helping those in need. In 2010, the crew hosted an art exhibition in which artists were invited to create pieces on site using watercolors, pencils, and other media. The works were then displayed on the walls and raffled off to benefit a charitable organization that helps children in Haiti.
303 Macedon Center Rd.
Fairport
New York
585-223-7463
Revamped by new owner Mark Teng in 2004, Plum House stays true to its traditional culinary focus, serving Asian dishes in a dining room with suspended paper lamps that hang above tableside foliage. Chefs slice through white tuna, snow crab, and fatty salmon, fashion specialty rolls with names such as Blossom and Tarantula, and pour teriyaki sauce over chicken and seafood. Combination lunch boxes provide ample servings of teriyaki or tempura fare in a format that has proven timeless, unlike _Mercury Rising_–branded lunch boxes.
686 Monroe Ave.
Rochester
New York
585-442-0778
At Label 7, fresh ingredients such as crisp shaved fennel and gruyere cheese garnish entrees inspired by the light, healthy cuisine of California's Napa and Sonoma Valleys. Wicker chairs flank tables in the softly lit indoor dining room. Oversized white flowerboxes stand guard along the perimeter of a canal-side patio, where a brigade of umbrellas shields patrons from splashing during nearby diners' attempts to literally wade through the wine list.
50 State St.
Pittsford
New York
A white garden arch greets visitors to La Tea Da! Tearoom & Parlour. Just a few more steps down a walkway lined with flowers and lush foliage brings them to the doorway of a Victorian building—hard to miss, in its brilliant shade of violet. Once inside, one may be excused for thinking that one has stepped into a time warp. Pastel-colored tables surround an elegant couch in a parlor decorated with a hodgepodge of porcelain sculptures and decorative plates that evokes an era long past.
With their easygoing demeanor and willingness to strike up a conversation on the spot, the parlor's friendly staff members are also an anachronism of sorts. Their menu includes selections for brunch, lunch, and afternoon tea, from bite-size pastries to hearty slices of quiche. Steamy brews such as earl grey, peach rooibos, and Japanese sencha tea pour forth from teakettles emblazoned with polka dots or cast in the shapes of plump bunnies and perky frogs. Children play-act in the parlor during tea parties, pulling on sequined dress-up clothes and communicating through vocoders that embellish their voices with British accents.
258 Alexander St.
Rochester
New York
585-262-4450
---
---
Restaurant Deals - Recently Expired
---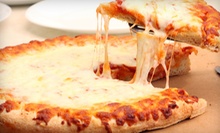 Pizza with delicious toppings such as bacon, pepperoni, or banana peppers pairs with boneless wings and sodas
---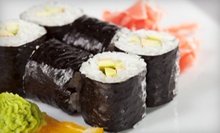 Classic or specialty sushi rolls and Chinese entrees served with Asian beers and sake
---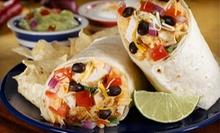 Burritos filled with garlic-lime shrimp, marinated chicken, or pulled pork, smoked for 13 hours
---
---