Bristol Automotive
---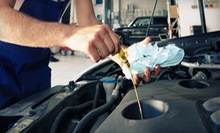 Technicians swap out oil for up to 5 quarts of synthetic blend, install a fresh filter, and rotate tires to prolong roadworthiness
---
Recommended Automotive by Groupon Customers
---
The highly trained technicians at Jiffy Lube tend to about 24 million customers each year with services such as the Jiffy Lube Signature Service Oil Change package, which helps promote the longevity of each vehicle. Staffers acknowledge that oil plays a crucial role in maximizing the lifespan of each car—it cools the motor and helps prevent moving parts from deteriorating. More than 20,000 technicians—all of which have completed an extensive training program certified by the National Institute Automotive Service Excellence (ASE)—service vehicles at Jiffy Lube. In addition to performing oil changes, technicians offer preventative services such as air-filtration and electrical-system maintenance, among others. Jiffy Lube's quality pledge includes a commitment to transparency, which stipulates that they will inform car owners of any necessary services, complete a service only after it has been approved, and refuse to replace windshields with saran wrap.
20116 W Catawba Ave.
Cornelius
North Carolina
Cars emerge from Carolina Springs AutoSpa Detail Shop sparkling clean and well oiled. At both locations, cars traverse wash tunnels where soaps, wheel cleaners, and triple-polish applications remove surface dirt and restore shine to the paint and chrome. The staff at the Cornelius location tackles more severe forms of dirtying with carpet steaming, engine cleaning, and high-speed buffing, and the staff at the University location offers oil changes and basic maintenance services.
19807 W Catawba Ave.
Cornelius
North Carolina
704-895-7900
Speedee Oil Change first opened its doors more than 30 years ago, right around the time when corner gas stations began trading their garage bays for the wide aisles and refrigerators of a mini mart. With automotive service stations in decline, the first location in Metairie, Louisiana, stepped in to take care of car owners with simple lube jobs and general tune-ups. Speedee expanded to offer a full range of services including working on brakes, power steering, and transmissions, among other things. Locally owned franchises now service roadsters in 20 states, supplying drivers with ASE–certified technicians who pamper vehicles with 17-point oil changes and immunizations against rusty nails.
1883 Hendersonville Rd.
Asheville
North Carolina
828-654-7835
At Tuffy Auto Service Center, manager Chris Reynolds and his seasoned, ASE-certified technicians squeeze peak performance out of weary roadsters with an array of comprehensive services. With more than 30 years of tradition in the auto-repair industry, Tuffy franchises are hotbeds of technical wisdom and ancient car lore. Each shop's mechanics are entrusted with the task of passing along this cumulative knowledge to their customers, as well as to the future mechanics that the staff grows in pools of synthetic oil.
144 Williamson Rd.
Mooresville
North Carolina
704-663-6755
In an age of automation, Danny's Car Cleaning is devoted to doing things by hand. Even a basic car wash, which elsewhere might entail a gantlet of blindly spinning bristles and a mechanized shower of suds, is a meticulous hands-on affair at Danny's, where chamois-equipped cleaners leave sheet metal spotless. However, machines still play an important part in the cleanliness process at Danny's: they're assigned to buff away scratches, polish surfaces to a glossy finish, and act as detailers' second when challenged to a duel.
1137 Patton Ave.
Asheville
North Carolina
828-712-6687
Since 1988, Auto Care Super Saver has been helping car owners save cash with maintenance punch cards redeemable at local auto shops throughout the course of a full year. These cards come loaded with all kinds of prepaid services, including at least three full-service oil changes with up to 5 quarts of oil, lube, and a new filter. Depending on the location, punch cards may also feature tire rotations, brake inspections, engine-light readings, air-conditioning performance tests, and other repairs and inspections essential to a car's well-being. Customers can transfer the punch card's benefits to any ride, ranging from station wagons to sports cars to feral merry-go-round mounts.
18705 Statesville Rd.
Cornelius
North Carolina
---