Broadlands, VA Beauty and Salons
---
Recommended Beauty by Groupon Customers
---
Dr. Timothy S. Mountcastle, medical director of Radiance Medspa Fairfax and chief of plastic surgery at Inova Loudoun Hospital, urges the Radiance Medspa staff to examine their clients' diet and lifestyle when evaluating their skincare needs. His team takes a big-picture approach to wellness and helps clients with long-lasting, youth-boosting treatments, including microdermabrasion, teeth whitening, massage, and Botox. Before appointments, patrons can unwind in a tranquility room where troubles melt away like a pat of butter on a piping-hot dragon tongue.
12585 Fair Lakes Cir.
Fairfax
Virginia
US
703-222-0173
Timeless Beauty administers Botox injections for clients seeking to overcome aesthetic and medical issues. The nonsurgical treatments help diminish frown lines, crow's-feet, and wrinkles and may diminish the symptoms of migraine headaches and facial spasms. Clients can schedule a consultation with Timeless Beauty's staff to determine a treatment plan that best suits their needs and goals.
19455 Deerfield Ave., Suite 211
Leesburg
Virginia
703-858-3700
Though it happened under unfortunate circumstances, Dr. Tara Urschel discovered chiropractic care at a very young age. At 12, Tara sought treatment due to injuries she received as a competitive figure skater. As she rebounded, Tara realized the benefits of chiropractic, and later, after teaching international athletes under the supervision of Olympic medalist Sergei Chetverukhin, she decided she wanted to help others achieve wellness in the same way. While training at New York Chiropractic College, she met her husband, Dr. Michael Urschel. Together, the two are as unstoppable as Batman and a robin with pointy teeth; at Ashburn Medical Spa & Wellness Center, they help clients achieve optimal health through chiropractic care, neurological consultations, herbal medicine, and nutrition counseling.
20955 Professional Plz., Suite 320
Ashburn
Virginia
Althea Medspa is named for the althea flower, or hibiscus, which is well known for its beauty and healing properties. Inside cozy, private rooms, Althea's team upholds the transformative spirit of this flower when boosting clients' beauty with professional laser services, cosmetic injections, and infrared therapy. A professional designer was hired to outfit Althea Medspa with a tranquil atmosphere, harnessing the calming practices of feng shui and a fountain to soothe visitors and vacationing flying fish.
2 Cardinal Park Dr. SE, Suite 103A
Leesburg
Virginia
571-420-2936
Dr. Daniel Hiser earned his medical degree from Rush Medical College and spent years in private practice, during which he became worried about the sun damage plaguing so many of his patients. Along with a registered nurse and the clinic director, he decided to open a med spa that would nurture skin dealing with the effects of aging and overexposure to the sun. The trio's brainchild, Timeless Age-Defying Laser Clinic, treats patients to medical services ranging from wrinkle-fighting Botox injections and smoothing laser hair removal to age-defying IPL photofacials and chemical peels.
The clinic also ventures into spa territory with gentler facial treatments, which employ green tea, antioxidants, and microdermabrasion to fight blemishes and restore a youthful glow to cheeks without installing light switches in them. Clients can continue nourishing their skin at home with skincare products from Obagi and Timeless Age-Defying Laser Clinic's own label.
19455 Deerfield Ave, Suite 211
Lansdowne
Virginia
US
703-858-3700
Timeless Laser and Skin's certified aesthetician, Lynette Lakshmeena, draws on her 20 years of experience and certifications from the Board of Laser Safety and the Arizona Radiation Regulatory Agency to treat clients with her menu of laser services. She treats hyperpigmentation with photo-rejuvenation treatments, removes unwanted shag with laser hair removal, and uses lasers to tighten skin and shrink spider veins like a plastic-wrap bikini on a sunbathing seal.
19455 Deerfield Ave., Suite 211
Lansdowne
Virginia
US
703-858-3700
---
---
Beauty Deals - Recently Expired
---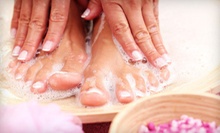 Technician spruces nails with a trim, shape, and file before topping them with a colorful polish or mirror finish that lasts up to 14 days
---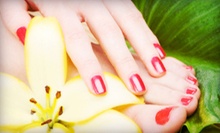 Techs trim nails on hands and feet before topping both with regular polish or fingernails with chip-resistant shellac polish
---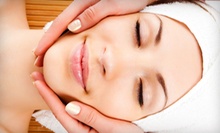 Jessner's peels exfoliate facial skin and work to reduce breakouts and smooth fine lines; other services include facials and Botox
---
---