Things to Do in Broadlands
---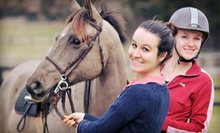 Lessons from trainer experienced in hunter/jumper, equitation, and fox hunting
---
Recommended Things to Do by Groupon Customers
---
When Mike "Pev" Peverill's teamed up with his brother Todd to build Pev's Paintball Park from the ground up, his driving force was to grant guests the chance to test their sense of strategy and adventure. This goal is achieved each day on his park's 48 acres of land boasting 12 different themed playing fields dappled with huts, log stacks, and other obstacles. The park is open to paintballers of all skill levels, and all customers receive an orderly safety briefing before they begin play, much like the gentlemanly crumpet and tea parties that prefaced each battle in the Revolutionary War.
Though they specialize in the paint-slinging arts, Pev's also offers bounce house sessions for young kids to practice their aerial defense. Additionally, to ensure that grumbling stomachs don't give hiding spots during paint-slinging battles, a fully stocked and licensed onsite concession offers sustenance for battle-weary players.
39835 New Rd.
Aldie
Virginia
703-327-7640
Swedenburg is located on historic Valley View Farm, which dates back to 1762 and still has a slight fondness for powdered wigs. The vineyard itself was planted by the Swedenburg family in the 1980s, more than 200 years after the farmland was originally cultivated. Today, the family still lives in the original, Colonial-era "Patent House," a testament to the farm's long history. When you pay a visit to Swedenburg, be prepared for hospitality befitting the landscape and Old World values. Weather permitting, picnic tables with umbrellas are set up for a relaxing wine tasting amid the bucolic splendor. Sample the six wines the vineyard produces, including Riesling with green-apple notes, the dark, oak-berry richness of pinot noir, and a semi-dry rosé for middle-ground wine balance.
23595 Winery Lane
Middleburg
Virginia
540-687-5219
Driving through Morven Park's wrought-iron gates is like entering a living history book. The estate—which encompasses more than 1,000 acres of lawns, wooded areas, and boxwood gardens—has been home to some of the nation's most prominent public servants. In fact, the gates themselves were a gift from the citizens of Baltimore to former mayor Thomas Swann Jr., the estate's 19-century owner. After passing the gate, the road winds around to a grand lawn and a mansion that dates back to 1781. As visitors enter this grand estate, they step through a Greek Revival portico into a foyer awash with Flemish tapestries and ornately carved wood furnishings, where velvet-curtained doorways lead into a Renaissance great hall, a Jacobean dining room, and a French drawing room. Nearby, intricate displays highlight the life of Westmoreland Davis, the 55th governor of Virginia who lived in Morven Park during the early 20th century.
But Morven Park's history dates back further than that. In the winters of 1861 and 1862, the 17th Mississippi Regiment of the Confederate States of America built log huts on the park's grounds. Today, reproductions of these structures stand, serving as historical stages where re-enactors demonstrate the firing of Civil War–era guns. Directly adjacent to the Civil War site lies Winmill Carriage Museum, which showcases a more peaceful side of the 1800s. More than 40 carefully preserved horse-drawn vehicles reveal how city streets looked before the invention of conveyor belts.
Not everything at Morven Park is stuck in the past, though. At the onsite equestrian center, riders and their trusty steeds jump, canter, and compete across indoor and outdoor arenas. The center is also home to the Loudoun Therapeutic Riding program, which works with individuals who have physical, cognitive, or psychological challenges.
17263 Southern Planter Ln.
Leesburg
Virginia
Now in its 13th year, the Super Pet Expo travels across the country beckoning animal lovers to congregate amid bustling merchandise booths and exhibitors showcasing lively animal entertainment. The Super Pet Expo team orchestrates lineups of entertaining and educational speakers and shows. While entertainment rosters change from city to city, past events have included everything from comedy dog shows to best-dressed pet competitions that grant pups a chance to strut in their favorite pair of stilettos.
4320 Chantilly Shopping Center
Chantilly
Virginia
703-378-0910
---