Things to Do in Brockton
---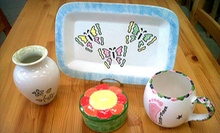 Use Today 10:00am - 8:00pm
---
Recommended Things to Do by Groupon Customers
---
Four classical works are on the playlist for the Spring Classical Concert: Fanfare for the New Millennium for brass ensemble by Kevin Kaska; Intermezzo for string ensemble by Franz Schreker; Concierto de Aranjuez by Joaquin Rodrigo, featuring acclaimed soloist Robert Belinić; and Symphony No. 9 (From the New World) by Antonin Dvorák.
201 Franklin St.
Wrentham
Massachusetts
In 1949, the USS Salem began its 10-year career patrolling the Atlantic Ocean and Mediterranean Sea. A flagship of the 6th Fleet during the Cold War era, it served as a "Lady of Diplomacy," using its massive canons to impress ambassadors, not to fire on enemies. The ship also made headlines in 1953 when it harbored refugees from Greece following a massive earthquake.
Today permanently docked in Quincy Fore River Shipyard, the Salem is one of the last preserved naval heavy cruisers in the world. Three quarters of the ship is used to honor the history of those who served, with features including a Navy SEALs exhibit, the USS Newport News Memorial Room, and a US Navy Cruiser Sailor Memorial. In addition to memories, the Salem also hosts birthday parties and overnight adventures filled with simulated battles and real-life survival instruction. If they listen closely, visitors might even hear some of the spooky sounds that earned the ship a feature on the SyFy channel's Ghost Hunters in 2009.
739 Washington St.
Quincy
Massachusetts
617-479-7900
Hingham Civic Music Theatre's members and 21-person ensemble fully realize the production with period costumes and handmade sets. Since 1948, the company has given local theater aficionados the chance to practice their craft in fully staged productions of beloved works.
210 Central St.
Hingham
Massachusetts
781-749-3400
Three history buffs founded Boston Strolls with the goal of highlighting their city's fascinating and often hilarious forgotten tales. Launching in Beacon Hill, the tours have now expanded into the Back Bay and North End. Today, guides lead all tours past historic brick and stone facades, as well as the occasional Bruins shrine, and immerse participants in an interactive exploration of Boston's lesser-known history.
In addition to their sometimes dark and often humorous anecdotes, they also personalize the tour to each group by judging the knowledge base of their participants and accommodating anyone who is allergic to Boston. Even with their careful planning, the tours often take surprising turns. On one tour, a homeowner invited the group around a private wall to see the house's private garden that, in traditional Beacon Hill fashion, was completely hidden from all other passersby.
53 Danny Rd.
02136
Massachusetts
617-383-9255
Film buffs across six states stare wide-eyed at large cinema screens, losing themselves in first-run Hollywood movies and the smell of fresh, buttery kernels within Your Neighborhood Theatre's 17 locations. Though all theaters prioritize comfortable seating, old-fashioned friendly service, and high-stakes preshow trivia slideshows, each location encompasses its own distinct charm, be it through arthouse décor, 3-D screens, or Rhode Island's vintage 1950's drive-in setting.
700 S Main St.
Sharon
Massachusetts
781-784-9300
Buckle into the transformative vests and prepare to be transported into another dimension. Laser tag is an affordable way to live out video-game dreams, work out tensions with your roommate, or live out your fantasy of starting a ragtag militia of space marines with Erik from accounting. Instead of cartoon re-runs, treat the kids you babysit or your actual kids to a more active adventure for the imagination. Get a small group together and make it a social excursion—laser tag is great for double dates, office outings, or post-dental cleaning parties.
330 N Main St.
Randolph
Massachusetts
---