Brockville, ON Outdoor Activities
---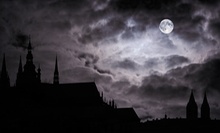 A cloaked guide leads tours by lantern, narrating thoroughly researched tales of infamous hangings and haunted houses
---
Recommended Outdoor Activities by Groupon Customers
---
Sculpted into the banks of the St. Lawrence River, Iroquois Golf Club's links-style course spans 6,158 yards of gently undulating terrain. As players traverse the picturesque par 72, riverside winds, relatively sparse trees, and scorecards printed in Gaelic channel the coastal charms of the old courses of the Emerald Isle. Intervening waterways appear on all but three holes, placing confident swings and sound course management at a premium as clubbers hunt down birdies and pars. Rounds conclude with theatrical flair at the par 3 18th hole, where approach shots must send orbs somersaulting over a water hazard that sits right between tee and green and houses a community of Blue Herrings who raise their children on a golf ball-based token economy. Patrons who arrive by plane at the Iroquois Air Strip or by boat at the Iroquois Marine Services can call the golf club and arrange for a shuttle to drive them to and from the course.
Course at a Glance:
18-hole, par 72 course
Course rating of 68.8 from the farthest tees
Slope rating of 127 from the farthest tees
Length of 6,158 yards from the farthest tees
Three tee options
Link to scorecard
10912 Golf Club Rd.
Iroquois
Ontario
613-652-4367
Crossing the Ohio River on the north side of Louisville, it's impossible not to notice the glassy façade of the KFC Yum! Center right on the river, a gleaming, $238 million cathedral to the University of Louisville's flagship sport: basketball. Perennial powerhouses in both the men's and women's competition, Louisville showcases its fast-paced brand of basketball to one of the most loyal fanbases and student bodies in the country. While hoops may be king—the men's basketball squad has won the school its two only NCAA Championships—the Cardinals take pride in a host of distinguished sports, including a football team that won both the Big East Conference and the Orange Bowl in 2006, leading the basketball team to briefly experiment with wearing helmets and cleats.
1 Arena Plaza
Louisville
Kentucky
Part of the Frontenac Arch Biosphere Reserve, the 1000 Islands rest in the shadow of mountains carved by multiple glaciers over millions of years. A diverse biological landscape, the 1864 islands are frequented by a variety of animals as they migrate between Canada and the United States. Lush forests, marshlands, and waterfront architecture help create a setting picturesque enough to prompt involuntary yodelling.
Within this ecologically bountiful area, 1000 Islands Kayaking's certified instructors lead courses that teach fundamental and advanced techniques. Their programs can focus on topics such as exercise or can be geared toward kids and fostering leadership skills. Alternatively, staff members rent out kayaks for self-guided journeys lasting up to a week, equipping adventurers with maps that show detailed routes and the homes of celebrity fish.
110 Kate St.
Gananoque
Ontario
613-329-6265
When Captain Andy boarded his first ship at age 17, he had no time for sightseeing—the young merchant marine was too busy hauling iron ore, road salt, and coal to factories along the banks of the Great Lakes. Maybe that's why Captain Andy now takes such delight in whizzing past idyllic islands at 45 mph in the newest addition to his fleet, a Wildcat catamaran. Though an adrenalin rush accounts for some of the Wildcat's appeal, Captain Andy is most pleased that the boat's speeds can help him expose passengers to even more island attractions during his informative and entertaining tours.
A native Ontarian, Captain Andy touts the Brockville waterfront as one of the most accessible and diverse in the world, and happily points out his favourite waterfront parks for picnicking and fishing during his trips. In the same vein, his cruising company offers seven diverse tours that incorporate adventure, theatre performances, and local sightseeing to help riders experience all the wonders of the area by water. The seasoned sailor also recognizes the advantage of helming his smaller ships; their compact size not only ensures more intimate tours and more time with passengers, but allows them to duck into the region's narrow channels where larger boats and determined icebergs can't follow.
30 Block House Island Pkwy.
Brockville
Ontario
800-535-3157
Limestone City Dragon Boat Club was established in 2010 to offer recreational summer dragon-boating programs that promote teamwork and a healthy lifestyle. Dragon boats resemble a typical canoe or racing shell, with the additions of scales painted onto the side and a prominent dragon head jutting off the forward bow, just like the ones that were used in training for medieval lifeguard certification. On the water, one drummer and one steersman shout orders to two rows of participants sitting side by side and 10 deep, adding up to 22 total people on board at once. The paddlers—many of whom arrive with no prior experience—work as a team to propel the dragon forward and are encouraged to make friends along the way. In addition to adult recreational programs, the club offers team-building clinics that are an ideal way to bond coworkers without requiring them to share the same computer.
P.O. Box 1016
Kingston
Ontario
613-542-4767
Explorer Diving's seasoned instructors––many with NAUI, TDI, SDI, and PADI certifications––submerge aspiring divers in adventuresome waters and scuba know-how during their series of fun and intensive classes. Their introductory scuba and snorkelling courses get participants' gills wet in the fundamentals of underwater inhalation and appeasing sea-monkey royalty; a slew of advanced courses torpedoes more experienced divers toward open-water, dive-master, and night-diver mastery. Explorer Diving also rents out and sells various scuba equipment and refills empty air tanks.
2214 Paul Blvd.
Kingston
Ontario
613-530-6179
---