Coffee & Treats in Brook Park
---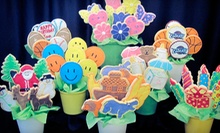 Bakers whip up cakes, cupcakes, and custard puffs, as well as cookie bouquets that celebrate a variety of occasions with different themes
---
Recommended Coffee & Treats by Groupon Customers
---
At Yummy's Bakery, visitors browse house-made baked goods oscillating from flavored fudge confections to savory yeast breads, complete with gluten- and sugar-free options. Eight flavored fudges such as chocolate peanut butter, maple walnut, and blueberry cheesecake keep classic chocolate fudge company in the display case. Meanwhile, chocolate-chip and oatmeal-raisin cookies ($8/dozen) consort with peanut-butter blossoms and gingersnaps ($7/dozen) fresh from the oven. Jalapeño-cheddar rolls ($2) and asiago bread ($5.50) temper the shop's sweetness, and unleavened orange-cranberry bread ($6) and pumpkin-walnut bread ($6) sneak produce past the grainy sentinels of the sugar cabal. Clients may also order cakes such as the Yule log ($8/half, $15/whole), a rolled pastry that customers can eat during the holiday season or burn in the fireplace to lure carolers and harvest their valuable sheet music.
1289 Edison Street Northwest
Hartville
Ohio
For more than 20 years, The Bake Shop has been whipping up fresh cakes, breads, cupcakes, cookies, pastries, lunchtime soups and sandwiches, and more in a quaint home beside the picturesque Yellow Creek. Sweeten a summer supper's ending with pie of the apple or cherry persuasion ($8.75), or opt for pumpkin or pecan flavors ($9.75) to bribe your local congressman into allotting public money for a 151-foot statue of Bruce Lee. If cookies are your Muppet's food of choice, share a dozen chocolate chips ($8.50), snicker doodles ($8.50), or macadamia nuts ($10). The Bake Shop also carries danishes ($1.15), biscotti ($1.35), brownies ($0.80 each or $9/dozen), and an assortment of donuts, fritters, muffins, and scones. Ice-cream cakes were recently added to their repertoire as well.
Great Harvest specializes in baking tasty delicacies and healthy, homemade breads ($5+ per loaf) that are high in fiber, free of preservatives, and crafted every day with freshly milled flour. The bread selection changes each day of the week according to a monthly schedule; previous offerings include honey whole wheat and Dakota bread, a baked bundle of pumpkin seeds, sunflower seeds, and millet. For carb connoisseurs who prefer doughy delights that are easily juggled, Great Harvest bakes scones, muffins, cookies, cinnamon rolls, and bars. Also try a sandwich like a traditional peanut butter and jam for $3.95 or a vegetarian sandwich with red pepper hummus and feta cheese for $5.95.
3900 Medina Rd.
Fairlawn
Ohio
In the late 1960s, seeking a remedy for his allergies and low blood sugar, Smoothie King founder Steve Kuhnau began mixing fruits, nutrients, and proteins in his home blender. The positive impact that followed inspired Steve to share his concoctions and open the first Smoothie King in 1973. Today, with more than 600 locations scattered across the United States and Korea, Smoothie King presides over 90 different flavors, all made with real fruit, natural juices, and specialized enhancers. The business keeps its ever-growing selection of slurp-worthy drinks categorized by their nutritional function, including Trim Down, Get Energy, and Indulge.
5250 Dressler Rd.
Canton
Ohio
The bakers at Bread Head Bakery & Coffee Shop have an obsession with freshness, imbuing their baked-daily breads with ingredients such as whole-wheat flour, oats, eggs, raw sugar, and cocoa powder. Using slices from these fluffy loaves, they craft delicious dishes all day, such as the Meat Head sammie—a blend of pepperoni, cheddar, honey ham, and house-made stone-ground garlic mustard served with a fresh-baked muffin. They also specialize in breakfast fare (which they cheekily name "wake-and-bakes") such as breakfast quesadillas, as well as premium coffee, which they grind fresh before brewing each batch.
113 West 3rd St.
Dover
Ohio
It was 1978. A college dropout and a failed medical-school applicant had just brought together their combined life savings to rent an old gas station. Their plan was to resurrect the empty station and open their own restaurant. Their specialty: ice cream. So begins the story of legendary entrepreneurs Ben Cohen and Jerry Greenfield, who are better known across the globe as Ben & Jerry. Their small, old-fashioned ice-cream parlor eventually became a Burlington, Vermont favorite, and before long, shops popped up all over the U.S. and in 25 other countries. Their brand easily attracted customers––homemade ice cream churned from wholesome, natural ingredients and blended into creative flavors. Some of their popular scoops include Cherry Garcia, Chunky Monkey, and Coffee Caramel Buzz.
Since infusing their first rich and creamy batches of ice cream with natural chunks of fruit, nuts, candies, and cookies, Ben and Jerry have also operated with a commitment to improve the quality of life locally, nationally, and internationally. They practice sustainable food production and business practices that respect the earth and environment. Ben & Jerry's cartons are made from FSC-certified paper, which comes from forests that are managed for the protection of wildlife, and waste from Ben & Jerry's plants generates energy to power farms. The company works tirelessly to reduce its carbon emissions; it strongly encourages customers to eat their ice cream in the darkest dark.
20650 N Park Blvd.
University Heights
Ohio
216-397-5700
---