Brook Park, OH Indoor Activities
---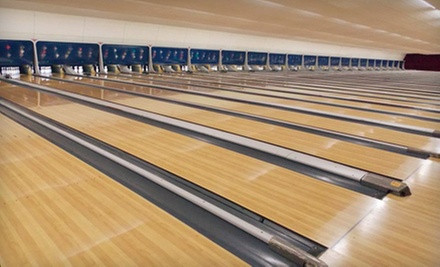 ---
Recommended Indoor Activities by Groupon Customers
---
Emerald corridors spiral across a landscape of vibrant flowers, trees, and rocky outcrops to comprise Mulligans Family Fun Center's 18-hole miniature golf course. A gushing waterfall broadcasts tranquil vibes throughout the circuit, as pale-red bricks keep balls from straying off-path or absconding to audition for position in a juggling act. Mulligans' pavilion adds to the vacation atmosphere, allowing guests to arrange romantic post-golf picnics with snacks and refreshments available at the clubhouse. The center also includes a basketball court, where guests can practice free throws or javelin-tossing putters at the backboard.
7760 Victory Ln.
North Ridgeville
Ohio
Great Lakes Theater's rich history dates back to 1962, when an English professor and his traveling Shakespearean theater troupe finally found a home to regularly perform classic plays. Today, the theater continues its mission to ignite a passion for the performing arts throughout the community by revisting celebrated theatrical works for as as wide of an audience as possible. In its eight-month seasons, Great Lakes' resident theater company stages an array of productions, including Shakespearean plays and Broadway classics, in its recently renovated theater, which was originally built in 1921. Inside, wide-eyed audiences marvel at the structure's marriage of modern and vintage elements, such as state-of-the-art lighting equipment operated by technicians who only speak in iambic pentameter.
1519 Euclid Ave.
Cleveland
Ohio
A 150-foot wind turbine heralds the entryway of Great Lakes Science Center. Combined with a 300-foot solar canopy, the turbine supplies 6% of the museum's power but also serves another purpose: to drive home the science center's commitment to research, education, and scientific discovery. Inside the Alternative Energy exhibit, visitors can touch their fingertips to a kiosk that displays real-time and historical data on energy consumption. Or, at the Steamship William G. Mather, visitors can explore a four-story engine room that once propelled the 618-foot flagship. After exploring the lunar lander models and flight simulators of the NASA Glenn Visitor Center, visitors can track moon dust to the Omnimax Theater and absorb scientific knowledge through 11,600 watts of digital sound.
In addition to presenting exhibits to more than 300,000 visitors annually, the science center leads the charge on science education. Onsite scientists organize space and curriculum for freshmen in the Cleveland metropolitan school district's inaugural STEM high school. The school teaches in a project-based learning environment where students are encouraged to delve into science, technology, engineering, and mathematics.
601 Erieside Ave.
Cleveland
Ohio
216-694-2000
Happy shouts float across Swings-N-Things Family Fun Park, whipping out of the mouths of drivers racing around go-kart tracks and captains ricocheting off one another in bumper boats. The satisfying clunk of colorful spheres falling into holes on the mini-golf course perks up ears in the sprawling complex of indoor and outdoor attractions. Go-kart drivers whiten their knuckles behind the wheel of 9-horsepower Honda engines, tearing through a quarter mile of twists and turns on the Grand Prix track as if it were a high-school principal's lawn. Alternatively, patrons frolic across the park's two outdoor mini-golf courses before practicing their aim in a laser shootout game, and children ages 10 and younger scramble their socked feet over slides and rides inside the Kids Korner indoor play area. Swings-N-Things Family Fun Park is easily accessible from the area's major highways.
8501 Stearns Rd.
Olmsted Falls
Ohio
Since 1983, families have spent their holidays around the television, watching A Christmas Story and joining in the triumphs and failures of 9-year-old Ralphie as he struggles to secure a Red Ryder BB gun from Santa's bag. But although the cult-classic film showed Ralphie living in Indiana, the house in which the movie took place rests in Cleveland—and is now a museum. When MSNBC interviewed lifelong fan and museum curator Brian Jones, they profiled the story of how he found the house on eBay and jumped at the chance to own it. Today, he's turned it into a year-round place of pilgrimage for fans and the site of a yearly convention for Ralphies.
Jones's restoration has returned rooms to exactly how they were in the film, letting guests gaze at the tinsel-strewn tree with its star falling off and explore the bathroom where Ralphie's mouth was washed out with soap—a time-tested method for cavity prevention. Visitors can even attempt to hide like little Randy in the cabinet under the sink. After stopping by the BB-gun range in the backyard to practice their aim, fans head across the street to the museum. Here, original props such as the toys from the Higbee's department-store window, Randy's snowsuit, and Miss Shields's classroom chalkboard join other memorabilia and hundreds of behind-the-scenes photos. Before leaving, guests drop into the gift shop to pick up a leg lamp just like the one Ralphie's old man cherished so dearly.
3159 West 11th St.
Cleveland
Ohio
216-298-4919
From a bird's-eye view, the emerald expanse of All American Sports Center is unmistakably devoted to the sports of golf and baseball. No less than 20 heated tees and 40 seasonal grass tees line the driving range, allowing players to keep shooting for the horizon even after the sun sets and the towering lampposts light up the field. For short games, the center also features a 10,000-square-foot putting green as well as a chipping green complete with hazards such as sand bunkers and kiddie pools full of jury summons. The 18-hole miniature golf course encourages visitors to unwind as they putt past decorative waterfalls and rivers. At the dugout, guests can switch gears to baseball or softball, taking up bats to turn away the wrath of variable-speed pitching machines.
37500 Center Ridge Rd.
North Ridgeville
Ohio
---