Nightlife in Brookfield
---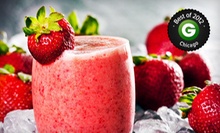 Tropical cocktails named for Pelé and coral reefs poured in Polynesian-themed bar opened in 1963
---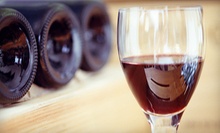 University Village - Little Italy
Two reds, two whites and one bubbly from across the world recommended by wine specialist; complimentary eats
---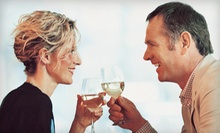 University Village - Little Italy
Singles chat during five-minute dates, marking matches on cards that the hosts collect; contact info is shared when mutual matches are made
---
---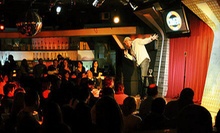 The upscale club barrages boredom with a rotating lineup of local and nationally renowned comics, a full bar, and no drink minimums
---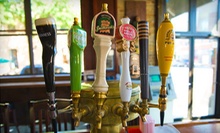 Bellied up to a wooden bar at an authentic speakeasy, guests sip on a selection of 18 draft beers, imported brews, and glasses of wine
---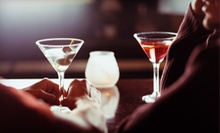 The established blues venue primarily features local musicians in shows seven days a week
---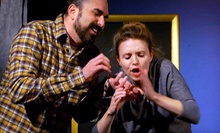 iO's signature improv shows include full-length scenes and recurring characters, or bring to life a person's true stories
---
Recommended Nightlife by Groupon Customers
---
Revelers gather around Lizard's Liquid Lounge's antique mahogany bar and intimate tables for open-mic nights, clothing swaps, burlesque shows, and darts and pool-league games. Three widescreen televisions draw gazes to tiny men engaged in sporting spectacles, while local and imported brews such as Rogue, Three Floyds, and Smithwick's whet palates. Homage Street Food's chefs operate out of a kitchen space adjacent to the lounge, where they craft dishes ranging from curry chips to char-grilled-beef sandwiches and chicken curry. Glossy oil paintings by Polish artist Tomek stand out from two-toned walls, and live music incites ears to waltz in 3/5 time on Friday and Saturday. Lizard's Liquid Lounge is a dog-friendly establishment.
3058 West Irving Park Road
Chicago
Illinois
773-463-7599
Reggies entertains music fiends with a trio of havens all located within steps of each other. Reggies Rock Club is an all-ages and 17-and-older music venue, hosting an eclectic variety of local and touring bands against a backdrop of graffiti murals. Upstairs, Reggies Music Joint provides a 21-and-older crowd with a full bar, nightly music, and pub fare such as jumbo wings and chargrilled Angus burgers draped in 1 of 10 types of cheese. Clientele swig from 25 drafts on tap, 45 bottled brews, or top-shelf spirits to wet whistles and lubricate head-banging muscles while bands perform on stage. Sports play on 17 flat-screen TVs and memorabilia lining the walls elucidates rock 'n' roll's history.
Next door, Record Breakers offers a cadre of new and used music merchandise for fans to peruse, spanning genres from punk to rock to Johnny Cash. A hefty library of CDs and DVDs bridges the physical-digital divide, whereas hard-to-find vinyl satisfies analog lovers, filling in holes in record collections and tree-house walls.
2105 S State St.
Chicago
Illinois
US
312-949-0120
Rittergut Wine Bar Restaurant & Social Club crafts the perfect wine, seafood, and steak experience, with seating that overlooks the Chicago River. Wine by the glass and bottle from the vineyards of Spain, Austria, France, and Italy complements charcuterie and imported cheese plates stocked with wild boar salami or herb-laden garrotxa goat cheese, much like the contents of an enophile's personal bomb shelter. The tasting bar and private wine rooms set the stage for uninterrupted swilling, while dining rooms bathed in amber light host feasts of lamb burgers seasoned with Moroccan spices. Arched ceilings draw the eye downward to exposed brick walls and hardwood floors indoors, and a riverside patio with dark wicker booths and wooden tables perch patrons over ebbing crests and bottled messages that implore you to try the salmon.
10 S Wacker Dr.
Chicago
Illinois
312-559-1832
Michael Dorf stood with his brother Josh, smiling over the barrel filled with wine from grapes they'd just crushed, fermented, and pressed. He claims that despite tastings and classes, he'd never begun to understand wine until this moment. As his understanding grew, he laid the foundations for City Winery: a full winery facility, restaurant, and concert venue inside urban Chicago. He now watches over more than 400 international wines and 20 house wines. Inside the winery, these wines—made from nine US and international varietals—age inside stainless steel tanks and American and French oak barrels. Here, staffers lead winemaking classes, letting visitors join the crushing and fermenting process, and showing them how make private barrels and fill custom juice boxes or bottles pasted with labels of their own design.
These monolithic tanks and barrels can be seen through floor-to-ceiling windows from most of the restaurant's rooms, where servers ferry Executive Chef Andres Barrera's dishes, each a blend of Italian, French, Spanish, and Middle-Eastern flavors. The culinary team crafts small and large plates of artisanal cheeses, seafood, and flatbreads—which they make using the winery's own wine lees as yeast. In the restaurant and Barrel Room tasting bar, staffers pour housemade wines piped fresh from the cellar through 14 taps, while visitors bask in the glow from hard wood and floor to ceiling windows. Patrons dine on a ground floor lit by soft blue lights and hanging lamps fashioned from old wine bottles, as well as a mezzanine level looking out on the city skyline. Private dining rooms gather guests around long communal tables, stretched between exposed brick walls. In the show venue, comedians, live musicians, and slapstick-prone stage crew members entertain audiences under the glow of tabletop candles.
1200 W Randolph St.
Chicago
Illinois
312-733-9463
Mardi Gras lasts all year at Blue Bayou Bar & Grill. Strings of beads dangle everywhere, from the wooden rafters of the ceiling to the awning of the full bar. Live music performances fill the air with sounds from jazz and brass to rock. Perched atop red barstools, patrons toast Louisiana sports teams with sazeracs, hurricanes, and other classic Big Easy drinks. And servers with necks looped in yet more beads fuel festivities with jambalaya, alligator sausage, crawfish etouffée, and other meals with Cajun spice. Away from the action, on the quieter outdoor patio, diners can also dig into desserts such as bananas foster crowned with whipped cream and cinnamon-tabasco pecans.
3734 N Southport Ave.
Chicago
Illinois
US
Mitchell's Tap, a sports bar that ESPN writer Scoop Jackson called "the real W-Sox spot" and "legendary," aims to "celebrate every Thursday like it's Friday and every Friday like it's New Year's." Located in Bridgeport, close to U.S. Cellular Field, the spot makes a convenient watering hole for those en route to or coming from baseball games, or for players chasing far-flung home runs. Just as often, though, the bar hosts its own festivities—recurring events include chili cook-offs, White Sox-Cubs–rivalry viewing parties, and barbecues. Bartenders fill glasses with more than 110 types of beer, and are equally adept at mixing smooth Grey Goose cocktails or concocting Washington Apple shooters.
3356 S Halsted St.
Chicago
Illinois
US
773-927-6073
---