Brookfield, WI Spa and Massage
---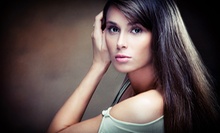 Stylists harness plant-derived Aveda products and stress-relief treatments as they create healthy 'dos that complement face shapes
Use Thursday 11:00am - 7:00pm
---
Recommended Spa & Massage by Groupon Customers
---
Though the Swedish massage is performed on a clothing-free soul sac, clients' modesty remains intact with a sizeable towel gently draped over all un-massaged areas. As your muscles melt under the massage therapist's nimble knot-kneading, dim lighting and curtained windows turn privacy into a local vacation experience. Each 60-minute massage utilizes a full range of gliding techniques, kneading manipulations, and percussive pitter-patters, as well as the alternating of light and medium force to relieve uptight major muscle groups and help the mind relax. Custom-blended oils make the bone box a smooth surface to prevent uncomfortable friction while subterranean streams of blood and oxygen circulate more freely as a benefit of the massage.
611 N Mayfair Rd.
Wauwatosa
Wisconsin
From the outside, Craig Berns Salon Spa's broad porch, white façade, and quaint chimneystack give the impression that the large historical house is someone's welcoming home. Stepping inside, guests are greeted by a friendly receptionist in an elegant waiting area, replete with rich, wood floors and wainscoting, luminous candelabras, and walls lined with Aveda's all-natural products. As the co-owners of the Aveda Concept salon and spa, Craig and Mary Beth Berns, along with their staff, treat clients with Aveda's pure plant- and flower-infused essences. While team members receive consistant training on the latest cutting techniques, men and women alike luxuriate in a slew of services that span facials, massages, and haircuts. The salon and spa has been voted one of the best salons by Milwaukee Magazine in 2010, and one of the Top 200 fastest-growing salons six times by Salon Today, which has taken note of their ever-expanding list of services and lack of training wheels.
645 Wells Streeet
Delafield
Wisconsin
262-646-7406
Splendide's warm, welcoming atmosphere helps you feel comfortable as an experienced aesthetician attends to and your depilatory needs. The Brazilian wax ($50 value) readies nether regions for a summer of going to the beach or attending art museums wearing a swimsuit, and the brow wax ($18 value) fulfills desires to emulate the clear, open spaces of the southwestern deserts or to wear eyebrows in the shape of finely maintained ski-jumps. Though it may cause discomfort, hairlessness from waxing lasts longer than shaving.
17280 W North Ave.
Brookfield
Wisconsin
Muscle knots. Chronic aches. Deep-seated reservoirs of stress and anxiety. These and other ailments bring clients to Elements Therapeutic Massage, where they find relief courtesy of professional therapists who customize their treatments to match individual needs. The studio's unique, level-based system gives clients an idea of what to expect during the session; they can request a low level for a gentler experience or opt for a higher level to eliminate any soreness remaining from the previous day's jousting tournament. Each massage therapist has his or her own specialties, and treatments may draw on relaxing Swedish and hot-stone techniques or firmer deep-tissue and trigger-point strokes.
12920 W Bluemond Road
Elm Grove
Wisconsin
Deep-seated stresses dissipate at the hands of Sunset Massage's certified massage therapists, who practice their craft within three calming sanctuaries spread across greater Milwaukee. The sun referenced in the massage center's name may allude to its specialty hot-stone and hot-towel massages, which employ penetrating heat and soothing circular motions to boost circulation, oxygenate muscles, and alleviate the lingering stiffness that comes from serving as the spring festival's Maypole. Aside from their popular heated modalities, the team of male and female massage therapists treats clients to gentle relaxation massages and more focused deep-tissue work.
4810 S 76th St., Suite 100
Greenfield
Wisconsin
As a physical therapist with his own private practice, Hand & Stone founder and chief operating officer John Marco made sure that he kept abreast of the rapidly growing health and wellness industry. After a period of careful research and planning, John decided to create a spa based around convenience and affordability—Hand & Stone Massage and Facial Spa.
Since its launch, Hand & Stone has expanded to more than 20 states and four planets. The spa's core concept is to offer massage, facial, and waxing services performed by licensed, certified, or registered professionals and offered at convenient times, seven days a week. Each location adheres to a traditional spa aesthetic with soft lighting, heated treatment tables, and plush linens.
N56 W 15560 Silver Spring Dr.
Menomonee Falls
Wisconsin
---