Things to Do in Brookfield
---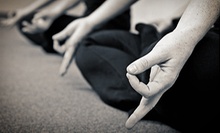 A one-on-one Pilates, yoga, or personal-training session tailored to your workout goals
Use Today 5:30am - 8:00pm
---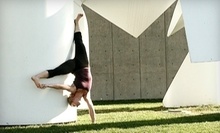 Five styles of yoga classes range from aerobic power Vinyasa to the highly meditative yin yoga and its lengthy posture holds
Use Today 6:45am - 9:45am
---
Recommended Things to Do by Groupon Customers
---
Going to the movie theater should be more enjoyable than watching a movie at home––a concept that Rosebud Theater has down pat. Cinephiles regain the sparkle in their eyes as they enter the historic venue, which originally opened as The Tosa Theatre in 1931 and was recently modernized to have great views and stellar sound. Unlike cramped multiplex theaters, Rosebud houses one solitary, comfortably spaced theater, where visitors won't have to worry about hearing explosions from the monster-truck movie next door or accidently walking into the wrong monster-truck movie.
In addition to typical movie snacks such as popcorn, candy, and soda, the Rosebud sports a full menu of appetizers, sandwiches, quesadillas, and pizza, as well as a full bar stocked with wine, cocktails, and microbrews––all of which are delivered to patrons during featured presentations. Rather than standard chairs, the theater is furnished with cushy loveseats with room for 180 movie lovers to savor first-run Hollywood hits without wrestling strangers over armrests.
6823 W North Ave.
Wauwatosa
Wisconsin
The much-lauded Driving Miss Daisy, which garnered a Pulitzer Prize as a play and four Academy Awards as a film, follows the unlikely friendship between a stubborn elderly Jewish woman and her African-American chauffeur. Set in Atlanta from 1948 to 1973, the play elbows into sensitive, urgent issues, from racism to religious prejudice to backseat driving. Ruth Schudson plays the title character with garrulous, willful zest in her 65th production with the Milwaukee Chamber Theatre, excavating Miss Daisy's complex growth as she ages from her sixties to her nineties. As the sixth production in Milwaukee Chamber Theatre's Pulitzer Prize series, Driving Miss Daisy rides the energy of past award-winning scripts such as Rabbit Hole, Picnic, and Curious George Learns the Alphabet. Audiences can arrive early to enjoy the grand design of the European-styled Cabot Theatre, where a shimmering chandelier illuminates arched, gilded balconies and 360 cushy sapphire seats.
158 N Broadway
Milwaukee
Wisconsin
414-291-7800
Movies, Bowling, Restaurant, and Bar.... all under one roof!! Your Entertainment destination!!!
5800 N Bayshore Dr.
Glendale
Wisconsin
414-203-0404
Passengers on the Iroquois, Vista King, and Voyageur cruise ships have passed under century-old raising bridges and laid eyes on history-rich chunks of Milwaukee skyline. However, they've also sat under squadrons of F-18s performing barrel rolls over Lake Michigan. Licensed by the U.S. Coast Guard to perform tours and charters on the lake, Jake Chianelli and his captains offer their passengers a unique perspective on the city's waterside events. They also partner with the nonprofit organization Historic Milwaukee by using their trained docents to lead history tours, which include facts and anecdotes from the arrival of the first fur traders up to modern day.
With kitchen facilities and a full bar on board, each of the three double-decked ships are equipped for tours as well as a range of corporate events, wedding-rehearsal dinners, and Moby Dick-themed improv shows. Climate-controlled lower decks give passengers shelter in all weather, and open upper decks house a stage space where local indie-rock bands play during a summer concert series.
500 N Harbor Dr.
Milwaukee
Wisconsin
414-294-9450
In addition to your two-person unlimited admission to the museum, membership includes a 10% discount to the museum store, a subscription to the museum's e-newsletter, a museum decal and magnet, free admission for tykes under the age of 17, and a free copy of the museum's swimsuit calendar, Corrugated Cardboard.
1000 N Broadway
Milwaukee
Wisconsin
Skydive Milwaukee's tandem jump eschews lengthy ground tutorials by condensing them into an instructional video and a briefing from an experienced instructor—allowing adrenaline junkies to quickly get their weekend fix after five straight days of working customer service at the bunk-bed factory. Once the subtle complexities of jumping out of a plane into 14,500 feet of vertiginous void have been dispensed with, you'll be ready for your dual-person dive into glory. After an initial burst of terror, you'll find yourself hovering in what Wilbur Wright called a "perfect peace mingled with an excitement that strains every nerve to the utmost" for about 50 seconds of freefall. It feels like you're moving down a cushion of air. And since you're in front of the instructor with your own altimeter and ripcord, it feels like you're skydiving on your own. After the plunge awakens the sleeping lion deep in your heart and gets it roaring through your mouth, you'll have five minutes of gentle parachute-assisted descent to take in the majesty and beauty of the skies—or, if you'd rather, crack snarky jokes about the nearby flock of pudgy seagulls.
W1341 Hwy L
East Troy
Wisconsin
262-642-9494
---