Brookline, MA Spa and Massage
---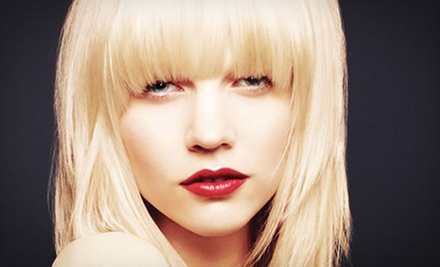 ---
Recommended Spa & Massage by Groupon Customers
---
T-L-S—which represents the names of owners Tereza Pupeza, Luann Ferry-Smith, and Svetlana Kresel—embraces each partner's specialty of skincare, laser treatment, and massage to provide full-service pampering to clients using G.M. Collin products. Being named a recipient of Stuff Magazine's 2011 Beauty Awards may bring Tereza's talent to the public eye, but her more than 24 years of European and American experience shows upon the glowing skin of her clients. The licensed medical aesthetician received her first diploma in Russia before she gained more experience through a medical program at Catherine Hinds Institute of Esthetics.
Prior to joining T-L-S, registered electrologist, licensed aesthetician, and laser technician Luann honed her skills at Kelley's School of Electrology and through her work as founder of Ferry Electrolysis in Lexington. Now certified by the Candela and Cynosure laser companies, she safely removes unwanted hair through electrolysis, laser treatment, and the promise of a leisurely life on a five-star lint roller.
Trained by a former sports therapist to the Bruins, licensed massage therapist Svetlana eases away aches and tension with massage services customized for clients' individual needs. Svetlana, a former pediatric nurse from Russia, exploits her knowledge of human anatomy to soothe body and mind during massages that employ Russian, American, and Thai bodywork techniques.
551 Main St., 2nd Floor
Winchester
Massachusetts
617-605-6786
Armed with a toolbox of soothing techniques, the staff at TL Massage Therapy offers 10 different styles of massage and spa services. Inside private treatment rooms, therapists subdue stress by covering tense sinews with hot lava stones, aromatherapeutic essential oils, and kittens.
47-49 Central Street
Peabody
Massachusetts
978-278-3310
Communication is key at Massage Mantra, where a team of seven licensed massage therapists encourages clients to describe their pains and stresses and listens closely in order to structure treatments suitable to their needs. Once they have taken your input to heart, they stretch out their nimble hands and begin to soothe muscles with one of six available bodywork modalities, from reiki treatments that calibrate the body's energy levels to sports massages that methodically extract hockey pucks lodged between muscles. A roster of skin-specific facials complements the massages' inner healing with infusions of nourishing vitamins that promote a healthy outer glow.
52 Temple Pl
Boston
Massachusetts
US
The aestheticians at Citrus Spa & Salon enlist naturally derived Aveda products and Wella color to bolster a comprehensive slate of haircare and skincare services. Sleek haircuts, smoothing treatments, and full or partial color revivify drab manes better than headbands made from repurposed clown-car pieces. Calming hot-stone and chakra-balancing massages depose muscular tension, and custom facials harness the exfoliating and cleansing power of plant-based solutions. Staff members can also combine massage modalities, such as reflexology and Ayurvedic techniques, with a cleansing skin treatment to fully de-stress clients in accordance with Aveda's rejuvenating philosophies. In the salon area, stylists post up behind striking black chairs that sprout from glossy, dark-hardwood floors as red-orange walls punctuate the space's neutral color palette like flaming umlauts.
233 Harvard St.
Brookline
Massachusetts
617-277-3339
As if to complement its view of the harbor, Aria Salon & Spa immerses guests in oceanic serenity. One of its body treatments begins with exfoliating salts from the Dead Sea, then cocoons clients in a Hawaiian seaweed mask. Nails can benefit from the same mask during a Caribbean therapy treatment, whose tropical ingredients—mango and cocoa butter among them—soften the skin alongside scented paraffin wax. The ocean even appears on the massage table: a detoxifying back massage employs marine products that refresh the back, scalp, feet, and fin.
Of course, not every treatment calls upon briny remedies. The salon segment of the venue administers blow-dries, haircuts, and color treatments. Makeup artists highlight features with Aveda products, whereas estheticians combat acne and signs of aging with a menu of facials. The Radiant facial, for example, evens out the skin's surface with botanical extracts and the mineral tourmaline, providing a gentler alternative to microdermabrasion or practicing your eskimo-kisses on a tree.
322 Victory Rd., 2nd Floor
Quincy
Massachusetts
617-472-1344
After clocking in 900 course hours at the Salter School, licensed massage therapist Kendra Retalic now spreads her knowledge of holistic massage therapies with clients in her practice and at charity events. Whether rehabilitating muscles with the compression and stretches of a sports massage or indulging in a soul-soothing reiki session, clients lie upon a padded massage table undressed to their comfort level as Kendra's healing hands serenade their musculoskeletal system for one commercial-free hour. She also taps into the skin-smoothing powers of Dead Sea mud, paraffin wax, and oiled hot stones to rejuvenate exteriors.
16 Bradlee Rd.
Medford
Massachusetts
781-219-7654
---