Things to Do in Brooklyn Center
---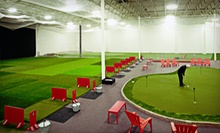 Unlimited range balls fuel sessions at a short-game area with a sand trap and a driving range where guests can place their own tees
---
Recommended Things to Do by Groupon Customers
---
A floating jewel of red and white that hearkens back to the age of river travel and the golden years of theatre, the Centennial Showboat is one of five vessels operated by Padelford Riverboats. To keep this stage lit and to expand the cultural horizons of the community, the University of Minnesota Department of Theatre Arts and Dance performs roughly 80 productions there every year for an intimate crowd of 225. Apart from the floating theater, two reception rooms accommodate guests in Victorian style, and temperature controls ensure that snowmen don't hog all the best seats.
In 1969, the founder of Padelford Riverboats, Captain William D. Bowell, Sr., launched the Jonathan Padelford steamwheeler into the Mississippi, hoping to bring visitors to the riverfront for leisurely jaunts. After more than 30 years of expanding his fleet and ferrying passengers along the historic waterways, he handed the reigs over to his daughters and nephew. Today, the family operates five boats equipped with dance areas, bars, sun decks, and the nostalgia that William hoped to keep alive. With the Twin Cities' skyline and the rugged, green banks of the river as the backdrop, US Coast Guard–licensed vessels float passengers past sights such as Pig's Eye Cave, Fort Snelling, and Pike Island. Some cruises also include dinner or fireworks, and special holiday cruises are also available.
Harriet Island Regional Park, Padelford Landing
St. Paul
Minnesota
651-227-1100
When Mercedes Austin sees a piece of artwork, her imagination immediately breaks it down into pixels and rebuilds it as a tile mosaic. Recently, she executed this process by making a mosaic of a wall mural: She fabricated jagged tiles, arranged them to resemble the original, and grouted the piece together. The resulting mosaic speaks to her intuition as an artist, and also to the years she's spent honing the craft.
At Mercury Mosaics' studio, Mercedes and a team of "tile elves" share their passion in two ways: through mosaic classes and custom installations. Classes explore all facets of mosaic creation, from cutting and gluing to grouting tiles into a pattern that resembles a real-life object or fuzzy television screen. Installations, which are fully customized to the client's specifications, add a distinctive flair to commonly tiled areas such as bathrooms, backsplashes, and fireplaces.
1331 Tyler St. NE
Minneapolis
Minnesota
612-236-1646
The Des Moines Home & Garden Show helps homeowners revitalize their home and hearth, exposing them to new products, styles, and techniques for remodeling their homes, lawns, and neighbors' driveways. During the four-day event, hundreds of exhibitors and experts divulge their knowledge on topics ranging from landscaping to security systems, and celebrity designers such as Rachel Kate—a top finalist on HGTV's seventh season of _Design Star_—dole out sage advice on the event's stage. Guests can also peruse furniture built by local artisans or harvest inspiration in the greenery of seven featured gardens.
15235 Minnetonka Blvd.
Minnetonka
Minnesota
MN Surf Co. is intent on converting Minnesota's richest natural resource—water—into pure adrenaline. The company has two locations in the Land of 10,000 Lakes, and both stock a wide variety of vessels and apparel to make days on the water exciting, stylish, and safe. First-timers can get their feet wet by renting a paddleboard, wake surfer, wakeboard, or kayak for up to seven days. MN Surf Co. also sells boards, plus wetsuits and tees suited for the beach.
Beyond supplying equipment, MN Surf Co. offers plenty of water-based instruction. Standup paddleboard lessons impart various techniques for mounting boards, paddling, and staying safe. Once students master the basics, instructors show them how to tone muscles with paddling workouts and test their knowledge of basic mathematical concepts by asking for a quick series of high-fives. With options for beginners and advanced water athletes, windsurfing lessons rely on a similar system of positive reinforcement as students learn to cut across the windswept surfaces of Lake Calhoun, Lake Minnetonka, and other Minnesota waterways.
When they aren't building students' self-esteem during group lessons, MN Surf Co.'s crew use the standup paddleboards for fishing expeditions and yoga classes to help fishermen work on their balance before being tugged around in circles by a disgruntled large-mouth bass.
2418 Cedar Lake Pkwy.
Minneapolis
Minnesota
---