Day Spas in Brooklyn Park
---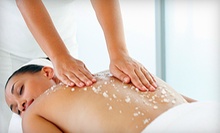 Use Monday 10:00am - 6:00pm
---
Recommended Day Spa by Groupon Customers
---
Board-Certified Dermatologist Dr. Lisa C. Kates helms a staff dedicated to providing expert skincare in an intimate and relaxed setting. An aesthetician begins visits by taking a detailed look at the epidermis, determining any possible skin concerns and suggesting a personalized treatment regimen. If clients opt for the AFA facial peel, they will enjoy a formula made from naturally occurring amino acids that produce skin's natural moisture, as the peel smoothes, softens, and sheens up skin with less drying and irritation than glycolic acids. Even patients who have the perfectly youthful and even-toned skin of a Greek god can benefit from the AFA peel, which encourages cell turnover and enhances natural glow.
2200 Defense Hwy., Suite 201
Crofton
Maryland
US
410-451-5500
Hair reduction may be visible after one treatment, although a consultation with a beam-savvy laser technician determines how many sessions are needed for optimal results.
405 Frederick Rd., Suite 1
Catonsville
Maryland
410-455-6196
Monavé's specialty is mineral makeup, a line of cosmetics based in whole, organic, botanical ingredients, with formulas that are 95% vegan and preservative-free. Monavé's makeup is not tested on animals, or plush facsimiles of animals, so you can glow with the knowledge that your radiance is not indirectly hurting any penguins (though your dazzling countenance may injure their self-confidence). The natural ingredients are gentle on your skin, so you also won't need as much makeup for an even complexion, and your cheeks won't feel like a monster-truck course. Monavé will happily give you free samples so you can purchase your product with 100% enthusiasm (see their exchange policy here).
914 Wolfe St.
Baltimore
Maryland
The staff of medical professionals at Katzen Eye Group, which first opened its doors in 1968, brings blurry vision into focus at four locations in Baltimore, Abingdon, Lutherville, and Rosedale. Attentive physicians peer into peepers of all ages as they administer comprehensive exams, outfit patients with prescription glasses, and help prevent diseases such as glaucoma. Lasik surgery can correct one's distance vision. Cataract surgery, which replaces one's cloudy natural lens with a clear implantable lens is also performed at Katzen Eye Group. Additionally, a staff of aesthetic professionals beautify bodies through services including skincare and cosmetic laser treatments, which can eliminate wrinkles around the eyes more effectively than staring at a jar of cold cream.
301 St. Paul Pl. , Suite 902
Baltimore
Maryland
410-727-8380
This one-hour treatment starts with a friendly massage therapist applying copious quantities of organic shea butter in long, therapeutic strokes. During the treatment, you'll be cocooned in a warm wrap, which helps your body absorb the shea butter's vitamins and fatty acids while a massage therapist gently kneads your scalp and mesmerizes your mind with stories about books of short stories. When your body is finished bathing in a buttery baste, it will be cleaner, healthier, and more velvety than a smooth operator's excuses.
822 W 36th St., 2nd Floor
Baltimore
Maryland
410-889-7107
Brandi Nuttall, the owner of Dolce Salon & Spa, must believe that you can never have too much of a good thing. Expanding upon her first and second Dolce locations, which measure in at 12,000 and 13,000 square feet, respectively, she opened the third hub in 2007. The 30,000-square-foot behemoth houses 62 styling stations, 21 spa rooms, 14 pedicure thrones, a makeup counter, a brow bar, and manicure stations. All three locations boast the same services—though at different scales—as well as men's hair and spa treatments and bridal styling. Unlike hotels that charge extra for doorknobs and oxygen, the salons have a generous streak. They provide hairstyling services to those who donate to Locks of Love, spa services to local foster children, and hair clippings to areas affected by oil spills.
1008 Eastern Ave
Baltimore
Maryland
United States
410-685-3333
---