Museums & Galleries in Brooklyn
---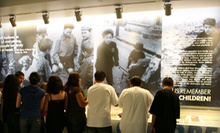 Interactive workshops, exhibits & films challenge visitors to think about issues of bigotry & hate, such as human rights & genocide
Use Thursday 12:00pm - 3:00pm
---
Recommended Museums & Galleries by Groupon Customers
---
In the late 1980s, the Simon Wiesenthal Center gathered top museum leaders and representatives to discuss new ways of teaching tolerance to a younger generation. Since 1993, the Museum of Tolerance has encouraged visitors to contemplate the effects of intolerance with interactive exhibits on the Holocaust as well as present-day discrimination. The guided, 70-minute sound-and-light presentation at the Holocaust exhibit recreates Nazi-occupied Europe, and the Finding Our Families, Finding Ourselves exhibit showcases diversity through the personal histories of several American celebrities, including Billy Crystal and Carlos Santana. Some of the museum's features also examine more recent issues, such as the Tolerancenter, which highlights the struggles of the civil-rights movement and enlightens museum goers on contemporary human-rights violations. The museum also hosts special exhibitions, live testimonies from Holocaust survivors, and youth programs, such as anti-bullying workshops.
226 E 42nd St.
New York
New York
212-697-1180
Located along the Museum Mile section of Fifth Avenue, the Museum of the City of New York chronicles local culture through an array of exhibitions, interactive programs, publications, and other media. Founded in 1923 and housed in a landmark building, the nonprofit museum hosts temporary exhibitions to complement extensive permanent collections. Hallways and gallery spaces invite guests inside to study historic maps, photographs of life and architecture, and artwork, as well as vintage displays gathering toys, fashion, and furniture—providing more insight into the city's rich character than the diary of Al Pacino. Docents and visiting artists aim to highlight the city's diversity and heritage through public programs and events, such as gallery tours and performances as well as symposiums and panels. A gift shop allows visitors to bring home a taste of the Big Apple via city-spirited books, clothing, posters, music, films, and handmade goods.
1220 5th Ave.
Manhattan
New York
Housed in a former speakeasy, the Museum of the American Gangster isn't obvious on a casual stroll down St. Mark's Place. If visitors know to look for number 80, though, they pass through a black gate and up a flight of stairs, where a plethora of artifacts and exhibits awaits. The museum focuses on American organized crime through the decades, which includes profiling mob bosses, Prohibition-era gangsters, serial bank robbers, and dastardly Scooby-Doo villains. The New York Times praised co-owner and tour guide Lorcan Otway as "so encyclopedic that touring the rooms takes an hour," as he expounds upon America's unique relationship with hedonism and straight-laced morality. In the Wall Street Journal, correspondent Alexandra Cheney mentions noteworthy finds including the museum's genuine Tommy guns, vintage whiskey bottles, and old copper stills.
80 St. Marks Place
New York
New York
US
212-228-5736
Founded 185 years ago as an egalitarian counterpart to the Royal Academy in London, the National Academy continues to serve its central mission of "promoting fine arts in America through instruction and exhibition." Today, the National Academy Museum & School serves as the epicenter of that cause, showcasing American artists past and present through rotating exhibitions and ARTalks, which bring in experts to host discussions about art and architecture. Recent exhibitions include the works of avant-garde 20th-century artist and composer John Cage—whose work blends music, photographs, and paintings into seamless multimedia tapestries—and the graphic art of prolific turn-of-the-century painter Mary Cassatt.
The Museum gives its timeless tableaus a worthy backdrop inside the original Huntington Mansion on Fifth Avenue, which it has called home since 1942. The two-floor space was renovated in 2011, but maintains its domestic charm by retaining some of the mansion's original characteristics and gently rocking back and forth at night to lull the portraits to sleep.
1083 5th Avenue
New York
New York
US
212-369-4880
---