Brooklyn Outdoor Activities
---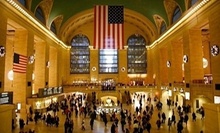 Mp3 audio tour takes sight-seers on informative 50-minute trek through Grand Central Terminal
Use Saturday 9:00am - 5:00pm
---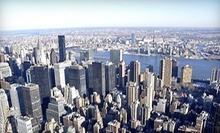 Expert guides lead groups in Alexander Hamilton's footsteps along Wall Street, viewing sites such as New York Stock Exchange & Battery Park
Use Saturday 9:30am - 12:30pm
---
Recommended Outdoor Activities by Groupon Customers
---
Timothy Haskell is no stranger to scaring folks: The Daily Beast considers his Nightmare series "one of the most frightening haunted-house productions in New York City." But when he teamed up with haunted-house vet Steve Kopelman, Timothy didn't want to keep populating creepy corridors with imaginary ghouls. At Nightmare: Killers, the duo tap into the true terror inspired by historical and contemporary serial killers to explore the monstrosity of their actions and the celebrity and cultural obsession surrounding them. The New York Times lauds the attraction as "a taut, assured production that knows exactly what it wants to do (scare the hell out of you) and performs its task with ruthless, coldblooded precision."
In the lobby, a gallery of artwork, memorabilia, and items from or about famous serial killers primes guests on the haunted attraction's theme and provides a glimpse into the warped minds of the killers in question. At the front of the line, personnel can mark any willing visitor's forehead with an optional scarlet X, which will grant the actors permission to interact with those victims for the next petrifying 20–25 minutes. Inside the haunt, rooms depict scenes based on Ted Bundy and the Zodiac killer, with the occasional cameo from pop culture's most fearsome fictional figures. To heighten heart rates even more, visitors will also have to navigate twists and turns, fog, and uneven footing as they desperately try to avoid becoming each psychopath's latest victim.
623 Broadway
New York
New York
As part of the Chelsea Piers Sports & Entertainment Complex, located at the historic Chelsea Piers, the Golf Club perches over the same port that once welcomed ships into New York City. Now, golfers tee up in the driving range's 52 heated and weather-protected stalls, which overlook the glinting waters of the Hudson River. Automatic tee-up systems position balls for launch across the 200-yard, net-enclosed fairway. A putting green allows patrons to improve their short game, and two Full Swing simulators encourage them to take hacks in virtual environs, transporting them to famous courses across the country or fifth-grade birthday parties where they missed the piñata.
Children and adults alike can enlist in Golf Club at Chelsea Piers' classes, which stratify students by experience level. The 13-member coaching staff includes PGA and LPGA professionals, and sessions take place in a 2,000-square-foot teaching facility.
18th St. & Hudson River Park
Manhattan
New York
212-336-6400
PacPlex dedicates its sprawling 200,000-square-foot facilities to sports, recreation, health, and education. At PacPlex, patrons can whip into shape in a TV-studded cardio-equipment area, on myriad weight machines, and throughout a schedule of fitness classes. The instructors lead kettlebell courses, Pilates core-strengthening workouts, and pool-aquatics classes, which help guests perfect their sea otter mating calls. Visitors flock to the vast grounds to work their bodies on racquetball courts, basketball courts, and an 18,000-square-foot indoor soccer field. At the two indoor and four outdoor swimming pools, guests can take a leisurely swim, play with water toys, and shoot down waterslides, or work on sculpting a chiseled bod by swimming laps.
Kids can take swimming lessons, and, for those who discover a hidden set of gills behind their ears, the staff also runs a junior swim league. When they're not splashing in the pool, kids can make new imaginary friends in preschool and daycare programs.
1500 Paerdegat Ave. N
Brooklyn
New York
US
718-209-1010
New York magazine reviewed New York Golf Center and named it a Critics' Pick.
131 W 35th St.
New York
New York
The masterminds behind Keansburg Amusement Park, located just off the beach, oversee a park designed to turn a day out with the family during warm weather months into a mini vacation. By dotting the park with roller coasters, go-karts, arcades, and classic boardwalk fare, the owners seem to have realized their vision while also addressing the interests of different-aged groups. Kids ride the colorful Jolly Caterpillar before he presumably morphs into a butterfly at closing time, and whole families catch panoramic bay views from the top of the Ferris wheel. With its more than 35 rides, the park has garnered accolades such as Best of New Jersey from the readers of NJ Monthly Magazine, as well as a 2011 Best of Monmouth County from the readers of Asbury Park Press.
275 Beachway Ave.
Keansburg
New Jersey
US
732-495-1400
Under the bright lights of the world-famous Madison Square Garden arena, four of the best women's college basketball teams in the country will tip off in the Maggie Dixon Classic. The first game pits Baylor against St. John's before DePaul takes on Tennessee to guess the number of jellybeans hidden inside the basketball. The undefeated Baylor Bears, ranked No. 1 in the nation nine games into the season, follow the lead of junior slam-dunk machine Brittney Griner. Pumped up from her placement on the Naismith Trophy early-season watch list, St. John's senior forward Da'Shena Stevens will induce frustrated growls from Baylor as she makes them work for their points. With 15 NCAA Tournament appearances in the last 23 years, DePaul's squad enters the high-pressure match gracefully, and Tennessee confidently follows the lead of its celebrated coach, Pat Summitt, named Sports Illustrated's Sportswoman of the Year for her more than 1,000 wins and ability to slam dunk while riding a unicycle.
2 Penn Plz.
Manhattan
New York
US
---