Schools & Tutors in Brooklyn
---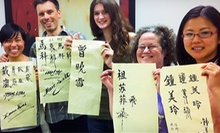 Tongues adopt Eastern phonemes as instructors help students read, speak, and comprehend Mandarin language and Chinese culture
Use Wednesday 3:30pm - 6:30pm
---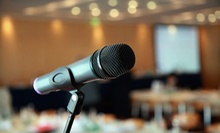 Professors plucked from top universities fill curious minds with knowledge in riveting lectures that condense whole semesters into one hour
Use Saturday 10:30am - 1:30pm
---
Recommended Schools & Tutors by Groupon Customers
---
Let's Play in Italian exposes kids, young adults, and adults to the culture and language of Italy through engaging programs that range from preschool activities to conversational Italian classes. Tykes up to 8 years old sing songs, tell stories, play games, and put on puppet shows and craft fairs during afterschool programs and Mommy & Me workshops, absorbing Italian vocabulary during their formative years before gray matter turns angsty and taciturn. Parents and kids alike can expand their linguistic repertoire with colorful books, CDs, and DVDs from an online bookstore.
120 Franklin Ave
Nutley
New Jersey
Valastro International Academy's staff of experienced law-enforcement officials teaches visitors responsible firearms operation and safe handling inside a private training facility. Classes acquaint clients—from everyday citizens to experienced security guards—in defensive tactics, such as retaining a firearm during a confrontation and defusing an altercation with observational humor. Beyond teaching humans how to defend themselves, Valastro's instructors also include canine trainers who lead basic obedience and housebreaking classes and teach dogs advanced skills such as search-and-rescue and narcotics detection.
80-01 Myrtle Ave.
Glendale
New York
718-366-2778
At Home Defense Site, Eddie Falcon strives to instill in his students a lifelong respect for gun use that puts safety first. Eddie boasts years of responsible gun use and ownership, and while continually training, he possesses knowledge in numerous fields of self-defense and protection. Backed by this experience, Eddie and his team teach the use of pepper spray and handcuffs, alongside their courses in rifles, shotguns, and handguns. As a complete self-defense training center, they can also instruct students in hand-to-hand combat, such as slapping an opponent with a white glove.
187 16th St., Between Avenue A & the Bay
Bayonne
New Jersey
866-541-1911
A former math teacher, actuary, and holder of a dual degree in mathematics and economics from Vanderbilt University, Math 1-2-3, Inc. founder Mark Kronenberg has been helping students hone their number crunching abilities since 1995. Before hiring each member of his tutoring team, Kronenberg ensures that they have a math degree, at least five years' post-college tutoring experience, and lightning-fast mental math abilities, never missing a beat when answering tricky student questions or tipping a waiter who only put in 16.5% worth of extra effort. Their seminars prepare students with varied skill levels for the math on standardized tests, and the team's private home tutoring sessions harness the power of arithmetical house calls to help students do better in all levels of math, including algebra, geometry, statistics, and calculus.
35 W 31st St., Suite 1001
Manhattan
New York
Language can be learned in a classroom, but it can be mastered only out in the real world. Unlike most language programs, which emphasize in-class lessons, Spanish in the City takes students out into New York's rich hispanophone landscape for interactive instruction in vocabulary and grammar. Pupils ranging in ability from complete beginners to conversationally competent journeymen meet up at Spanish--speaking restaurants, stores, and museums to interact directly with native speakers using the vocabulary they've recently learned. Four language levels let students advance at their own pace, and complementary conversational courses cement lessons through free-flowing talks and rigorous discussions over the precise date when American presidential facial hair reached its pinnacle.
244 5th Ave., Suite A-231
New York
New York
347-351-4940
John González, founder New Amsterdam Fencing Academy, brings his skills as a nationally ranked athlete to the piste, where he works with enthusiastic instructors to demonstrate European fencing techniques. He and the coaching corps teach foil, épée, and sabre disciplines during classes that take advantage of the group's collective energy. They lead students through progressive learning approaches—group footwork and conditioning, individual lessons, and bouting sessions— in hopes of preparing students for traditional competitions and unconventional kebob parties.
2726 Broadway, Floor 2
Manhattan
New York
212-662-3362
---