Yoga in Brooklyn
---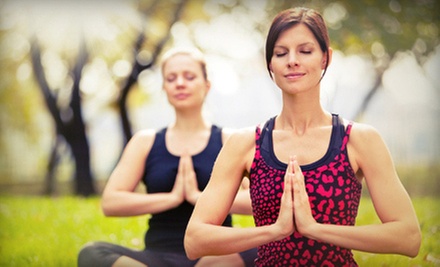 ---
Recommended Yoga by Groupon Customers
---
Inside a serene, sunlit studio, Sonic Yoga's instructors lead students of all skill levels through dynamic Vinyasa flow classes. Teachers guide new students through the basics during Flow Fundamentals sessions, where they help budding cobras link empowering poses with deep-breathing techniques and build balance with transitional movements. In advanced classes, they challenge lethargy with challenging binds, twists, and inverted poses.
In addition to regular classes, Sonic Yoga's instructors pass on their yogi-knowledge during teacher-training and mentor programs. The facility is also home to the Sonic Boutique, a store stocked with fashionable yoga clothing, towels, mats, and jewelry.
754 9th Ave.
Manhattan
New York
212-397-6344
Hot air swirls around hard-working bodies, causing students to collect beads of sweat as they stick challenging postures. Reflected in the wall-to-wall mirrors, bodies bend, fold, and twist into 26 gentle, therapeutic Hatha postures as high humidity facilitates deep stretching, accelerated fat burning, and detoxification. Feet plant themselves onto the blue floor, which is illuminated by light that floods the white-walled studio from the rounded wall of windows. Certified by Bikram Choudhury himself, all the instructors draw on their rigorous 500 hours of training to captain morning and evening classes, ensuring attendees feel confident and secure and dispensing hands-on guidance. After each sudorific session, students can hit the on-location showers to wash off skin salt and prevent unwanted garment pickling.
841 Broadway, Suite 608
Manhattan
New York
212-929-8926
With a background in music, fitness, and motivational speaking, Anne-Margaret Redding has been described by the Huffington Post as "life's cheerleader." Furthering her inspirational efforts, she opened her holistic health venue, The Giving Tree Yoga Studio, with her husband, Anthony, in 2009. She focused its many programs—ranging from yoga classes to creative-writing workshops to vacation retreats—on building a compassionate community with events centered on activities for families. Lessons in toddler yoga engage children in the search for personal balance and encourage them to overcome anxiety over filing lemonade-stand taxes, and massage and other spa treatments round out the studio's toolbox of de-stressing services.
2256 31st St.
Astoria
New York
718-728-0110
Sisters and native East Harlem residents Jennifer Pope and Stephanie Pope Caffey foster a friendly community of holistic health and wellness with daily Bikram yoga classes held in their roomy two-story studio. An eco-friendly heating system made from recycled aluminum warms the spacious main studio up to detoxifying temperatures, and the lower-wattage system uses a small amount of energy culled from baby lightning bugs. Certified by the practice's founder and celebrated yogi, Bikram Choudhury, the studio's instructors guide students of all abilities through the 26-posture practice. After each 90-minute session, students can hit the showers before perusing the rotating art featured in the sitting area's gallery. Bikram Yoga East Harlem also houses an onsite massage therapist, allowing pupils to supplement their sessions with kneading that mitigates the body and unties any pretzels that have spontaneously sprouted from the back.
4 East 116th Street
New York
New York
212-369-1830
The Sanskrit word "yogamaya" means potent inner power, or, in another translation, all-doing capability. The West 20th Street studio aims to guide its students toward this ideal not just through postures but also through spiritual teachings and melodic kirtan chants.
As for the physical practice, the instructors lead Vinyasa flow classes, which link breath to movement. The dynamic sequences increase strength and flexibility while developing a moving meditation, one in which students focus on nothing but monitoring the alignment of every movement. Though every level of class incorporates a range of asanas, such as standing poses and inversions, advanced sessions introduce deeper holds, centering breathing exercises, and yogic philosophy.
Regardless of the difficulty of the class, the instructors maintain a warm environment by dispensing advice, offering specific adjustments, and furrowing their brows when someone tells a sad story. New York magazine commented on the empowering benefits of this personalized guidance, claiming, "even beginners are pleasantly coaxed into positions more difficult than they might think they could accomplish."
135 W 20th St.
New York
New York
Yoga and Pilates in Tribeca—formerly 'Do Yoga Do Pilates'—was founded in 2008 by Elisa Chen, who strived to create an eco-friendly space where students could further their mental and physical prowess. Though Chen has since left the studio, the same team of certified instructors helps each patron reach his or her fitness goals by offering a robust repertoire of yoga, Pilates, Zumba, and under-the-table bribes. The studio's 35 weekly classes are designed at an open level, so that students of all skill levels and ability can keep up amid the studio's soothing lemongrass-hued walls and burnished hardwood floors.
78 Reade St.
Manhattan
New York
212-587-1099
---