Things to Do in Brown Deer
---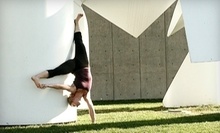 Five styles of yoga classes range from aerobic power Vinyasa to the highly meditative yin yoga and its lengthy posture holds
Use Today 6:45am - 9:45am
---
Recommended Things to Do by Groupon Customers
---
Completed in 1892 as the private home of the Pabst family, Pabst Mansion stands as the last bastion of more than 80 mansions built for Milwaukee's elite during a booming, bygone era. Since its construction, the estate has housed archbishops, priests, and sisters and was saved from near-demolition during the 1970s. The Flemish-Renaissance-Revival home has since been awarded a place on the National Register of Historic Places for its bounty of architectural intricacies.
Today, on-staff docents conduct a range of tours for public groups, private parties, school groups, and well-behaved rugby teams through the fortress of halls, opulent rooms, and verdant grounds, each restored to their original condition.
The Pabst Mansion's impressive art collection includes works from the 1640s through the 1900s by artists such as William-Adolphe Bouguereau, Gaetano Trentanove, and Eugene Joseph Verboeckhoven. The emporium of excess also features Pabst Beer Pavilion, the pavilion built for the World's Columbian Exposition in Chicago, and the glass-covered conservatory where tropical plants and beer trees continue to flourish.
The mansion gift shop holds classic Pabst drinkware and memorabilia as well as antique photos, books, and former employees' original finger paintings.
2000 W Wisconsin Ave.
Milwaukee
Wisconsin
Going to the movie theater should be more enjoyable than watching a movie at home––a concept that Rosebud Theater has down pat. Cinephiles regain the sparkle in their eyes as they enter the historic venue, which originally opened as The Tosa Theatre in 1931 and was recently modernized to have great views and stellar sound. Unlike cramped multiplex theaters, Rosebud houses one solitary, comfortably spaced theater, where visitors won't have to worry about hearing explosions from the monster-truck movie next door or accidently walking into the wrong monster-truck movie.
In addition to typical movie snacks such as popcorn, candy, and soda, the Rosebud sports a full menu of appetizers, sandwiches, quesadillas, and pizza, as well as a full bar stocked with wine, cocktails, and microbrews––all of which are delivered to patrons during featured presentations. Rather than standard chairs, the theater is furnished with cushy loveseats with room for 180 movie lovers to savor first-run Hollywood hits without wrestling strangers over armrests.
6823 W North Ave.
Wauwatosa
Wisconsin
Lizz Wright is a gospel-trained contralto, born in Georgia and now based in New York. As Stephen Holden of the New York Times articulates, "Her voice, luminous and smoky and perfectly pitched, is one of the most wondrous rhythm-and-blues instruments of our time." Lizz wrote the majority of her latest album, Orchard and, like her other releases, it's as smooth and mysterious as butter melting over butter. Equally as impressive are her interpretations of classics including Patsy Cline's "Strange," Ike and Tina Turner's "I Idolize You," and Led Zeppelin's Korean Conflict protest ballad, "Thank You." Mitchell Park, which allows Lizz Wright's sultry vocalizations to float to lawn-lounging ears unimpeded, also features sustenance options from Haute Taco, North Star American Bistro, Loaf & Jug, and Bella Caffe.
19805 W Capitol Dr.
Brookfield
Wisconsin
In addition to your two-person unlimited admission to the museum, membership includes a 10% discount to the museum store, a subscription to the museum's e-newsletter, a museum decal and magnet, free admission for tykes under the age of 17, and a free copy of the museum's swimsuit calendar, Corrugated Cardboard.
1000 N Broadway
Milwaukee
Wisconsin
Brew City Bike Tours offers pedal-pushing participants an opportunity to experience the city and its bountiful beer offerings on two wheels without welding a keg to the back of a tandem bike. Tour participants will glean illuminating knowledge about Milwaukee's brewing past (it was once home to four of the world's largest breweries) while sampling some of the city's most notable microbrews. Each tour lasts approximately 3.5 hours and includes two to three samples of beer at three different stops. When logistically possible, one stop will be a tour of Lakefront Brewery, a microbrewery housed in a former Milwaukee Electric Railway and Light Co. power plant. Bike rentals are not included in this Groupon, so thirsty adventurers should bring their own bike, rent one for an extra charge ($31.68), or attempt to commandeer a wild bronco. BYOHelmet too; they're required for the tour.
2108 North Farwell Avenue
Milwaukee
Wisconsin
The much-lauded Driving Miss Daisy, which garnered a Pulitzer Prize as a play and four Academy Awards as a film, follows the unlikely friendship between a stubborn elderly Jewish woman and her African-American chauffeur. Set in Atlanta from 1948 to 1973, the play elbows into sensitive, urgent issues, from racism to religious prejudice to backseat driving. Ruth Schudson plays the title character with garrulous, willful zest in her 65th production with the Milwaukee Chamber Theatre, excavating Miss Daisy's complex growth as she ages from her sixties to her nineties. As the sixth production in Milwaukee Chamber Theatre's Pulitzer Prize series, Driving Miss Daisy rides the energy of past award-winning scripts such as Rabbit Hole, Picnic, and Curious George Learns the Alphabet. Audiences can arrive early to enjoy the grand design of the European-styled Cabot Theatre, where a shimmering chandelier illuminates arched, gilded balconies and 360 cushy sapphire seats.
158 N Broadway
Milwaukee
Wisconsin
414-291-7800
---