Restaurants in Brownsburg
---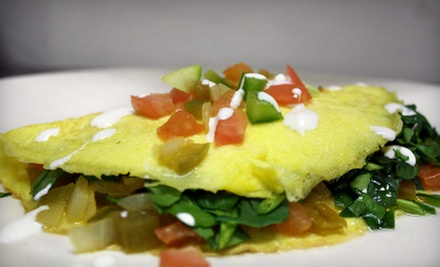 ---
Recommended Restaurants by Groupon Customers
---
When Anass Sentissi, chef and owner of downtown Indy's Saffron Café, opened the doors to his new quick-eats spot in Broad Ripple, guests lined up to taste the bocadillos (sandwiches), salads, and other made-to-order Moroccan fare. Indianapolis Monthly described the eatery's decor of ruby-red walls and punched-tin lanterns as "oh-so-welcoming," urging guests to "stick with the chef's recommendations" to take full advantage of the build-it-yourself sandwich menu.
Sentissi, whose years of restaurant experience and secret family recipes earned his food a spot on Indy Style in 2010, helps guests navigate options such as shawarma and Moroccan tuna salad with radishes as they create sandwiches, salads, and platters. Harissa, a spicy red chili sauce, and charmoula, a zesty cilantro pesto, are some of the traditional sauces and dressings that give Poccadio's dishes their signature flavors, making for lunch options that are healthy, fast, and build vocabulary.
1045 Broad Ripple Ave.
Broad Ripple
Indiana
317-252-5911
In 1953, Shawnee, Oklahoma played host to the very first Sonic, a drive-in diner replete with carhops on roller skates who served classic burgers, fries, and tater tots. Now, more than 50 years later, Sonic is the biggest chain of drive-in restaurants in America, a title that's fueled by its signature toaster sandwiches, its foot-long, quarter-pound coney dogs, and its 398,929 possible combinations of frozen beverages. The restaurant's original dishes remain largely unchanged and silent, and new additions, such as breakfast burritos and a rotating selection of shakes, keep diners on their toes.
The restaurant doesn't just feed bellies—for more than 15 years, it's fed the minds of Oklahoman youth with academic enhancement programs, and its national Limeades for Learning program works to advance educational opportunities for youth throughout the country.
66 S Raceway Rd.
Avon
Indiana
317-272-4379
In front of an 1868-era house—still painted its original avocado green—a spacious front porch extends to welcome guests. Not much has changed since the 19th century; the elegant yet simple space is outfitted with historic details—antiques, period lighting fixtures, ornate rugs—which lend it its timeless grace. In fact, the house still hosts etiquette classes, usually on the topic of table manners or the proper times to cough during a eulogy. The staff hosts a traditional English tea, complete with freshly brewed pots and dainty dishware. Lunch and brunch echo the lighter bites of teatime: plates of sandwiches, salads, and scones sate appetites without distracting from the thoughtful conversation echoing among the tables.
135 S Main St.
Zionsville
Indiana
317-873-5590
Diners huddle around tables filled with crispy appetizers and sudsy brews each Thursday, quietly debating pop-culture factoids during trivia night at Traders Mill Grill & Bar. Regardless of the day of the week, however, the kitchen churns out platefuls of beef nachos, chicken egg rolls, fried mac 'n' cheese, and boneless chicken wings. Servers carry trays of USDA choice steak and 20 different types of sandwiches, which fill bellies with italian beef and fuel brains searching for a trivia answer or a way to defraud a relative.
5650 W 86th St., Suite 100
Indianapolis
Indiana
317-334-1226
From the thick golden crusts of his Chicago-style pizzas to the hand-pounded cuts of pork on his tenderloin sandwiches, chef and owner Michael Kotarski, who co-owns the restaurant with his sister, Katie, caters to hearty appetites. Strapping plates can be found throughout the menu, including triple-decker BLTs layered between sourdough. The kitchen turns out dessert orders from scratch that feature bread pudding, white chocolate raspberry bars, and salted caramel bars.
9611 N College Ave.
Indianapolis
Indiana
US
317-571-1000
Boredom is a foreign concept at Stacked Pickle. From its lengthy and eclectic menu to the games broadcasted on 92-inch projectors, the dynamic eatery provides something for every taste. Diners can bite into one of nine half-pound burgers, wrap their hands around spicy-chicken tacos, or build a castle with their golden-fried fish and chips, all while admiring professional athletes run, jump, and score on one of many 50-inch plasma TVs. On some nights, live bands storm the eatery's intimate stage, providing a soundtrack to bargoers as they take swigs from a bottle of Blue Moon or gracefully sip a glass of wine. In the warmer seasons, Stacked Pickle opens its doors to nature and encourages patrons to enjoy their meals and drinks on the spacious outdoor patio.
12545 Old Meridian Street Suite 150
Carmel
Indiana
US
317-844-4448
---