Brownsville, FL Drs and Health Practioners
---
Drs & Health Practitioners Deals
---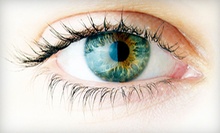 Use Today 10:00am - 4:00pm
---
Recommended Drs & Health Practitioners by Groupon Customers
---
Dr. DiGeronimo views himself as an artist and his cosmetic and reconstructive surgeries as his works of art. Having trained under Dr. Ralph Millard, he has perfected his craft over the course of more than 30 years and thousands of procedures. Dr. DiGeronimo practices his trade in two pristine operating rooms, where he and his staff perform procedures that span the whole body, from face-lifts and Botox to breast augmentation and liposuction. He also stays abreast of current aesthetic technological advances, as evidenced by his noninvasive laser treatments that include skin resurfacing and Thermage, which—like crying at the sight of a birthday clown—make clients appear younger.
19495 Biscayne Blvd., Suite 200
Aventura
Florida
305-932-5557
Drs. Barry Concool and Marc Bosem helm the Correctvision Laser Institute and have performed more than 40,000 LASIK procedures combined. And though he is eager to help their patients cast off their glasses, contacts, and opera lorgnettes with LASIK, that's not all they do.
Teaming up with Dr. Michelle Gonzalez—the institute's Spanish-speaking clinical director and optometrist—they offer a wide range of corrective-vision procedures, such as cataract surgery and conductive keratoplasty, which uses radio frequency instead of lasers to improve farsightedness. They even smooth over wrinkles with Botox, dermal fillers, and spackling paste.
2300 N Commerce Pkwy., Suite 201
Weston
Florida
954-217-6500
The softly scented candles and soothing music that permeate Gables Perfect Smile may remind visitors of a spa and not a dental practice, but this calming atmosphere is simply the manifestation of Dr. Gloria Ospina's goal to make her patients as comfortable as possible. Since opening a private practice in 1994, the dentist has enrolled in continuing-education courses to master skills in areas ranging from cosmetic and reconstructive dentistry to implant dentistry. Today, Dr. Ospina and her team of dental professionals work with each patient or tooth fairy to craft a custom plan that can include treatments such as Invisalign teeth straightening and full-mouth reconstructions. They can also perform sedation dentistry to keep patients as calm as possible.
In addition to the standard lineup of general and cosmetic dentistry services, Gables Perfect Smile boasts technology-based treatments such as the Waterlase MD dental laser, which removes tooth decay without using excess heat, vibration, or demolition trucks. Their smile makeover calls upon cosmetic imaging to render a preview of patients' potential smile.
147 Alhambra Cir., Suite 111
Coral Gables
Florida
305-443-8225
Each of Mers Optical's three locations in Hialeah, Hialeah West, and Kendall are chock-full of designer frames well suited for all manner of face shapes and personal styles. Independent doctors of optometry administer thorough eye exams, passing the results off to lens grinders who churn out single-vision, bifocal, and progressive lenses and fit them into frames from the likes of Lacoste, Ray-Ban, Fendi, and Mr. Potato Head.
575 W. 49th St.
Hialeah
Florida
305-885-0606
With surgeon Dr. Luis A. Ramirez at the helm, the specialists at Venus Cosmetic Institute use top-notch technology to tuck tummies, contour silhouettes with liposculpture, and perform breast augmentations, lifts, and reductions. They can also tighten lax visages with facelifts, eyelid surgeries, and nose reconfigurations. Noninvasive services include laser hair removal, platelet-rich plasma treatments, and Botox injections. This diversity of options helps the clinic's specialists carry out their mission of offering cosmetic options for as wide a variety of patients as possible.
7902 NW 36th St., Suite 202
Miami
Florida
305-593-0054
Tasking themselves with the mission of calming anxious patients, Dr. Faine and his staff ease anxieties by proffering sedation options and ensuring that everything is highly sanitized. They wear fresh gowns and eyewear with each patient and thoroughly sterilize the room between patients by swapping out all furniture for new stuff. Dr. Faine also makes sure he is up-to-date with the latest dental technology by supplementing his three decades of experience with continuing-education classes.
7400 N Kendall Dr., Suite 409
Miami
Florida
305-661-9556
---