Things to Do in Brownsville
---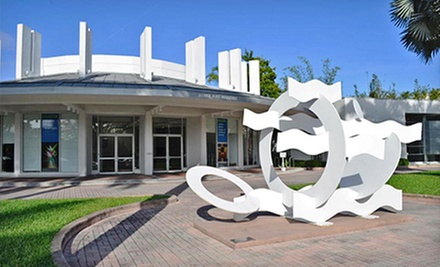 ---
Recommended Things to Do by Groupon Customers
---
Founded in 1972 as a gymnastics club, TWIGS Kids now resides in a sprawling 20,000-square-foot facility staffed by enthused staffers. The gym's name, which stands for True Winners in God's Service, reflects its mission of providing gymnastics, swimming, and cheer activities and instruction for kids ages 3–18 in a Christian environment. Cheer and gymnastics lessons simultaneously bolster students' flexibility, coordination, confidence, and ability to best invisible friends in monkey-bar competitions. Amid the heated waters of Dolphin Cove, teachers and pupils soak their feet while lifting floating barbells and riding noodle floats during swimming lessons. An in-house café welcomes visitors to recharge their empty fuel tanks with refreshing snacks, while a gift shop displays colorful gym attire from designers including GK Elite Sportswear and Melody Leotards.
11155 SW 112th Ave.
Miami
Florida
US
Certified Kundalini yoga instructor "BB" Shabdpreet Kaur—who's fluent in both English and Spanish—helms Yoga Sprouting, a center that educates adults and children alike on the art of breathing, relaxation through body movement, and meditation. Accented by percussion from a symphonic gong, her sessions strive to bolster immune systems and heighten awareness without outlawing blinking. Children's classes—expanded into camps during summer months—incorporate strands of song, storytelling and games, imparting engaging relaxation techniques from a curriculum recently adopted by Miami Children's Museum Charter School.
435 Espanola Way
Miami Beach
Florida
786-444-1814
As Luis Niño programmed the printer for another press run, all he could hear was the ocean—the waves rolling against the boat's hull, the wind whipping across the sails. After navigating waters from the Florida Keys to the Bahamas for years as a recreational sailor, he dreamed of one day captaining his own ship, eventually taking the leap and launching Sailing on Biscayne Bay.
Today, Captain Niño and his wife, first mate, and professional photographer Mabel welcome passengers with English and Spanish salutations as they board the Dorinda, a Tartan 34 sailboat. They charter two- or three-hour, half-day, and full-day sails through Biscayne Bay along Miami, Brickell, and Key Biscayne. Luis and Mabel entertain guests with drinks and snacks and can also arrange a catering menu.
3381 Pan American Drive
Coconut Grove
Florida
305-323-0783
The Murder Mystery Company's talented troupe of improv actors performs live-action murder mysteries at public and private events to sharpen guests' latent detective skills. Throughout the play, the cast drops hints and misdirects blame, inviting audience members to get involved in a web of intrigue and hilarity. Besides public dinner parties, murder mysteries can unfold during corporate events, team-building exercises, and birthday parties for aging Sherlock Holmes impersonators.
297 Northwest 23rd St.
Miami
Florida
South Florida Trikke's three-wheeled vehicles enable riders to carve through the urban landscape while reaping the toning benefits of workouts that aim to engage every muscle group. The company's fleet includes all manner of the curious conveyance system, such as body-powered Trikkes, which require users to rhythmically shift their weight to gain momentum and keep moving forward. Alternatively, electrically charged Trikkes dash around at speeds of up to 18 miles per hour, and snow Skki models conjure high-speed rushes similar to riding mountain bikes or mechanical bulls down a mountain. To spread the good word, South Florida Trikke rents out the vehicles and teaches free introductory lessons.
1657 Washington Ave.
Miami Beach
Florida
305-794-6084
Its sides look like the planking of a ship, but its wheels are suggestive of a bus. On the open-sided deck space, a guide dressed in a felt tricornered hat, sailor's shirt, and red sash crows "Ahoy, matey!" to welcome up to 49 passengers onto the US Coast Guard-certified amphibious vessel. Then the wheeled ship is driven toward the water, where it hits the surface and glides forth with almost no break in rhythm. For the next 90 minutes, Miami Land & Sea Pirate Adventure's semiaquatic tour pirate ship vessel roams both land and sea as guests take in the city's many sights.
1680 Washington Ave.
Miami Beach
Florida
305-623-2637
---