Yoga in Brownsville
---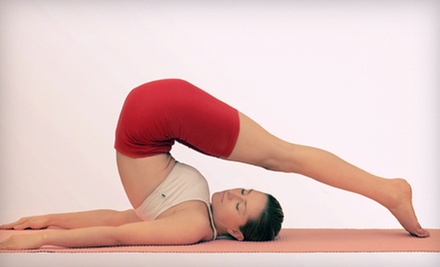 ---
Recommended Yoga by Groupon Customers
---
Miami Life Center's cadre of patient practitioners coach students through intensive Ashtanga classes with attention to detail that earned the studio recognition as Miami New Times' Best Yoga Studio in 2008. Amid frosted windows and gleaming hardwood floors, pupils fortify spinal alignments and hone concentration with methodical breathing and gentle postures in basic Ashtanga classes. Gentle Therapeutics yoga methodically strengthen sinews with the aid of bolsters, resistance straps, and chairs to refresh fatigued muscles and boost balance. Additionally, expectant mothers may ease into therapeutic poses including sun salutations and celebratory stork high-fives with relaxing prenatal yoga sessions. The studio's flexible lineup of classes includes weekend and late-night class times to accommodate pupils with busy schedules or raccoons who need a peaceful retreat from unruly graveyard block parties.
736 6th St
Miami Beach
Florida
US
305-534-8988
Bikram Yoga is a series of 26 postures performed in a room heated to 105 degrees Fahrenheit. Through this sequence of moves, students stretch out muscles, strengthen their cores, and improve blood circulation. At Bikram Hot Yoga Miami, the staff seeks to share these benefits with anyone who is interested, whether a beginner or an advanced student. After getting acquainted, first-time students receive a mat and towel, set up their spot inside the carpeted studio, and lie down in svasana before class starts. The vigorous class then inspires serious sweating, dispelling the toxins built up from eating too many lava lamps.
2500 Southwest 28 Lane
Miami
Florida
305-856-9922
As a community, Green Monkey is thriving. Across its three locations, it's taken on dozens of instructors who lead more than 36 types of classes. As with Richard Nixon's five-octave singing voice, the classes' range is striking. Meditation classes rely on breathing techniques and silent affirmations to quiet the mind, whereas Rockin' Power Vinyasa classes use energetic music and intense movements to invigorate the body. As if all those class varieties weren't enough, the instructors also put together frequent workshops, many of which teach specific skills such as handstands and inverted backbends.
1827 Purdy Ave.
Miami Beach
Florida
Dharma Studio co-owner Loree Shrager discovered the healing power of yoga after suffering from severe scoliosis and back pain. Through gentle stretching and gradual strengthening, she was able to carve out periods of relief in her life. Today, she uses her PhD in clinical psychology, her work as a therapist, and her experiences as a mother to inform her teaching. The other half of the Dharma Studio foundation, Natalie Morales, emphasizes self-discovery during her classes, which range from lighthearted Funyasa to challenging yet deeply relaxing Yoga Nidra sessions. Together, the duo promotes a family and community vibe—their children's program was featured on Univision's Primer Impacto, and their studio's walls display the work of local artists.
To make guests comfortable, Shrager and Morales have compiled a team of compassionate instructors and imbued the studio with a warm ambiance devoid of air horns. The Miami New Times said that the "quaint one-room studio exudes peace, from walls accented with paintings of Buddha to soothing, lingering aromas of incense," and even named it the Best Place to Meet Single Women in 2010. The studio may have earned the title thanks to events such as a Saturday-night Dharma After Dark class, during which live musicians serenade students with guitars, violins, and melodic crystal bowls.
3170 Commodore Plaza
Coconut Grove
Florida
It's hot and humid in Bikram Yoga Miami's studio—the temperatures reach 105 degrees—but not because the air conditioner is broken. Here, the heat and humidity coax muscles to sink deeper into the stretches and cause students to release toxins via beads of sweat during Bikram yoga classes. Certified in the yoga style's 26-posture sequence, the instructors lead students through the poses, helping them increase their strength, flexibility, and range of motion, which comes in handy when one gets the urge to backwards-crabwalk up a wall. Within the balmy studio, sun streams in from the windows and bounces off the full-wall mirrors, illuminating the rows of students as the instructors offer adjustments to the postures to accommodate varying ability levels.
235 11th Street
Miami Beach
Florida
305-534-2727
Synergy Yoga holds small gatherings of passionate yogis as they stretch and build muscles in 1 of the 50 classes offered each week. Various styles of yoga, including traditional Hatha flow, focus on deep breathing, and more rigorous classes, such as hot core Vinyasa or hot power yoga, combine the sweat-inducing powers of a heated studio with moves that can makes tummies tighter than an elf's shoes on a pro basketball player.
A wrought-iron gate opens into an alley wall lined with bright verdant foliage and skinny trees. This greenery snakes onto a stone path, which leads to Synergy Yoga's curved red doors. The first thing that hits visitors inside the yoga sanctuary is the color: mustard-yellow and two-tone green walls, red accents up the stairs, and crisp white moulding. The main studio swims with light filtered in from high windows set in the towering two-story ceilings, light that bounces off the white walls and cascades down to the wood flooring.
Focused on supporting the community, Synergy Yoga aims to include all walks of life. Kids' yoga invites youngsters to develop their flexibility, and very advanced yogis can turn their passion into a living with teacher training. Healing arts such as psychic medium reading, meditation, or massage soothe guests in need of some extra care.
2228 NE 123rd St.
Miami
Florida
---