Brunswick, ME Spa and Massage
---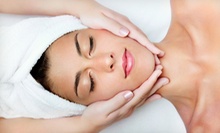 The Historic Maine Central Railroad Building at Saint John
An aesthetician relaxes the client and stimulates the body's cleansing lymphatic system with the application of warm stones
---
Recommended Spa & Massage by Groupon Customers
---
High in the historic State Theatre Building, Joshua Hughes sits in his massage studio, awaiting his next client. Brisk Atlantic winds glide through the suite's windows, as if the ocean itself were offering a gentle massage. "One of the things I like about my suite," Hughes says. "It's high up. A great breeze always comes into the room. It's… a lovely environment to relax."
A licensed massage therapist in the seventh year of his career, Joshua reflects on how he got here. "I wanted to help people," he explains, "and I was always good with my hands. Massage was right down that alley." He began working even before graduation, massaging as a freelancer at spas and salons. "I didn't feel quite fulfilled. I wanted to start my own practice."
Joshua's approach to massage is holistic as he employs reflexology, deep-tissue work, and even hot riverbed stones to tailor treatments to the individual needs of his clients. Focusing on the individual is part of what is most satisfying to Joshua about his work. "I've had clients tell me that they're just so appreciative and grateful for my attention to detail––that I cater to them as people. The money's a bonus, but just having someone tell me they feel better is the most rewarding."
142 High St., Suite 617
Portland
Maine
267-602-8560
When Laurie Granger graduated from massage school in 2004, a surprise awaited her at home. Her husband, Steve, had converted their one-car garage into a three-room spa, which she soon christened Heaven's Door. Today when clients show up to the aptly named spa, Laurie whisks them away to a greeting room where they can warm their feet by a pellet stove as she asks about their massage preferences. She tailors her strokes to these tastes and delights in hearing praise for her gentle touch. "I couldn't ask for a more rewarding profession than this," she confesses.
All of Laurie's massages include 15 minutes in a private hot tub, which unwinds muscles with its soothing jets. From there, a door opens directly into the private massage room, where Laurie further eases tension with unscented lotions and a heated table. A sauna in a separate building promotes a healthy sweat that helps the body flush out toxins and spirit animals unfit for housebreaking.
4 Weymouth Rd.
Gray
Maine
207-740-6487
At Paragon Salon and Spa, relaxation begins before any official service. In the waiting room, visitors sip free refreshments, their necks swaddled in complimentary wraps. Gentle music and therapeutic scents waft through the air, creating a calming atmosphere.
The team members' aesthetic services only enhance this initial experience. Their deft hands can craft custom cuts, brighten natural hair color, or banish aches and pains with massage, reflexology, and energy work. They also can enhance complexions with facials and highlight nails with manicures and pedicures.
202 US Rte. 1
Falmouth
Maine
207-781-7077
When licensed aesthetician Linda Morrison Wacholtz isn't painting in her art studio, she's beautifying the world in a different way with a long list of spa services at Blissful Touch Skincare, Nailcare & Massage Therapy. The beauty haven's facials immerse countenances with natural skincare products, and Jane Iredale mineral cosmetics add finishing flourishes. Limbs luxuriate during relaxing body wraps that soothe muscles, firm dermises, and squeeze toxins from corporal shells. Linda caps off wraps by performing scalp massages and also whitens teeth with Bleach Brite products, which she sells for home or on-unicycle use.
448 Wiscasset Rd.
Boothbay
Maine
207-315-5084
---