Brushy Creek, TX Drs and Health Practioners
---
Drs & Health Practitioners Deals
---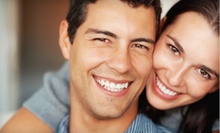 Use Today 8:00am - 8:00pm
---
Recommended Drs & Health Practitioners by Groupon Customers
---
We are a Family and Cosmetic Dental Practice dedicated to providing excellent personalized care in a warm and caring atmosphere. Dr. Campbell focuses on Comprehensive Esthetic and Implant Dentistry in order to provide the best care to his family of patients. Please visit us at http://www.jarrodcampbelldds.com
711 W 38th St., Suite B-10
Austin
Texas
US
512-454-5825
Licensed and certified acupuncturist Naae Kim prides herself on keeping up to date with the latest nutritional research. For her patients, this is a boon; her nutritional knowledge helps her to understand each patient's body holistically and plan treatments accordingly. Naae blends Eastern and Western techniques, using acupuncture, herbal therapy, and custom nutritional programs to stimulate the body's own natural healing response. Through holistic healing, Naae aims to discover and uproot the deep causes of maladies, rather than treating the symptoms or ignoring them by covering the affected areas with lace doilies.
300 Beardsley Ln.
Austin
Texas
US
512-758-0614
Today's Groupon gets you an exam, adjustment, and introduction to Pilates rehabilitation from Butera Chiropractic for $50 (a $150 value). Your spinal salvation will be tailored toward personal health woes including unhealable aches and past injuries, that is, injuries you will go back in time to receive, using the Pilates concepts of core strength.
1803 W 35th St.
Austin
Texas
US
Silver Screen Dental is a general dentistry office with a focus on cosmetic and major restorative dentistry. Dr Booth has had extensive additional training to be able to do most procedures in the office with out the need for referrals. This includes dental implant placement and restoration, denture, root canals invisalign
11851 Jollyville Rd. , Suite 201
Austin
Texas
512-345-8800
After a thorough oral exam at the experienced hands and feet of either Emily Craft or Michael Nussbaum, your dentist will take x-rays to ensure that your mouth is structurally sound and free of miniature civilizations. Finally, your facial cavern's stalactites and stalagmites will be scrubbed, polished, and re-released into the wild so that your primary intake valve can resume its normally scheduled operations of consuming food and making humorous gargling sounds when sprayed with seltzer.
10601 Pecan Park Blvd., Suite 101
Austin
Texas
512-250-2424
At Central Chiropractic Clinic, patrons can acquire effective holistic care for the whole family, including babies, the elderly, and pet dragons. Led by the talented Dr. Rick and his ample back-mending experience, Central Chiropractic Clinic has been helping Austin stay healthy and limber since 2003. Focusing on whole body health, Central treats the cause of each ailment instead of merely masking the symptoms that present themselves. Each visitor will receive an initial consultation that helps assess health issues, followed by a thorough exam that pinpoints problematic areas. Included x-rays also provide valuable information about your bony frame and its layers of volcanic activity.
3001 N Lamar Blvd., Suite 201
Austin
Texas
---