Massage in Brushy Creek
---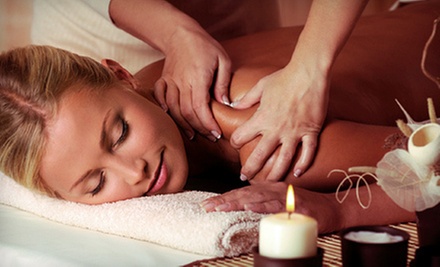 ---
Recommended Massage by Groupon Customers
---
At the start of Pure Life's EBPro ion therapy treatment, you'll recline into a squishy chair and submerge your feet in warm, soothing, ionized water that may exude subtle aromas of lemon, chives, and eternity. This ion bath uses a field of non-invasive electromagnetic energy to draw out cellular-level toxins and pollutants—neutralizing and eliminating harmful free radicals, boosting the immune system, and improving overall wellness. Each individual Ion Workers Union–certified ion is personally trained by Pure Life's staff to enter your body imperceptibly, knock on the door of each and every cell, ask if they've had any problems, kick down the door when they receive no reply, and drag out the bare-chested, noxious nasty COPS-style.
6836 Bee Caves Road, Bldg. 2 Ste - 101
Austin
Texas
512-306-9800
An individualized hand-tenderizing session from one of Sullivan's certified massage therapists targets whatever's paining you, reducing both the suffering of chronic conditions, such as arthritis and back ache, as well as undoing sports-induced injuries and boosting flexibility. Additionally, a massage's constant, gentle pressing and pushing can finally convince long-encamped stress-knots and perennial muscle cramps that this cohabitation is so over, and that they should just take their things and leave. Sullivan has special massage tables designed to accommodate pregnant women and men who accidentally inhaled a 10-pound ham.
12411 Hymeadow Dr., Building 3, Suite 3B
Austin
Texas
Licensed massage therapist Melyssa Liberty facilitates natural healing and eases tension with the perceptive touch of her hands. Within the lodge-style spa, clients relax among stone-laid walls and natural wooden accents while awaiting modalities such as deep-tissue, or a Swedish massage. Once inside the private treatment area, Melyssa invokes gentle Swedish techniques to improve circulation; firm, deep-tissue techniques to alleviate chronic tension; or a combination of both in a sports massage to aid in injury recovery or poor free-throw percentage. Release techniques target pain sources rather than symptoms by stretching and compressing soft tissue. During prenatal-massage treatments, Melyssa accommodates the specific needs of mothers-to-be, aiming to reduce the physical strain of childbirth while removing knots from muscles like a master sailor with surprisingly kempt hands.
1508 Lavaca St.
Austin
Texas
512-699-2777
Once visitors pass through the teal door and step into Excellence In Touch, a tranquil space decorated with blue walls, bright paper lanterns, and a gurgling fountain helps guests transition from the busy city outside to the calm that massages, reiki, and reflexology treatments promote. Licensed massage therapist Kathy Casey opened the office as a place to both provide her services and teach students the healing possibilities of touch. A Reiki Master with certification to work at all three levels of integrated energy therapy, she believes that massage and similar treatments hold physical and emotional benefits such as stress reduction, muscle-ache relief, and being able to see through walls. She offers many modalities of massage as well as neuromuscular therapy, reflexology, chakra balancing, myofascial release, and energy therapies. She also teaches reiki, massage, and reflexology, with classes for two aiming to make learning and practicing more fun.
2525 Wallingwood Dr.
Austin
Texas
512-415-9691
Close your eyes. Picture a country cottage surrounded by rose gardens. Now walk in and lie down. A team of massage therapists stands at the ready to apply warm towels to your sore muscles. Just as the first whiff of lavender and peppermint reaches your nose, you feel their practiced hands press down on your knotted muscles and overworked joints. Or maybe you feel warm and soft as a layer of gentle exfoliants, botanical body butters, and moist towels wrap your body to soothe and nourish your skin. After what feels like hours, you slowly rise from the table, muscles loose and skin soft. Before you can say thank you, you're handed a free bottle of spring water to wash down a selection of sweet chocolates. The scent of aromatherapy oils fades away as you leave the spa haven, and the smell of fresh roses ushers you outside. The country opens up in front of you. Now open your eyes.
It's not a dream. The quaint country cottage surrounded by rose gardens, the gentle massage therapists, the free chocolates—it's all very real at Blue Monarch Massage, where bodies benefit from the mother and daughter team's years of collective experience delivering pain-relief and relaxation. The duo's attention to detail turns simple spa services into full-blown, luxurious experiences with amenities such as free chocolates, hot-towel applications, and aromatherapy oils.
18771 FM2252
Garden Ridge
Texas
---