Bryan, TX Outdoor Activities
---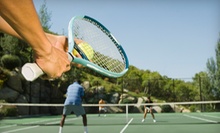 12 hard courts host practice sessions at a tennis school co-founded by a former No. 1 ranked women's doubles player and Grand Slam winner
Use Today 7:00am - 10:00pm
---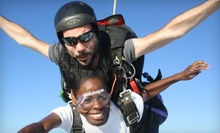 After 15- to 45-minutes of preparation, expert cloud surfers whisk fledgling jumpers into sky for tandem dive over gorgeous scenery
Use Sunday 9:00am - 4:00pm
---
Recommended Outdoor Activities by Groupon Customers
---
Seasoned kayaker John Cline paddles with a local hotel concierge along the Colorado River, periodically explaining that kayaking is perfectly safe for beginners and an ideal way to savor the pleasant Texas weather. Suddenly, the sky erupts and an onslaught of rain drenches the waterborne duo. They rest their paddles on their laps, look at each other, and start laughing. Rising Phoenix Adventures' kayak and canoe trips create these unique memories so regularly that one Belgian businesswoman even makes annual trips to the area just to ride the class-1 river. Since establishing the outdoor-excursion company in 2004 with barely 10 kayaks and canoes, Cline has more than quadrupled his fleet to accommodate the ever-increasing demand. After alighting one of the trusty vessels, adventurers set off to navigate through the river's islands and beneath a scenic half-mile tree canopy, where the shores offer glimpses of wild pigs, great blue herons, and undomesticated beach umbrellas.
306 Industrial Blvd.
Bastrop
Texas
512-677-2305
The percussive sounds of water drums and rattling gourds echo across limestone bluffs and the grassy banks of a meandering creek. A cedar-post fence creaks in the breeze. An elegant Victorian farmhouse towers over livestock corrals. Pioneer Farms' themed history sites sprawl across 90 wooded acres, immersing visitors of all ages in exhibits and living demonstrations of Texas history. The grounds also serve as a haven for historic 1800s buildings, many of which were transplanted from their original plots throughout the state and reconstructed with rubber cement.
Offering a snapshot of central Texas's Native American population, an authentic Tonkawa encampment dating back to 1841 welcomes guests to visit tepees and dance to tribal music under a centuries-old oak tree. An 1873 Texian farm, which includes a log-and-board cabin on its original site, provides livestock care and tractor-throwing demonstrations, and the restored rural village of Sprinkle Corner introduces visitors to carpenters, blacksmiths, a general store, and a 19th-century stagecoach house from which more than 12 horse-drawn wagons convey passengers across the farm throughout the day. Wild animals raise their heads above lush grasses near Walnut Creek, and the Scarborough Barn allows children to meet their favorite farm animals. Visitors can further connect to history and nature through the farm's many programs and classes, including workshops focused on traditional blacksmithing, cooking in the buildings' original kitchens, and basic photo red-eye correction using squid ink.
10621 Pioneer Farms Drive
Austin
Texas
US
512-837-1215
A triangular form soars across blue skies and swoops over Texas's sprawling terrain. But the flying figure isn't a bird or a frustrated geometry student's homework—it's one of Thermalriders' gliders, which let novices master the art of flying under the guidance of U.S. Hang Gliding and Paragliding Association-certified instructors. During aerotow flights, instructors and students can then break free from gravity's tight grip as Dragonfly planes tow them to heights of up to 2,500 feet. Thermalriders' instructors also have the ability to capture each flight on video.
2953 N Magnolia, Hangar 6
Luling
Texas
210-381-5193
Jeff Hunt probably understood the trajectory of his career path in a way most people don't. With an aerospace engineering degree from the University of Texas at Austin and experience working with Tracor Aerospace after college, he is very familiar with how things move forward. Though most aerospace engineers are focused on building spaceships and watering blooming stars, Hunt chose to focus on hang-gliders. Over the past 20 years, he has competed in cross-country hang-gliding competitions and become a USHGA-certified advanced tandem instructor. At Fly Texas and Fly Mexico, he shares his passion with students during half-day and daylong hang-gliding classes or shuttles more experienced gliders on flights.
4811 Red River
Austin
Texas
512-467-2529
Across four compact, outdoor fields, goggled paintballers stealthily tread behind industrial-sized wooden spools and large inflated obstacles as candy-colored paintballs zip by. Teams of five to seven shooters might start by storming the citadel on Fort Field. After conquering the blockhouse through strategy and persistence, they can advance on the Hyperball field for a fast-paced game that relies more on reaction than strategy and teamwork. The tight quarters of the Spools field surround huge wooden spools left behind by giant seamstresses, whereas the Airball field spreads blue and red inflatables across a large swath of green grass to slow the action down. Teams can find respite between matches under the covered staging areas and refuel with snacks and beverages.
824 Grand Avenue Parkway
Pflugerville
Texas
512-252-1664
For a city so far from the coast, Fort Worth sure has a lot of waterways. Aloha Paddleboards takes every advantage of this fact, setting up shop on the Trinity River at a fork that leads to Benbrook Lake in one direction and Lake Worth in the other. There, they offer rentals of premium stand-up paddleboards from the likes of SUP ATX, Surftech, and Tahoe SUP. For those new to the quickly growing sport, lifeguard-trained, CPR-certified instructors lead 75-minute private lessons that teach safety, equipment knowledge, and basic technique to keep students from falling unnecessarily or forgetting which muscles make you stand.
5214 Burleson Road Suite 118, Austin
Austin
Texas
US
---