Professional Services in Buckeye
---
Professional Service Deals
---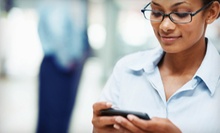 Use Today 9:00am - 8:00pm
---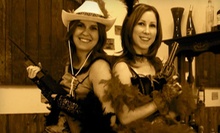 Wanted posters, pianos, and saloon atmosphere backdrop sepia-toned photos of couples dressed in cowboy hats and frontier-era clothing
Use Today 10:30am - 6:00pm
---
Recommended Professional Services by Groupon Customers
---
Silently shout your hidden emotions, deepest desires, and most outrageous fantasy-football trades with a bouquet of 12 roses or a six-rose bouquet rounded out with lilies from Earley's Flowers for $30 (a $60 value). Statement-making sprouts from this bud boutique are perfect for any occasion, including Sweetest Day on October 16, birthdays, Thanksgiving, and factory strikes, but excluding Valentine's Day.
5124 N 19th Ave #100
Phoenix
Arizona
US
Justine Miller has always done her best to preserve memories. As a young girl, she would watch the Christmas lights on neighbors' houses, blinking hard to hold onto the festive images and etch them into her mind. Today, she still does her best to capture the magic that happens in everyday life. Instead of using expensive lighting equipment or posing her subjects in elaborate scenes, she shoots outside in the natural light and encourages her clients to act naturally so she can capture their real emotions. That may explain why some of her favorite photo subjects are people at their happiest: brides on their wedding day, children at play, newborn babies, and adults lounging in extra-large diapers. Though she prefers to hold sessions outside, she does schedule studio sessions for clients upon request. After a session, she performs light editing on frames before posting them in an online gallery, which clients can peruse to select the images they'd like to print.
846 W Lindner Ave.
Mesa
Arizona
This Is Life Photography aims to capture life's meaningful little details by eschewing fake-feeling poses and recording each subject's true personality. Photographers Marisa and Stacey rob time of its effects in an approximately 30-minute photo shoot for up to six people (additional fees apply for groups greater than six) that pauses a reality illuminated by as much natural light as possible. Your photographer will happily capture entire families and ultraminiature tribes, as well as youngsters and high-school seniors in solo sessions. You will also receive two prints, sizes 8"x10" and 5''x7'', and one digital file of the image used for the 8"x10". Additional digital files cost $40, and with today's deal, clients get up to 50% off additional prints, 10% off other products such as gallery wraps and albums, and the option of receiving a wedding-photography collection for 10% off the current price.
740 West Elm St. , #159
Phoenix
Arizona
Computer repair and leasing since 1997. Three valley locations (Scottsdale, Tempe, Mesa).
7119 East Shea Blvd.
Scottsdale
Arizona
480-443-0145
Wilson Camera Digital Lab & Portrait Studio opened in 1954, back when most photos were still developed on papyrus scrolls. Nowadays, digital gear fills the store's two locations, but photographer Rudolph Henninger still brings old-school photography knowledge to his work in the shop, drawing on more than 37 years of experience behind the camera. He and his staff offer photograpy services for weddings and family portraits, teach photography classes, and work in their photo lab to digitally restore old photos.
South of E. Curry Rd. on W. Lakeview Dr.
Tempe
Arizona
At first, Connie and Steve's courtship involved talking on the phone into the wee hours of the morning. But unlike most lovebirds, they'd talk about photography and photo-editing programs. This shared passion eventually led them to open CWLIFE Photography, allowing them to team up to shoot everything from weddings to business headshots to pet portraits. During photo sessions, Connie and Steve blend their own unique shooting styles to produce images from multiple angles and a variety of perspectives. The pair snaps shots on location or in their 800-square-foot private studio with the high ceilings of a cathedral or Michael Jordan's top-hat closet. Though they still stay up into the wee hours of the morning talking about photography, the Nikon-toting duo continues to evolve their photo-taking abilities by attending educational workshops at least once a year.
4237 N Craftsman Ct., Suite 203
Scottsdale
Arizona
602-653-9722
---