Buena Park Gyms and Fitness
---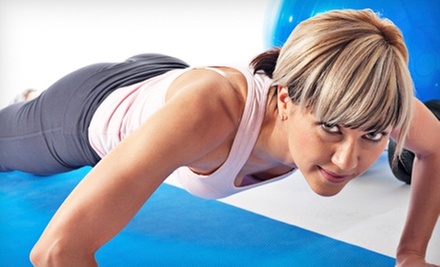 ---
Gym, Exercise, Weightloss Deals
---
Recommended Gym, Exercise, Weightloss by Groupon Customers
---
Devised by Pure Barre founder Carrie Rezabek, these clever recombinant classes will work your body in ways it's never been worked before by harmonizing the grace of dance with the exertion of lifting, the soothing pull of stretching, and the raw power of a metal battering ram. Each 55-minute session loosens, strengthens, and lengthens the body through the perfect blend of the ballet barre, weight training, and limber Pilates. In the process, you'll tone your tush, thighs, arms, and abs while boiling away fat and blocking out the invasive anxieties of the real world, such as the lingering dread that squirrels are evolving faster than us and will soon overtake us on the food chain.
6791 Quail Hill Pkwy.
Irvine
California
Anyone who has ever been kicked out of a nightclub for trying to ride in on their bike didn't really do anything wrong, they just went to the wrong place. The instructors at Bike2theBeat are as versed in DJ'ing as they are in leading stationary-cycling classes, hosting their workouts within a mirrored studio that emanates a nightclub-style ambiance. Once students are comfortably situated atop their stationary velocipede of choice, they dim the can lights and raise the black lights to bring T-shirts, towels, and linen-clad ghosts to glowing fruition. Then they start spinning thumping tunes, swirling multicolored beams around the room and shouting out exercises and dance-like moves to create an intense, high-energy cycling routine. Routines vary according to each instructor's unique style, but they all deliver a calorie-burning cardiovascular workout. Guests have access to changing rooms, showers, and complimentary towels before and after every workout.
3928 Campus Dr.
Newport Beach
California
949-660-4970
Yoga is a great way to stay toned and limber while temporarily storing worldly worries in a drawer with knick-knacks, spare change, and shrunken heads. Like a chameleon trapped in a box of Crayolas, each class transforms yoga into a different shade while remaining the same at its core. Classes range in difficulty and specialty, including such varieties as Vinyasa Flow, Hot Yoga, and other conveniently color-coded courses. Intense red classes incinerate fat, whereas the blue series keeps things slower and steadier. View the upcoming schedule for Long Beach here and Fullerton here.
6535 E Pacific Coast Hwy.
Long Beach
California
GolfTEC has thirteen convenient locations in the Los Angeles area, all staffed by experienced golfing professionals and computers who've sworn allegiance to the Three Laws of golfing robotics. Motion sensors and high-speed cameras monitor your swing and break down your form on a high-definition video display. GolfTEC's PGA specialists point out your flaws, strengths, and coach you on how to permanently improve your game, from tee to green. Sensors chirp with approval when you've executed a perfect stroke or cracked an especially witty golfing joke.
835 E Birch St.
Brea
California
OC Trainer consists of a dedicated team of four personal trainers with over 20 combined years of professional experience. With today's deal, you'll get three hour-long, semi-private training sessions with these OC fitness aces. Sessions are capped at three people, ensuring that you'll get plenty of individual attention while getting to know a smattering of siblings in sweaty arms. The trainers don't simply stand and stare with dead eyes as you pant and schvitz, nor do they froth at the mouth and scream with degrading abandon every time you pause for breath. Instead, they provide motivational and educational encouragement for targeted fitness results, and help keep clients goal oriented with regular weigh-ins and measurements. In addition to fitness-first advice, the trainers also provide personalized but simple nutrition advice and meal plans to maximize the results of the training.
140 E 17th St.
Costa Mesa
California
With a private Pilates session from Core Plus, you'll receive hands-on, individualized attention and all the equipment you need to hone body-sculpting techniques. Private sessions are led by experienced instructor/Core Plus owner Dondi Hall, who brings more than four years of experience to the Pilates mat, and modified to each client's fitness level, eliminating embarrassment. Elongate your torso to match your new hair extensions and avoid awkward run-ins with your old hair stylist with today's Groupon. Call ahead to schedule your private appointment.
17982 Sky Park Cir., Suite B
Irvine
California
---