Education & Classes in Buffalo Grove
---
Education & Classes Deals
---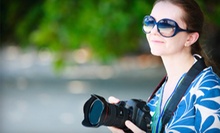 Professional photographer teaches students basic principles, such as DSLR camera settings and using a flash
---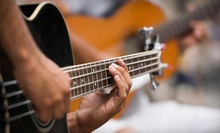 Lessons for students aged 6–adult teach techniques for the guitar, ukulele, strings, piano, percussion, or voice in a wide variety of genres
---
Recommended Education & Classes by Groupon Customers
---
Jasmin Jahal has an enduring memory of being 8 years old, practicing her pointe moves in a private ballet lesson, and realizing that a large group was peeking through the door to watch her dance. Her stomach fluttered with the thrill of performance—a sensation that persists to this day whenever she takes the stage. Ever since she discovered Egyptian dance at age 18, she's studied it as an art, becoming one of only a handful of dancers to be dubbed Best Modern Egyptian Dancer by the International Academy of Middle Eastern Dance.
Her school encourages students to explore belly dance's hypnotizing hip drops and shimmies in a comfortable, fun environment. Beginners wrapped in hip scarves learn to create alluring motions or imitate a sultry flagpole with veils while finger cymbals create their own splashes of rhythm. Regularly scheduled classes escalate to advanced levels that impart expert choreography and Arabic rhythms. Jasmin also offers Belly Aerobics classes focused on stretching and toning muscles with lightweight dumbbells and aerobic moves.
4037 North Milwaukee Avenue
Chicago
Illinois
773-777-4037
Who invented the caramel apple? While the ubiquitous treat's true creator may never be known, William Morkes, Sr. can make a case that his own hand-dipped caramel apples were among the country's very first. Morkes, who opened his confection shop on 26th and Trumbull in 1920, spent long nights testing out new recipes in his apartment above the store, yielding more than a few tasty innovations.
More than 90 years and one move to Palatine later, the staff at Morkes Chocolates still hand-dips its treats, from still-popular caramel apples and rum-ball truffles to chocolate-enrobed pretzels and strawberries. Confections are made from scratch with fresh ingredients such as pure butter, eggs freshly lain by rabbits, and store-specialty cream centers ranging from vanilla and maple to orange and raspberry.
Now guided by the steady dipping hand of Morkes Sr.'s granddaughter Rhonda, the shop's staff keeps up the tinkering ways of their founder by constantly testing new treats. In addition to ready-to-purchase delights, they stand ready with hundreds of specialty molds to help customers add a personal touch to happy events from graduation to Christmas to baby's first sweet tooth.
1890 N Rand Rd.
Palatine
Illinois
US
847-359-3454
Though glass art has been Peter Patterson's career for more than 35 years, glimpses of his other passions come through in his pieces, from his knowledge of plants to his scuba explorations of exotic seascapes. Indeed, he shapes searing-hot glass with the same fluidity as water, drawing on lessons from master teachers and his own background as an illustrator. The forms often flow around pre-fused decorations and even phosphorous elements that glow in the dark and ensure that the studio is entirely boogeyman-free. Students work one on one or in small classes as Patterson shares the first steps of creating his complex sea forms, memorial urns, and incandescent light bulbs.
888 Tower Rd., Suite E
Mundelein
Illinois
US
847-949-0013
---