Golf in Buffalo
---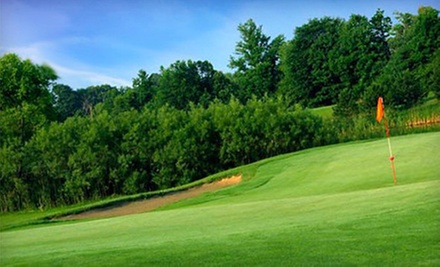 ---
Recommended Golf by Groupon Customers
---
The story of Rose Brook Golf Course dates back to the late 1960s, when—according to course lore—a retired iron worker who had found success by inventing the popcorn machine set out to turn his lifelong dream of owning a golf course into a reality. In the process of achieving his goal, a course maintenance mishap culminated with the man driving a bulldozer over a 100-foot gorge. The man survived the plunge, the story goes, and drove the heavy machine 2 miles out of the creek before returning to sculpt the rugged earth and relentlessly remind the dozer that it owes him its life. Styling itself as "the working man's country club" ever since, the course has retained the vision of its founder, as friendly, laid-back vibes resonate across 18 holes of rolling terrain in a diverse, 5,806-yard layout, providing guests a pressure-free respite from their vocations. During each round, players contend with 12 ponds as well as frequent encounters with the aforementioned gorge, which runs across multiple holes and sends shudders down the cybernetic spines of passing golf carts. After their birdie-hunting expedition, clubbers can enjoy succulent meats right off the grill or sudsy beverages to wash down inadvertently swallowed divot tools.
Course at a Glance:
18-hole, par 72 course
Length of 5,806 yards from the farthest tees
Three tee options
Link to scorecard
12486 Beebe Rd.
Silver Creek
New York
716-934-2825
Nestled against the glistening shores of Chautauqua Lake, Chautauqua Point's nine-hole course stretches across 2,600 yards of century-old fairways. Club-wielding compatriots can loop the picturesque par 35 astride a nimble golf cart, which helps to track down golf balls and flashes its headlights angrily upon any mention of caddies looking for work. For an 18-hole round, golfers traverse the emerald links twice over, allowing them to atone for any misreads or errant approaches made during the first 9. Clients can divide each 18-hole round into two 9-hole outings played on separate occasions, and they may choose to complete their allotted rounds by themselves, with friends, or alongside their evil, argyle-clad alter ego.
5687 E Lake Rd.
Dewittville
New York
716-753-7271
Flanked by deciduous trees that emblazon the landscape with deep ambers and yellows in the autumn, the course at Pelham Hills Golf and Country Club guides play along an emerald tapestry awash in natural beauty and obstacles. Water comes into play on 14 of the 18 holes, punishing overzealous shots on holes 9, 12, and 15 with the shooter's choice of a penalty stroke or a self-service swirlie. Elsewhere, mounds thwart easy play onto greens, and strenuous bunker positioning and elevated tee boxes reward deft club selection. Players who can keep their shots on the straight and narrow, however, will enjoy the fruits of generous fairways and numerous scoring opportunities afforded by pins awed into submissiveness. Course at a Glance:
Par 71 for men and 72 for ladies

Three sets of tees

Total length of 6,617 yards from back tees

Rating of 72 and slope of 129 from back tees
196 Webber Rd.
Pelham
Ontario
905-735-6768
The Greens at Brock's par 58 executive course packs 18 holes of diverse obstacles into a dynamic, 3,000-yard layout. With nine holes measuring less than 150 yards in length, the course caters to players who can dominate their short-iron approaches, and four par 4s ensure that drivers don't start experimenting with fertilizer chemicals to stave off boredom. Lush landscaping greets players throughout the round, with weeping willows casting shadows across the seventh hole and pine trees lining the short-grass corridor of the 15th fairway. Alongside the course rests an expansive driving range with covered and open-air stalls and hitting areas blanketed with natural grass, turf, and retro shag carpet. After fine-tuning tee shots, golfers can read the breaks at the mini golf course or stroll over to the facility's tiki bar festooned with sand beaches, a waterfall, and tropical plants.
2745 Merrittville Hwy.
St. Catharines
Ontario
905-641-8088
For more than 40 years, golfers of all stripes have swung golf balls through the arboreal alleyways of Fort Erie Golf Club's 18-hole par 57 course. Stately oak and willow trees frame the emerald fairways and provide shade over interspersed ponds and shallow bunkers placed greenside on multiple holes. The front nine finishes on a peanut-shaped green characterized by dramatic breaks, a treacherous sand trap, and a flagstick with dreams of becoming an Olympic javelin. The driving range and putting green invite swingers to hone their form, and the clubhouse's patio invites guests to relax with a beverage from Parskey's Pub as they count the dimples in each of their golf balls and discard any with frown lines.
1640 Garrison Rd.
Fort Erie
Ontario
905-991-8883
---