Buffalo Indoor Activities
---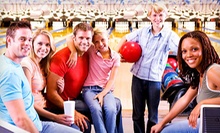 Landmark entertainment centre features 48 lanes ideal for parties; diner featured on TV makeover show
---
Recommended Indoor Activities by Groupon Customers
---
A vintage photo of Mallwitz's Island Lanes, presumably from the 1980s, shows a much different alley than the one that stands today. Its patrons are dressed and coiffed for the times, bright yellows and reds flash across the walls, and strikes and spares are scrawled by hand. A modern-day snapshot illustrates the transformation that has occurred since the center's 1980 opening: 24 lanes feature computerized scoring systems and freshly oiled surfaces that glisten in the muted glow of black lights like a newborn's head after his first waxing. Other contemporary touches include a full bar, complete with a food menu headlined by popular wings.
1887 Whitehaven Rd.
Grand Island
New York
716-773-0062
The Pilates Loft's owner, Beth Elkins, is not only a Core Dynamics–certified instructor, but also the creator of her own version of Pilates dubbed the Elkins Method Pilates technique. Between the exposed brick walls of her boutique studio, Beth and her two instructors teach her core-strengthening method to students of all levels during mat and tower equipment classes. By keeping each class in a private, two-person, or small group format, instructors can give one-on-one attention to each student to ensure every stomach curl, leg lift, and arm detachment exercise is performed safely.
166 Allen St.
Buffalo
New York
716-866-8200
A Golden Griffin emblem presides over Canisius College Athletics' 17 sports teams, which traverse grass, water, and hard court in search of victory. As part of the NCAA Division I's Metro Atlantic Athletic Conference (MAAC), Canisius's athletes face off against other East Coast schools including Marist College, Niagara University, and Loyola University Maryland. From the stands, a sea of blue and gold cheers on the men's basketball, hockey, and lacrosse teams, the women's soccer, softball, and volleyball teams, and the adjunct professors' annual soapbox derby.
2001 Main St.
Buffalo
New York
Kenmore Lanes is a safe haven for pin-pummeling patrons as they relish strikes and avert gutter balls on the stable of slick lanes. Participants can practice their rolling skills during open-bowl sessions or within the intergalactic realm of Friday and Saturday night moonlight bowling, where the lanes remain open until 2:30 a.m. and are entirely illumined by glowing blocks of radioactive cheese. Tykes celebrating their birthdays can launch orbs alongside friends during 90-minute party sessions, which include pizza, soda, and a gift for the guest of honor. A pro shop supplies attendees with custom-fit balls, bags, and shoes, and 10-week leagues encourage team camaraderie and passive aggressive celebrations after every strike. Kenmore Lanes' restaurant reenergizes postgame rollers with abundant eats, and visitors craving more competition can chalk up cues at the pool table or take on classic games at the arcade such as skee-ball.
1691 Kenmore Ave.
Kenmore
New York
Dr. Nicole Bishop's signature Mommy and Me Pilates classes were born the same time as her son, Reza, as a way to connect with him while helping women balance their fitness regimens with their brand new bundles. During the 90-minute Mamilates classes, two instructors—one for mom and one for baby—guide participants through short bursts of challenging Pilates exercises. During these drills, fun activities such as singing, massage, and dance keep growing minds entertained while women bolster their muscles. With regular practice, women may notice a reduction in physical tension around the neck and shoulders, stronger abdominals, sturdy backs, and weightlessness despite carrying 15 sacks of lead. The team strives to achieve these results specifically to aid in the recovery from the strain of carrying a baby or to make common postnatal lifting easier. The staff makes careful modifications for women still recovering from Cesarean sections.
Dr. Bishop earned her PhD in comparative literature at the University of Michigan, an academic track that involved a focus on mindfulness, meditation, and reading methodology. She incorporates these disciplines in her budding practice, along with her specialty in African and Caribbean dance, the spark for which ignited at the ripe old age of 5 years. As a kicker, Dr. Bishop also boasts certification in mat Pilates instruction and the ability to fashion a yoga mat out of a napkin.
777 Maple Rd.
Williamsville
New York
917-569-0585
Since 1861, the Buffalo Society of Natural Science has culled more than 700,000 specimens and artifacts from around the world. These treasures now reside in the Buffalo Museum of Science, allowing visitors to explore anthropology, paleontology, and zoology, with a special emphasis on the Buffalo Niagara region.
Special exhibits encourage guests to learn about the world around them through hands-on education. This fall, The Science of Sports teaches a number of athletic secrets, from throwing the perfect Hail Mary pass to creating hockey ice that fosters the fastest skating. Opened in March 2012, the Explore YOU health science studio allows visitors to learn about their bodies while studying recent medical technologies that help keep the human race healthy. The earth systems studio Our Marvelous Earth opens in October to explore geological phenomena, extreme weather, and alternative forms of energy with its interactive exhibits and displays. Elsewhere, mummies share their stories of living in Khent-min through the collected artifacts and forensic evidence on display in Whem Ankh: The Cycle of Life in Ancient Egypt. During the next four years, the museum will continue to add new exhibits and improve others with new, interactive technologies.
1020 Humboldt Pkwy.
Buffalo
New York
---