Buffalo Outdoor Activities
---
---
Buffalo Outdoor Activity Guide
With mild summers and beautiful northern winters, Buffalo is a great place to enjoy the outdoors all year round. This guide to Buffalo's outdoor activities will help outdoor-lovers enjoy the beautiful parks, exciting concerts, and the compelling history of the city.
Perhaps the most notable outdoor activities in the city are the Buffalo parks. With three major parks designed by legendary landscape designer Frederick Olmstead, these conservatories are among the most beautiful in the world. Take a special trip to Delaware Park, the center of the Olmstead Park System, and explore green meadows, a fragrant rose garden, beautiful man-made lakes, and awe-inspiring fountains. Rent a picnic spot and a lawn for croquet, and play the day away. One shouldn't miss the quarry garden -- it's one of the few major landscapes to be designed around a once-working quarry!
Every summer, Buffalo concerts and music venues take things outside for a number of free shows. Many are located along the scenic canal. The cool breeze that comes in across the water helps keep concert goers comfortable while enjoying acts like Salt-N-Pepa, Fountains of Wayne, Young the Giant, and the Mighty Mighty Bosstones. It can get a little bit crowded, so be sure to get there early to claim a patch of green.
One of the greatest day trips in Buffalo is a unique tour led by television's Maxwell Truth. The Forgotten Buffalo Tour will take visitors on a sightseeing trip to visit prohibition-era gin joints, marvel at the centuries of architecture, and visit some unique eateries that are off the beaten path. Transportation and food are included in the price of admission.
Whether it's walking through the beautiful parks, enjoying a concert, or just exploring the city, there's so much to do in the great outdoors in Buffalo.
With three major parks designed by legendary landscape designer Frederick Olmstead, these conservatories are among the most beautiful in the world.
Recommended Outdoor Activities by Groupon Customers
---
Founded by the architectural adepts of Preservation Buffalo Niagara, Buffalo Tours educates residents and visitors alike on the architectural heritage of the city and simultaneously raises funds for ongoing preservation efforts. More than 20 available walking tours, which vary seasonally, highlight such treasures as Buffalo's most hallowed restaurants. The Parkside Neighborhood tour grants glimpses of an angular abode designed by Frank Lloyd Wright, who often used 1:16 models of his old projects as straight edges when designing his new ones. A historical Crime & Scandal tour explores Prohibition-era haunts and old presidential philandery. Boat, bus, and bike tours, alternatively, give hooves a break while their owners cruise down the Buffalo River, visiting War of 1812 battlefields or four of Buffalo's museums.
Tours operate year-round, exploring city hall and downtown by winter and other locales daily from May to October. Members gain access to members-only events, often at a discounted rate, as well as a regular newsletter, which bestows information about the area's history, updates from the organization, and detailed landscaping horoscopes.
617 Main St.
Buffalo
New York
US
716-852-3300
Awash in the aromas of all manner of edible creations, the air in Cazenovia Park buzzes with the strums of guitars and cheerful chatter as Taste of South Buffalo's festivities carry on into the night. Throughout the day, chefs from area restaurants such as Brick Oven Bistro & Deli and Blackthorn Restaurant & Pub can be found serving up hearty helpings of their signature dishes. In the background, live music from local artists Jane Jane Soundsystem, The Voice contestant Zack Joseph, and So Far So Good add a toe-tapping component to the proceedings and facilitate synchronized eating routines.
Taste of South Buffalo's loaded schedule of events mingles food with entertainment, starting off with a USA Track & Field-sanctioned Mike Diggins Memorial 5K walk and run at 8 a.m. Afterward, the Buffalo Warriors take on the South Buffalo Catholic School's parents in a basketball game at 11 a.m. Other events include a split-club drawing and a taping of the game show Duck, Duck, Goose wherein elementary students answer questions culled from 36 categories in an attempt to scoop up various prizes.
25 Cazenovia St.
Buffalo
New York
---
---
Outdoor Activity Deals - Recently Expired
---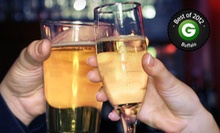 Tour buses shuttle guests to three microbreweries and two local wineries for trivia and tastings, with a stop for lunch
---
---